What we learned from Microsoft Ignite: Part 2
Image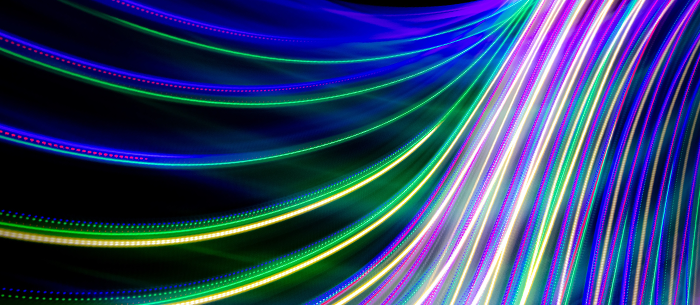 Nasstar's M365 Pre-Sales Consultant, Jack Fisher, takes us through the Microsoft 365 highlights from Microsoft Ignite. Buckle up, there's a lot for us to explore!
 
Re-energise your Workforce with Microsoft 365 

Teams
Mesh avatars for Microsoft Teams - Like it or love it, they're coming. Basically, you can turn yourself into a cartoon and use it in virtual meetings. You can even use reactions to bring your avatar to life without turning your camera on.
Excel Live - This lets people interact and collaborate in Excel within a meeting. Collaborative annotations in Teams meetings are a really neat feature of this one.
Cameo in PPT Live - An experience that seamlessly integrates your Teams camera feed into your presentation.
Together mode - Use AI segmentation technology to digitally place participants in a shared background and assign seats.
Microsoft Teams Premium - All the features of Teams, plus some new ways to make meetings more personalised, intelligent, and secure. Read more about it here. 
Image

Teams rooms and devices - New features include a centre-of-the-room intelligent camera provided by partnerships with Yealink, Intel, NVIDIA, and Richo.
Cisco - The comms tech giant will soon become a Microsoft Teams Rooms Certified Devices partner. We should start seeing products from early 2023 onwards, so watch this space.
Signature Microsoft Teams Rooms - Designed to help make both in-room and remote participants feel more engaged in virtual interactions.
IntelliFrame - Ensuring that every in-room participant has their own individual frame in the video gallery. It will be available in the first quarter of 2023 for Teams Rooms equipped with intelligent and standard camera types.
Microsoft Places
"The connected workplace reimagined for hybrid and in-person work" will help to coordinate where work is carried out to achieve the best outcomes. Set to launch in 2023, it will help teams decide when to go into the office. As Satya noted, people go to the office for other people not to sit in front of a screen. It will also help organisations with space and portfolio optimisation.
Chat and collaboration
Microsoft has changed how channels look and feel, making it easier to focus and collaborate. For example, recent posts are kept at the top of the channel so it's easier to catch up on missed content. There are a bunch of new post types and users are now able to change the channel headers to reflect the vibe and personality of their team. This will all be in private preview by the end of the year.
Teams will now use machine learning to generate suggested responses to messages and recommend previous collaborators to send new messages to. We'll also be able to bring people into a group chat by using the @mention and control how much of the chat history they have access to. In a similar vein, @everyone will grab the attention of all the participants within a group chat.
Image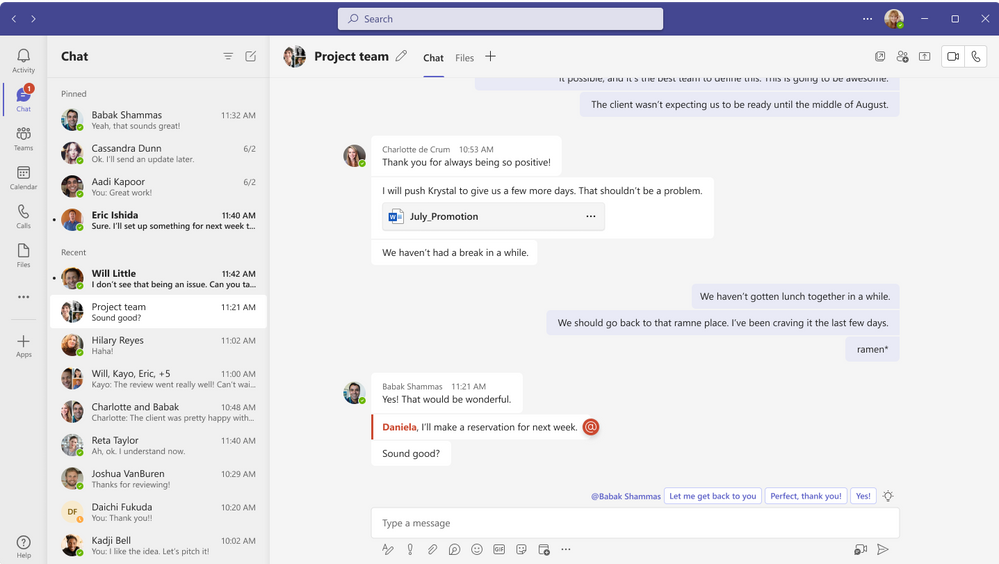 There are more reactions coming to Teams and Outlook in November, while "Delete chat" will be with us by the end of 2022 - allowing you to declutter your Teams client without impacting other participants.
Schedule Send
Similar to the "delay send" function in Outlook, Schedule Send connects to Viva Insights to determine whether you're outside of someone's working hours. If so, it will automatically suggest more appropriate times for you to send messages. Schedule Send will be available in November and the Viva Insights suggestions will be rolled out by the end of 2022.
Video clips
Sending someone a video message so they can digest it in their own time and receiving them back is a useful feature. It's already available on desktop and will be in public preview for mobile by the end of 2022.
Work hours & location
Letting your co-workers know when and where you'll be working is important. You will be able to set this in Outlook and Teams and it will reflect in both locations when you update it. Private preview by the end of 2022 for this one.
Loop
This online collaboration platform was announced at last year's Ignite and now has more functionality. You'll soon be able to copy loop components and paste them directly into a whiteboard for brainstorming sessions - Loop components update no matter where people work on them. They're coming to Outlook for Web and Outlook for Windows by the end of the year. Sensitivity labels and DLP in M365 docs are coming to Loop components in Teams chat, which will be greatly appreciated by the governance and compliance community.
Phone and contact centres
Microsoft Teams Phone Mobile, previously known as Operator Connect Mobile is now available. The integration allows for a SIM-enabled number across mobile, desktop and Microsoft Teams. Microsoft has partnered with some of the biggest telco operators to bring this experience to its users. 
Teams Phone Mobile will let admins control things more easily across mobile devices. It will also allow end users to move seamlessly across networks and from voice to internet-based video calls in Teams.
The power of Teams integrated with the native dialler: Users can uplift native mobile calls to Teams by adding others, sharing screens, and leveraging video.
Unified business communications: Call history and voicemail from the native dialler are integrated with Teams, and users' presence/status will show as busy when they are on phone calls. This will automatically work without any additional user actions.
Policy management for mobile: Organisations can establish enterprise policies (e.g., compliance recording) and streamline telecom management.
Support and quality: Organisations will benefit from shared technical support, service level agreements, and guaranteed call quality between Microsoft and partnering operators.
Teams Phone Mobile is now available with Rogers in Canada and Telia in Sweden. Verizon, Deutsche Telekom, British Telecom, and Swisscom will launch soon.
CRM Browser Pop-Out
For clients who use advanced calling scenarios, there is now the option of CRM integration. IT admins can enable the automatic launch of an external app or URL for Teams users with a Teams Phone licence. Teams will automatically launch an external web app or URL upon call acceptance when an agent receives an external PSTN call. Teams can then provide certain details about the inbound caller to the app or URL that it's opened and return the customer record, allowing your agents to work smarter and faster.
Find even more updates here.
Microsoft Viva
This wouldn't be a blog by Jack Fisher if it didn't mention Viva! There was a big Viva update at the end of September, check out my blog about it here. I'm currently writing a separate blog about the Viva roadmap, so watch this space. 
Phew, that wasn't even close to everything. For even more info, take a look at Microsoft Ignite's Book of News.