Top 20 Contact Centre as-a-Service (CCaaS) Providers 2022
Image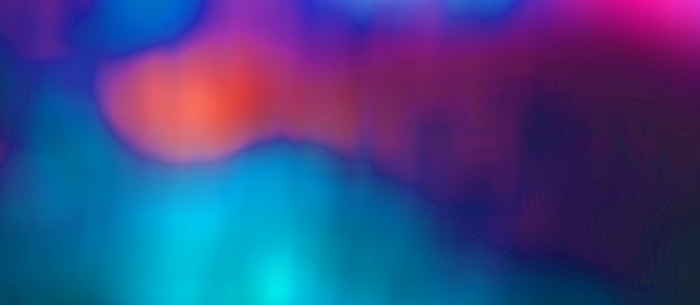 If you're looking for a new contact centre provider, it's likely you're looking at contact centre as-a-service (CCaaS). This new type of cloud contact centre has fast become the preferred method to roll out contact centre software and is often quicker to deploy, easier to maintain, and full of innovative features.
And if you're setting up a contact centre for remote workers, the cloud delivery model makes CCaaS a no-brainer. You no longer need to set up VPNs and loan hardware to agents.
Whether you're shopping for your first CCaaS or a replacement solution, the market is vast and scary. New providers crop up from every direction and digesting information becomes a cumbersome task. 
Even Zoom has a CCaaS solution now. Taking its video engagement centre and turning it into a customer experience function is more than appealing to Zoom lovers and only congests the already-crowded contact centre market.
But before we jump into the latest and greatest, we can filter out some options based on your needs.
Do you need call centre or contact centre software?
The first thing to help narrow your search is to confirm whether you need a call centre or contact centre.
The differences between call centre and contact centre are simple:
Do you plan to offer channels other than voice calls to your customers? If not, then you need call centre software. If yes, then you need a multichannel contact centre.
Click here to check out the best call centre software, or keep reading for multichannel and omnichannel contact centres offerings.
Best CCaaS providers to consider in 2022
The first section in this list includes the CCaaS vendors highlighted in Gartner's Magic Quadrant for CCaaS. All these providers give access to standard omnichannel features like:
Inbound calling
Live chat (or web chat)
Email management
Social media (differing per vendor)
Historical reporting
Real-time analytics
Let's dig into what sets each provider apart.
1 - Talkdesk
Talkdesk is a cloud contact centre first and foremost. With no legacy background in telecom, there are no historical customers hanging onto their old PBXs or stuck using out of date features, and waiting for an upgrade. This means that Talkdesk only provides modern functionality to assist and improve your customer experience.
Alongside the expected set of CCaaS features, Talkdesk has trademarked components for the following features:
Talkdesk Knowledge Management
Talkdesk Virtual Agent
Talkdesk Interaction Analytics
Talkdesk AI Trainer
Talkdesk Agent Assist
Talkdesk Self-Service Portal
Talkdesk Guardian
Talkdesk Quality Management
Image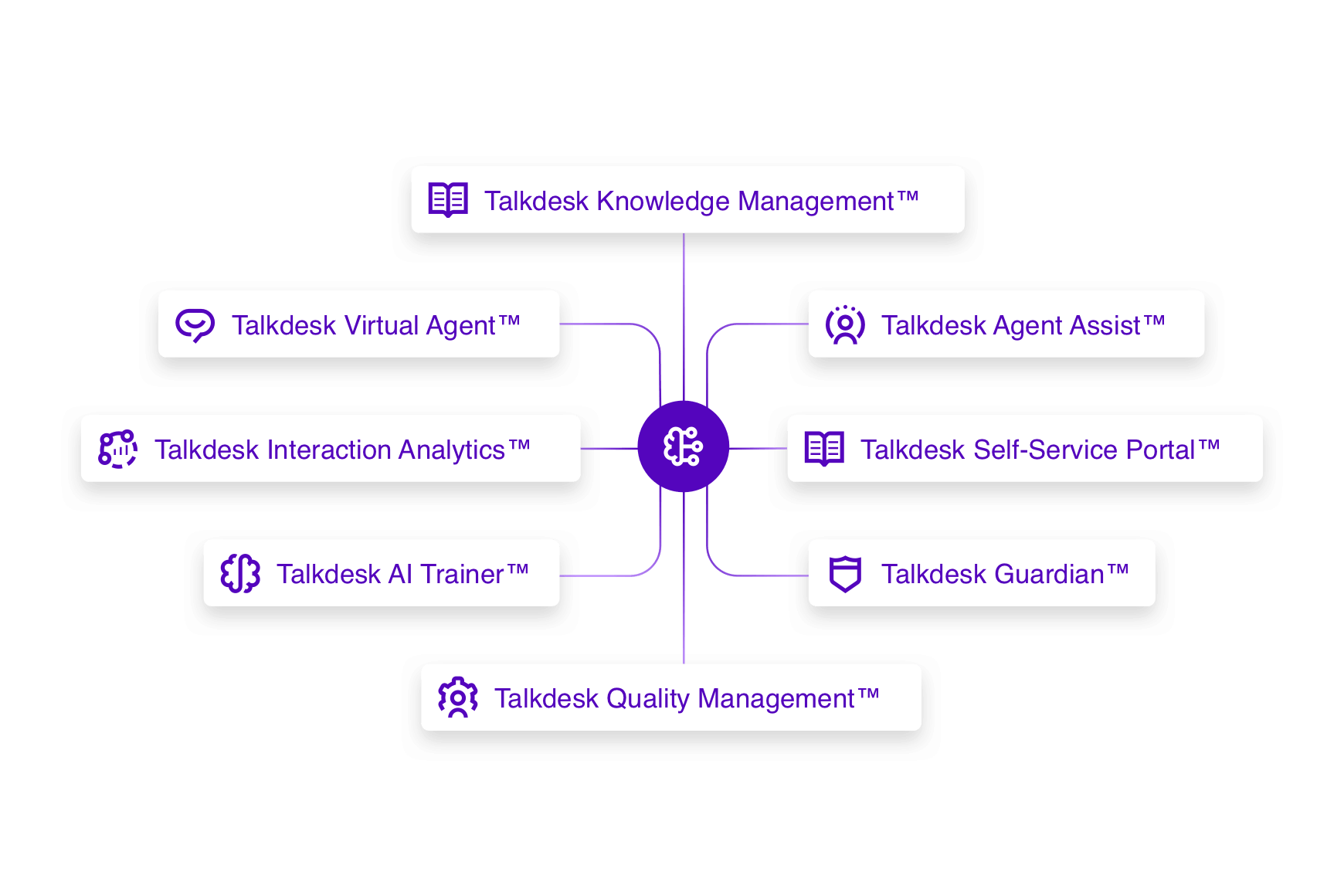 It's these proprietary technologies that are favoured by Talkdesk customers, who know they have access to built-for-purpose tools rather than subscribing to a catch all solution.
Existing customers include:
AMC Networks
Arrive Networks
ClickPay
Easy Storage Solutions
Employ Bridge
Hotel Tonight
Root Insurance
Simple Bills
Virtuagym
2 - Genesys
Genesys has been a regular in the Gartner's contact centre Magic Quadrants for years. Having been in the market for years, Genesys' CCaaS model has evolved through learnings and iterations stemming from its days as an on-premises contact centre hardware provider.
Now with millions invested in research and development and a leadership team boasting hundreds of year's worth of contact centre experience, it's only natural Genesys remains a CCaaS leader.
The Genesys Cloud CX platform provides agents, supervisors, and admins with access to all the key features needed to run a busy contact centre. As with most CCaaS offerings, you can start with call routing packages and bolt-on as many necessary channels and extras as you wish.
Image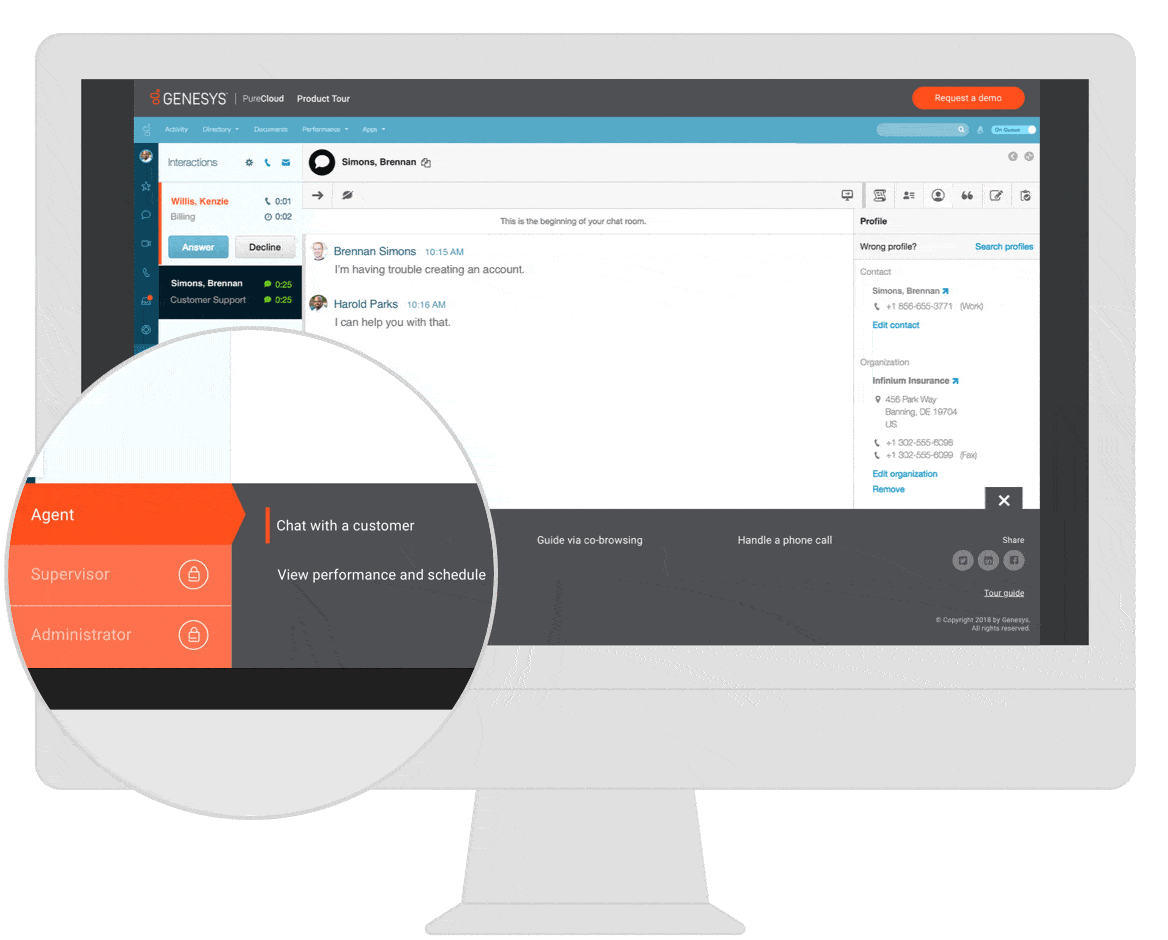 Existing customers include:
Siemens Healthineers
Co Op
Bet Flag
See Tickets
Natwest Group
Millenium Bank
BUPA
NSPCC
Northern Beaches Council
3 - Nice CX One
Nice is a specialist contact centre provider that has specialised in building a CCaaS platform since inception. Nice's CX One products can be broken down into five elements:
Digital Entry Points: making contacting you easy.
Journey Orchestration: guiding the customer journey.
Smart Self-Service: so your agents can field more complex queries.
Prepared Agents: empowering agents for quick responses and personalisation.
Complete Performance: analytics and insights to continuously improve your operation.
For those looking to delve into automation in the contact centre, Nice specialises in Robot Process Automation and Voice Authentication technologies.
Image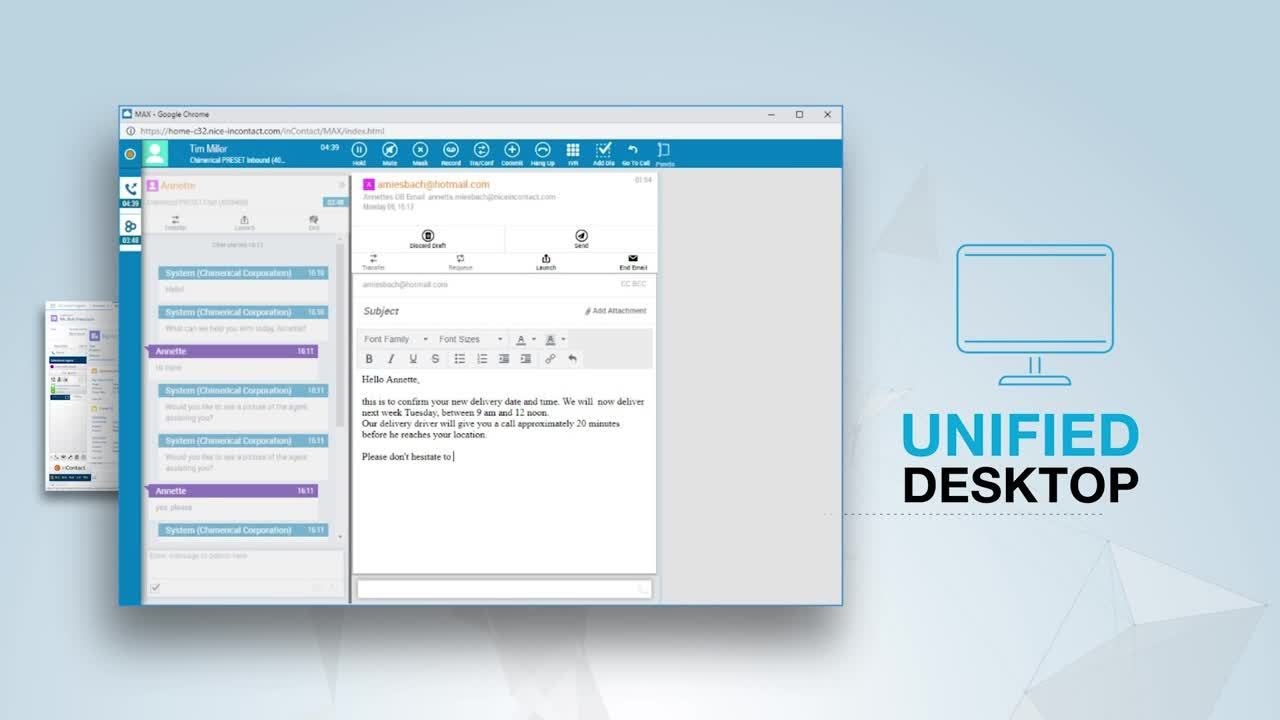 Existing customers include:
Sea World
Expivia
Extra Space Storage
Ricoh
Radisson Hotel Group
Fossil Group
Swedish Rail
Unisys
4 - Five9
Five9 is another provider that only provides CCaaS solutions. Led by industry-veteran Rowan Trollope, Five9 comes packed with all the standard CCaaS functionality you'd expect, then takes it to another level with a major focus on artificial intelligence (AI).
Tasked with heading up the AI division is Jonathan Rosenberg - one of the most influential people in the history of SIP and cloud communications. With products like Agent Assist and Genius AI, Five9 positions itself uniquely at the forefront of using AI in contact centres.
Image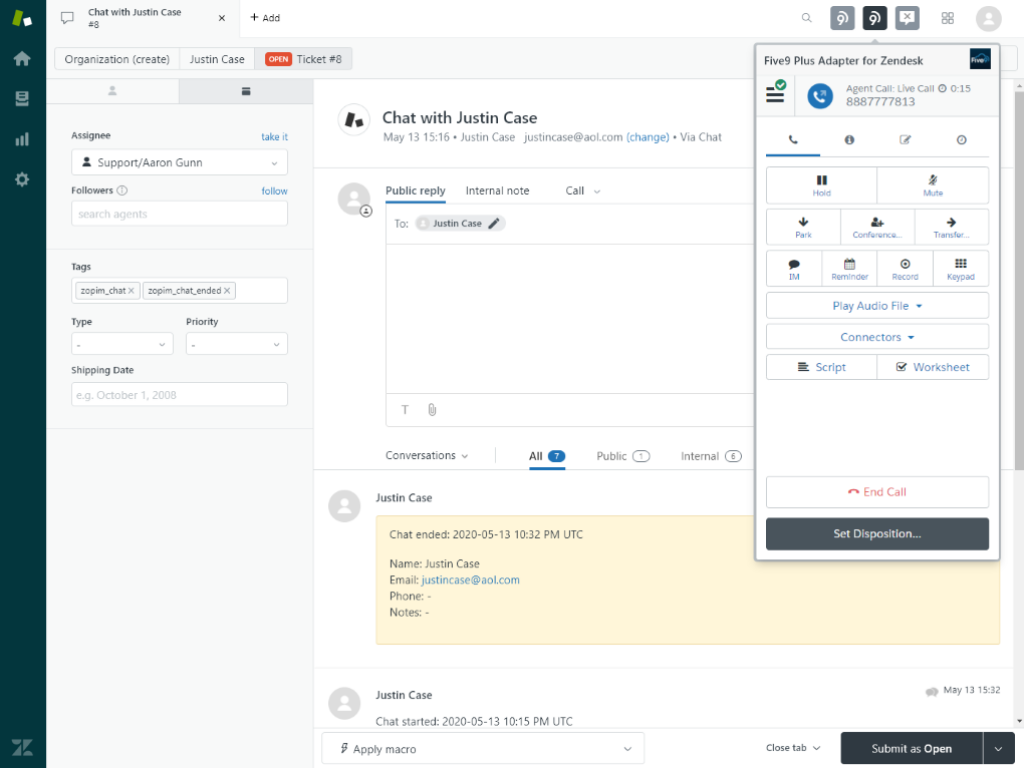 While some call centres are yet to make the jump to self-service or multichannel, Five9 suits those more experimental or ready to entrust their customer service to AI.
Existing customers include:
Regent University
Medical Alert
Phone.com
Under Armour
Teladoc
Weed Man
Athena Health
Roundpoint Mortgage Servicing Corporation
5 - Content Guru
Content Guru is a contact centre-only vendor providing a suite of tools for CRM, integration, payment services, and reporting.
Alongside the expected components of any CCaaS leader, Content Guru offers Intelligent Automation designed to automate (and speed up) routine processes in the contact centre.
Image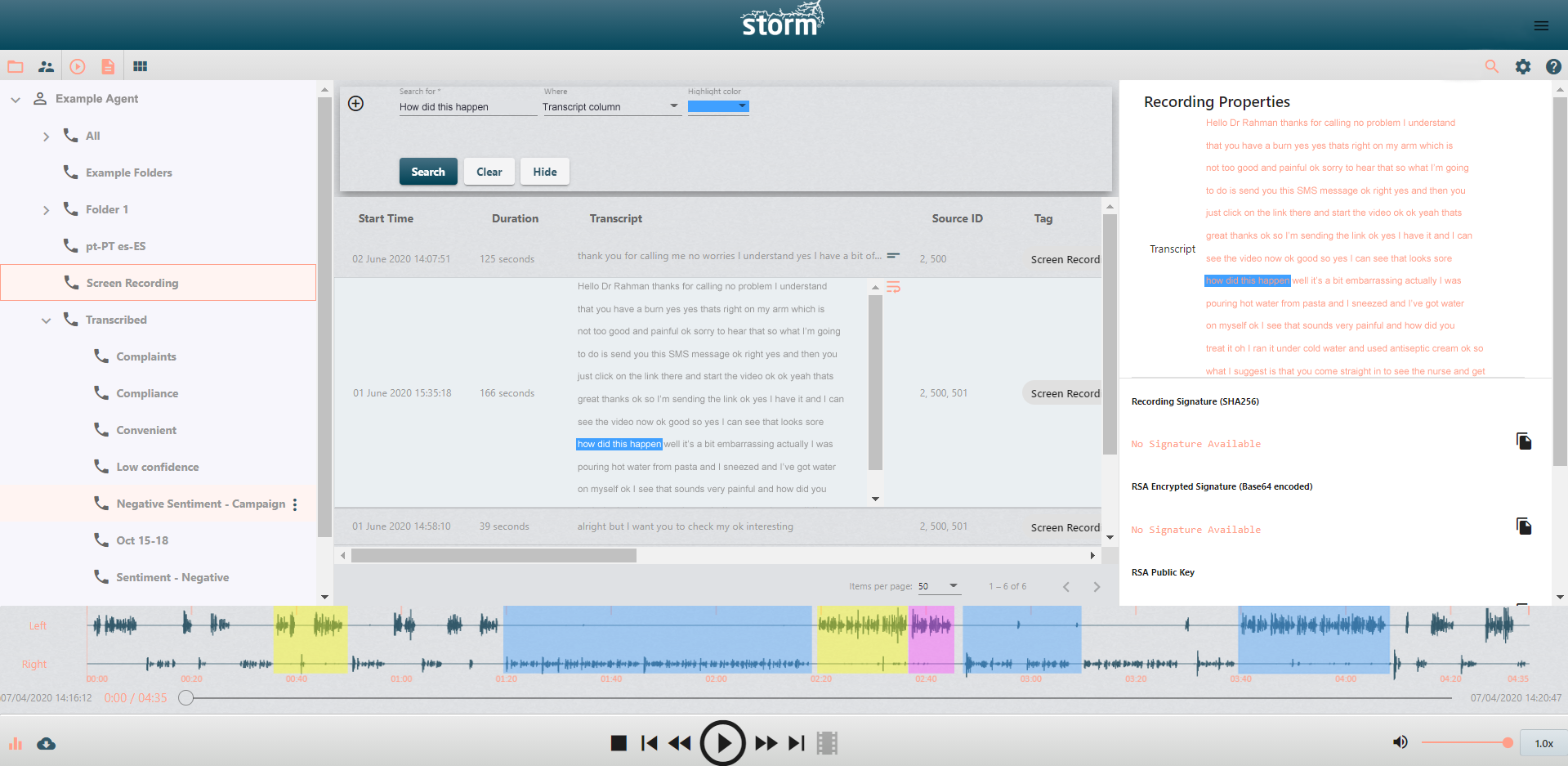 Content Guru says the goal is to achieve hyper-automation by letting technology take care of the mundane and time-consuming tasks. In turn, this frees up staff to field complex queries and provide a more human touch where needed.
Existing customers include:
EDF Energy
Humberside Police Force
King's College London
1-1-1 NHS London
Northgate Public Services
Jurys Inn
Panasonic
RAC
6 - 8x8
8x8 provides both unified communications as-a-service (UCaaS) and CCaaS solutions with the go-to market strategy of a single platform for streamlined communications.
Having combined its UCaaS product (Virtual Office) with its CCaaS product, it's also added collaboration features like chat and video conferencing to take aim at customers looking for a complete overhaul of their communications estate.
Image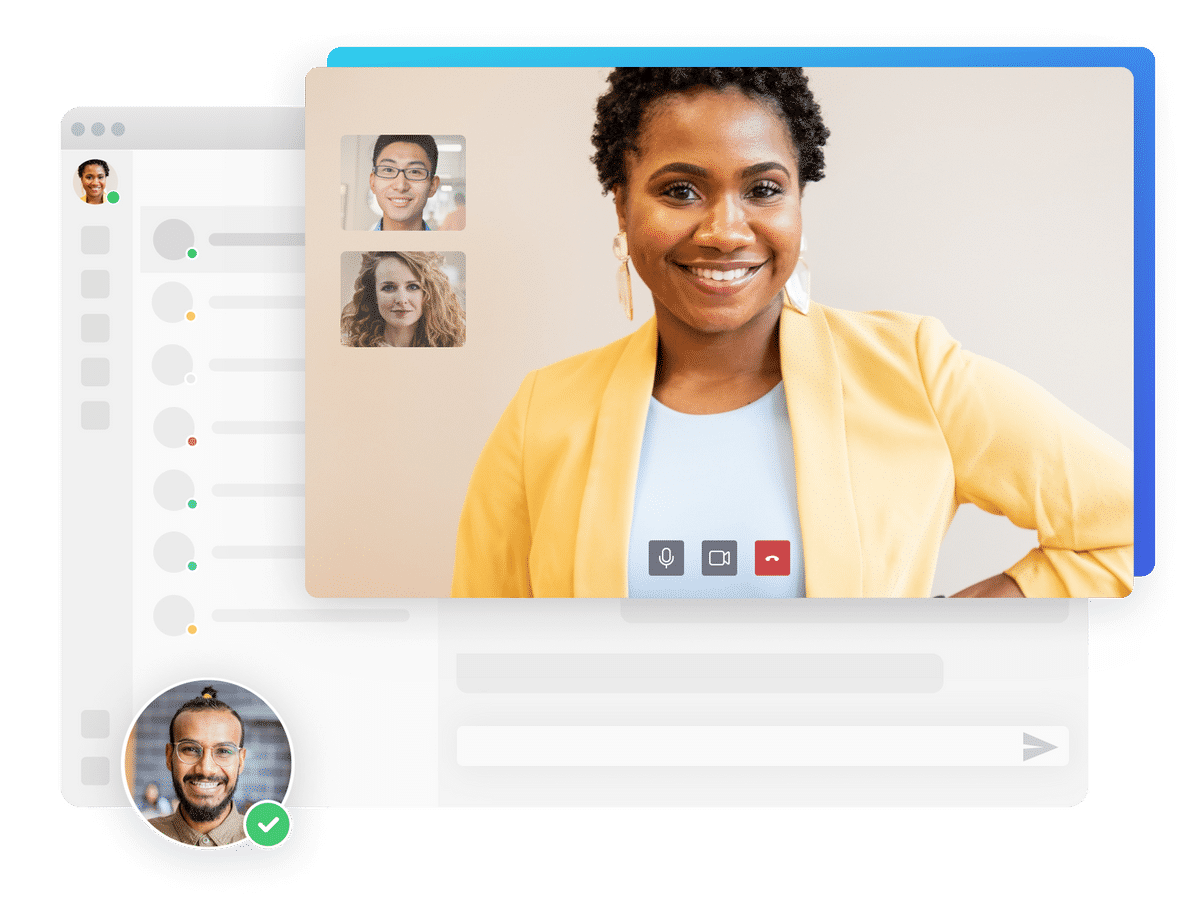 Existing customers include:
Acer
Northern Health
Platform Housing Group
Custom Glass Solutions
Sparkhound
Cin7
Sporting Smiles
Hollywood Bowl
7 - Vonage
Vonage, recently acquired by Ericsson, has been in the contact centre market since making its own acquisition of NewVoiceMedia in 2018. 
Now able to combine its own UCaaS platform in tandem with the former NewVoiceMedia platform, Vonage (like 8x8) offers a single platform for internal and external communications.
Image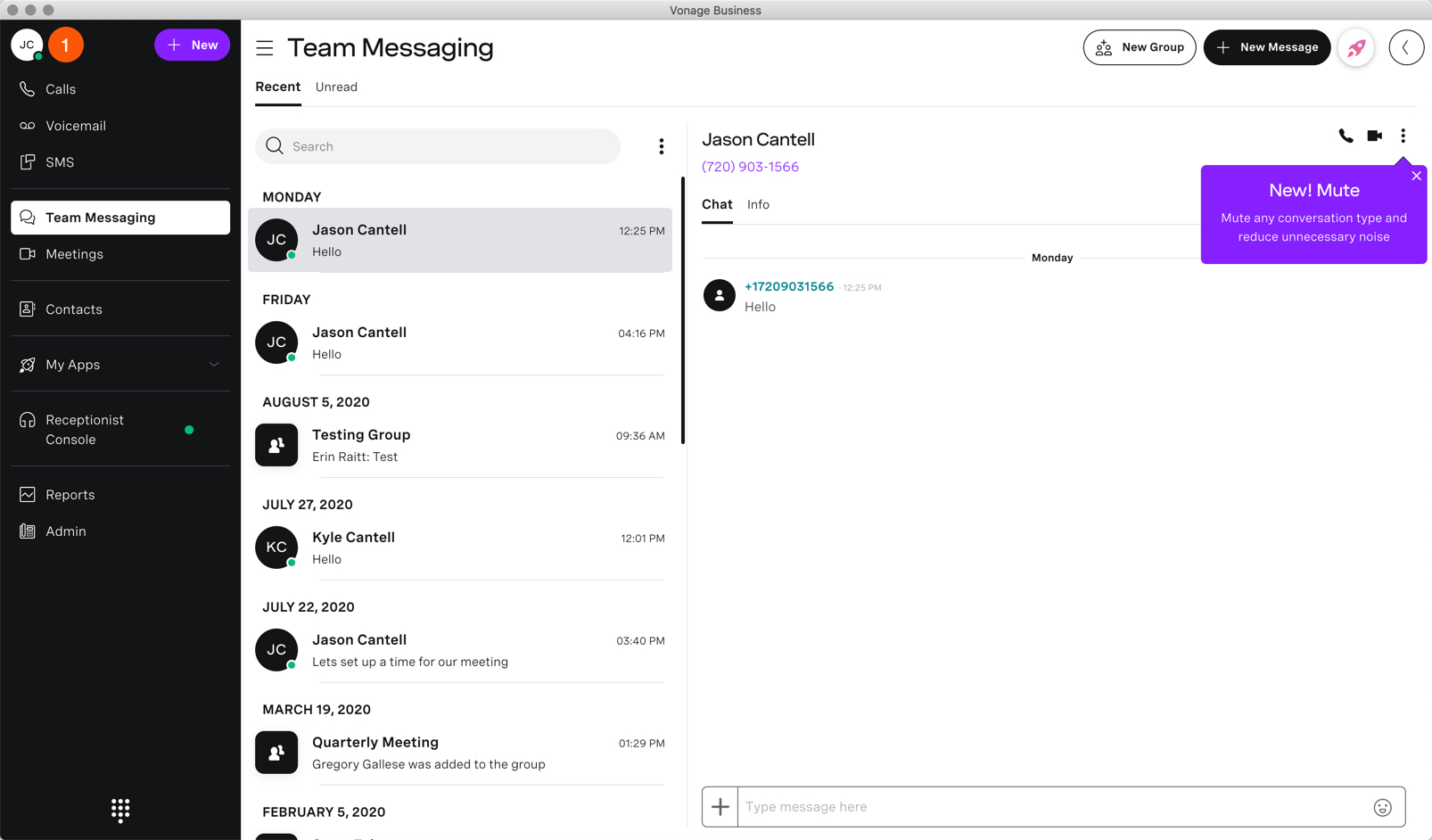 Existing customers include:
Just Giving
Vax
Ebury
Quintessentially
Dispatch Solutions
8 - Amazon Web Services
Everybody knows Amazon but did you know Amazon runs its own composable contact centre?
Built on Amazon's own cloud infrastructure, Amazon Connect is a self-composable CCaaS you can build without the need for lengthy sales processes or implementation time.
This DIY approach is favourable with developers and in-house IT teams tasked with creating a contact centre from the ground up. 
As with everything Amazon, there's a focus on machine learning. As you use Amazon Connect, the data you create gets fed into the AWS cloud to provide analytics on how your contact centre is performing, and make suggestions for future improvements.
Image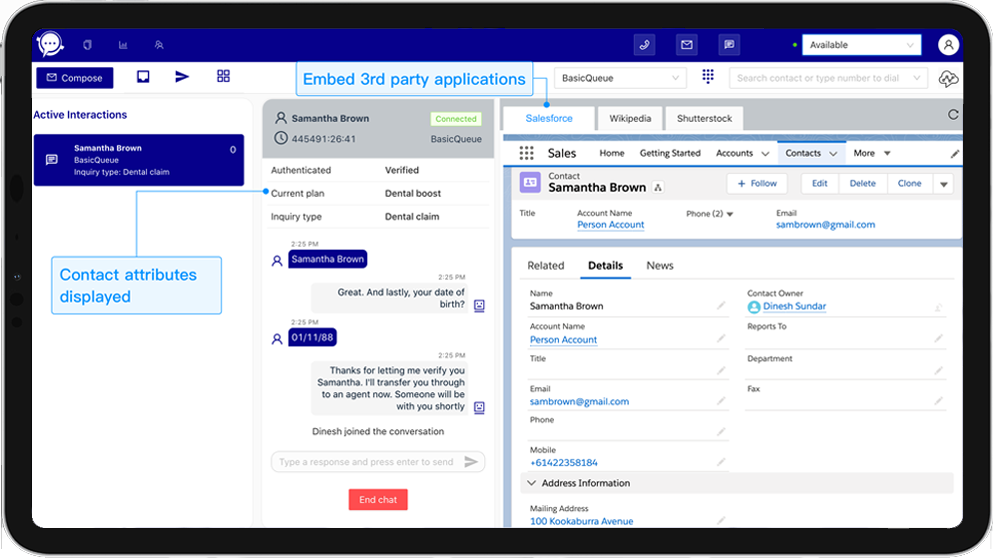 Existing customers include:
Deliveroo
Capital One
Rackspace
Aramex
Axial Healthcare
State Auto
NSW Health Pathology
Traventia
9 - Odigo
Odigo is a provider of cloud-only contact centre solutions with a core focus on professional services and developing self-support.
For companies needing guidance through their CCaaS implementation, or with lots of different users needing several types of training, Odigo looks after the full suite of customer success and adoption to ensure the technology you buy gets used, and used effectively. 
Image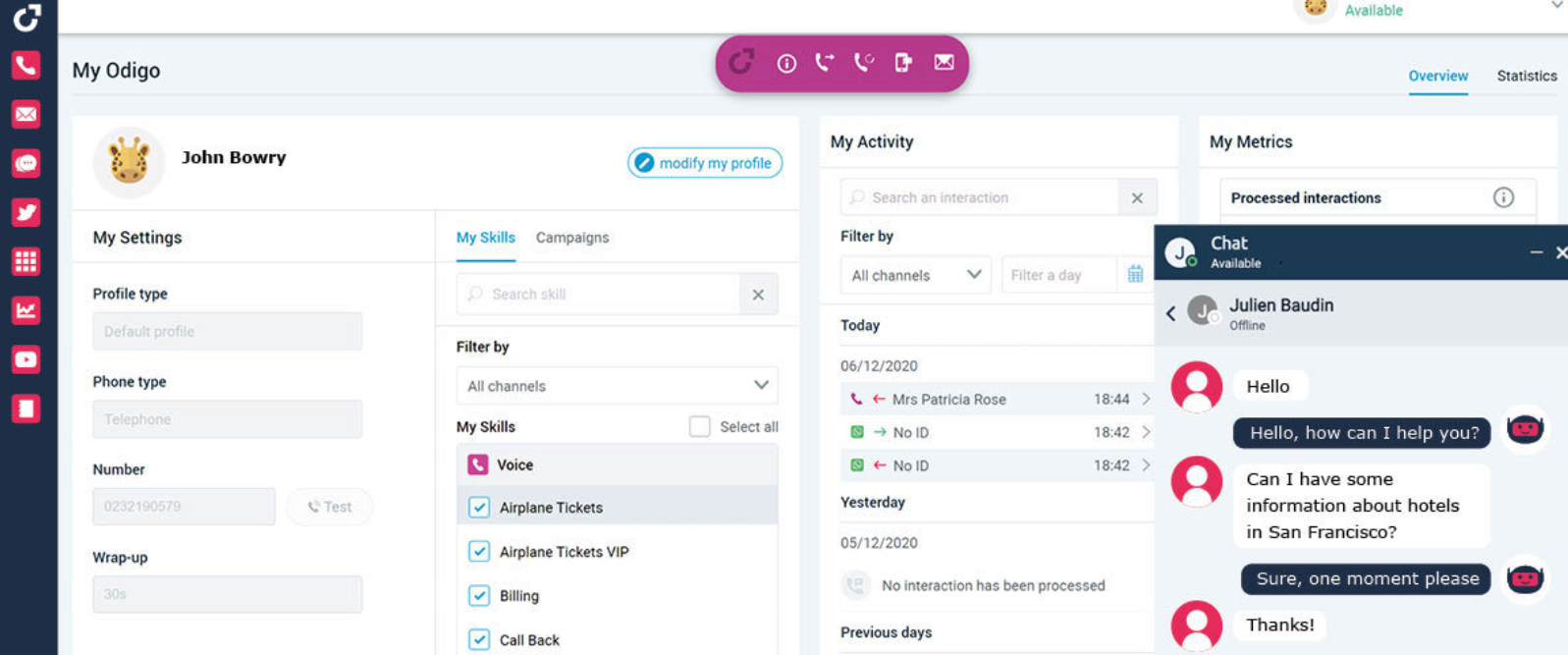 Existing customers include:
OUI.sncf
Mr Bricolage
KparK
Malakoff Humanis
Chronopost
10 - Evolve IP
Evolve IP is a cloud desktop solutions provider with a CCaaS offering. Alongside the standard channels supported and features you'd expect, Evolve IP offers identity management and data warehousing options for your contact centre.
When purchasing thevoicefactory in 2018, Evolve IP gained access to a BroadSoft (purchased by Cisco) platform with cloud telephony, call control infrastructure, and associated integration partners. As a result, Evolve IP has native integrations with both Microsoft Teams and Cisco Webex.
Image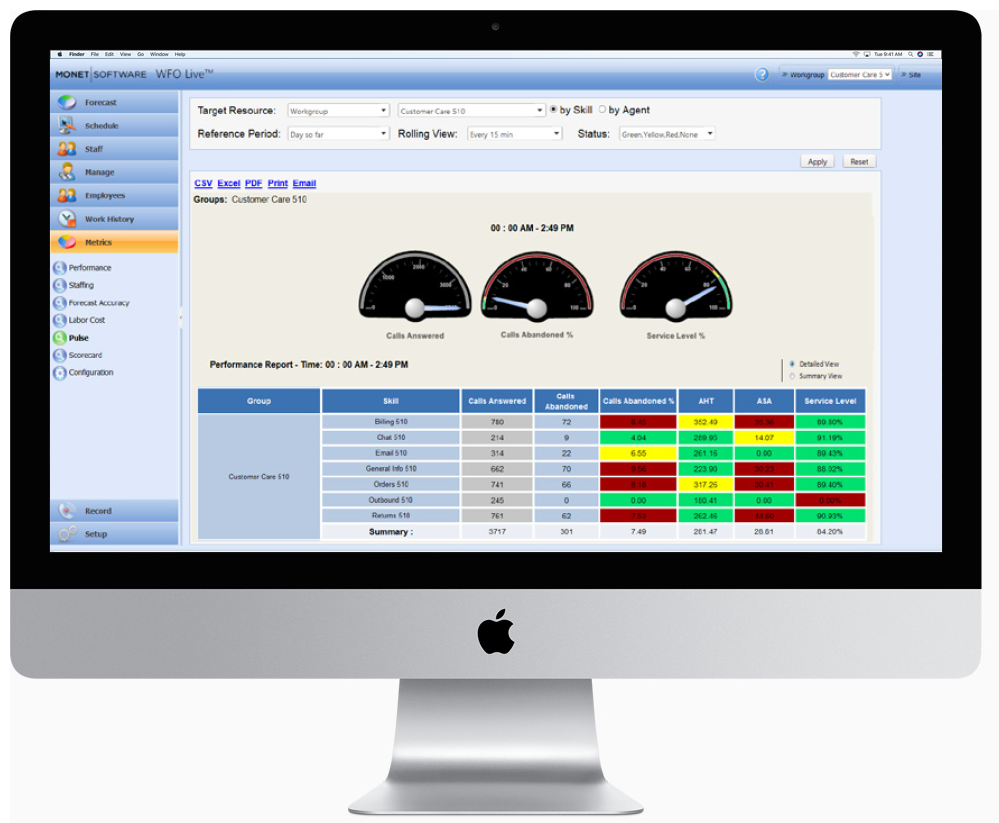 Existing customers include:
HOP Energy
Credit Union
Apple Vacations
CARS
RxBenefits
Apria Healthcare
11- Lifesize
Lifesize merged with Serenova in 2020 to combine video conferencing and contact centre expertise and experience. The end result? A "video-ready" contact centre that can be delivered via the cloud.
As well as the expected channels like voice, SMS, email, and web chat, Lifesize offers a unique video customer experience solution. If bringing video into your contact centre is a must then a CCaaS provider with a deep history in HD video conferencing makes complete sense.
Image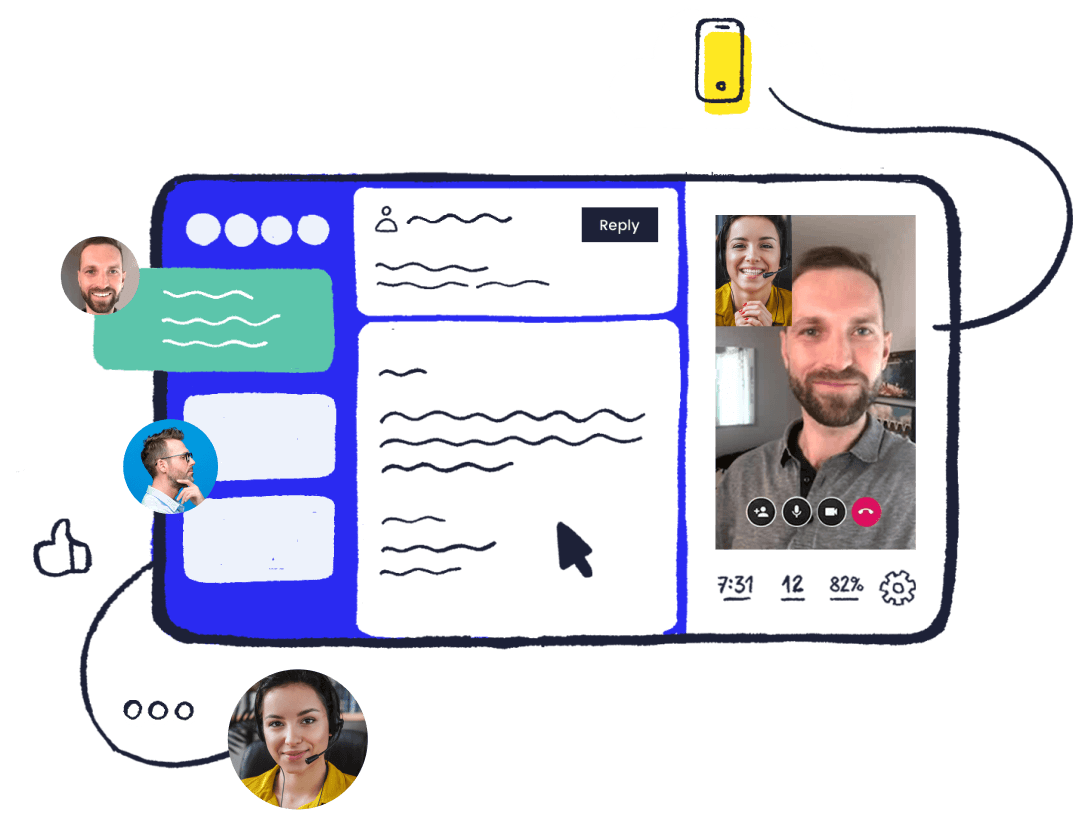 Existing customers include:
NetSmart
Nuffield Health
LesConcierges
Bolt Insurance Agency
Global Member Services
12 - Worldline
Worldline is a niche CCaaS provider offered exclusively via direct sales relationships and specialising by aligning with payment solutions. 
Previously a company offering business process outsourcing (BPO), Worldline now integrates with banking solutions and eCommerce platforms to provide a bespoke solution via its CCaaS product, WL Contact.
CCaaS vendors not covered by Gartner
Outside of Gartner's recommendation for CCaaS providers are some niche and upcoming vendors.
In some cases, the exclusion from Gartner's Magic Quadrant may simply mean they didn't request to be included. Keep an open mind when choosing your CCaaS provider. The right vendor by Gartner may not always be the right vendor by you.
The contact centre has been dominated for a long time by on-premises vendors like Mitel, Avaya, and Cisco. Each of these now has a CCaaS option, or is reselling its own flavour of a native cloud contact centre.
Cisco has invested in creating a cloud-version of its market-dominating Webex solution. 
While all these CCaaS providers have the backing of industry research firms, decades of experience, and impressive product innovation, there is a group of CCaaS providers with a niche focus on Microsoft Teams integration. 
If you run Teams for your phone system or collaboration app, integrating phone, and contact centre makes complete sense. 
Microsoft does have its own CCaaS offering that includes basic call centre features, reporting, and some omnichannel functionality. Microsoft is also invested in supporting a Microsoft-certified contact centre partner program.
The next section includes those CCaaS providers with a specific solution that integrates with Microsoft Teams. You might recognise some from the list above. The below detail includes specific Teams functionality and deployment types.
Microsoft Teams contact centre certified partners
As of February 2022, the list of contact centre partners certified for Microsoft Teams includes:
Anywhere365 Direct Routing Contact Center for Microsoft Teams (available via Nasstar)
ComputerTalk ice Contact Center
Enghouse Contact Center for Microsoft Teams (available via Nasstar)
Five9 UC Integration with Microsoft Teams
Genesys Cloud Integration for Microsoft Teams
NICE CXone Agent for Microsoft Teams
storm INTEGRATE: Microsoft Teams
8x8 Contact Center for Microsoft Teams
1 - Anywhere365 Direct Routing Contact Center for Microsoft Teams
Anywhere365 is a cloud contact centre platform designed specifically for Microsoft Teams. Its omnichannel capabilities mean you can service customers across voice, web chat, chat bots, email, SMS, social media, and even WhatsApp.
What's more, you can do this all without leaving Teams. Though if you do leave Teams to access other apps, many integrations are supported:
Salesforce
SAP
ServiceNow
Microsoft Dynamics 365
Bullhorn
Image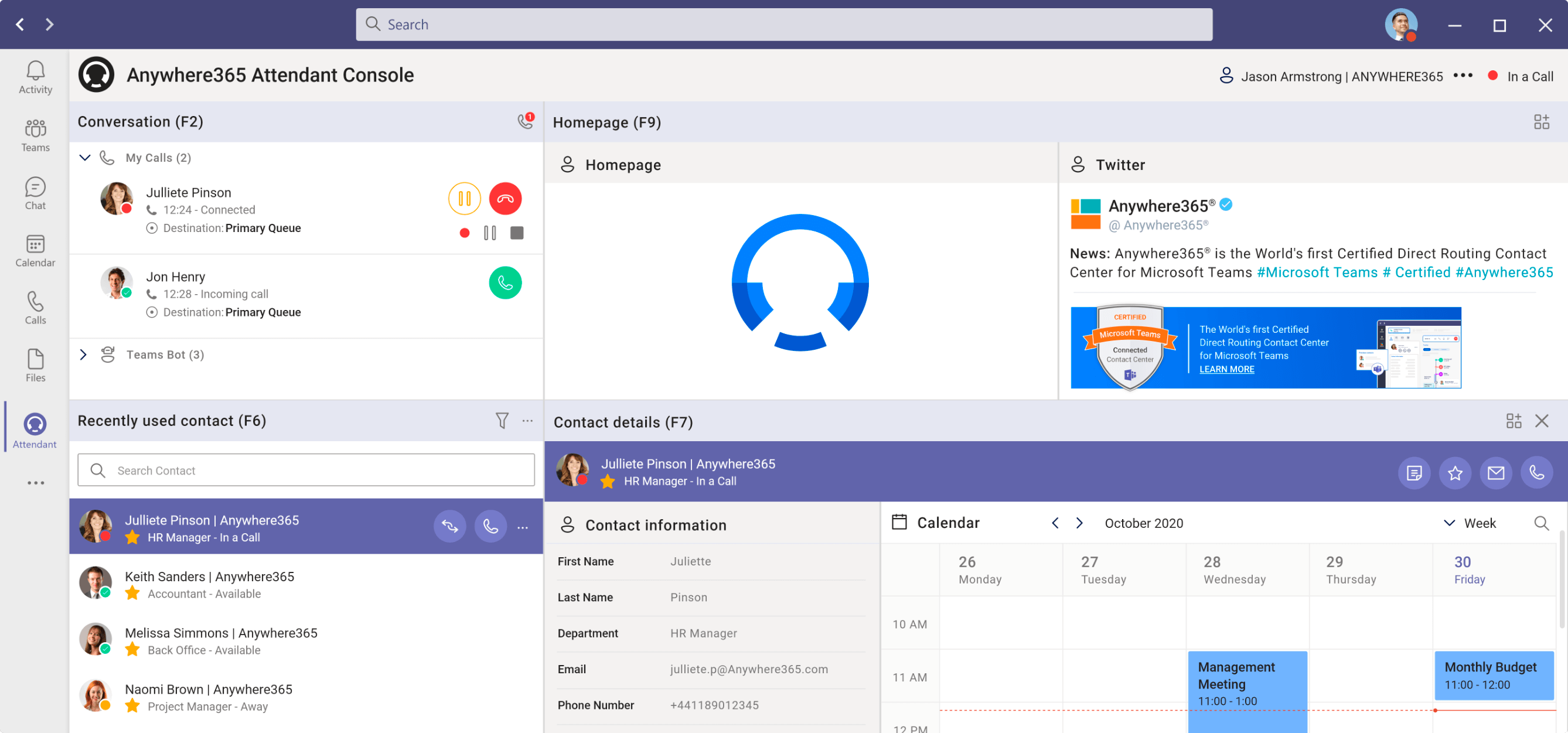 When configuring call queues and dialogue flows, the drag and drop editor means you don't need any coding experience and you don't need to be a Teams administrator.
Suitable for: Call centres currently using Skype for Business or Microsoft Teams who need to upgrade from standard call queuing functionality. For those embedded deep in Teams but need to serve customers on other contact channels, Anywhere365 is a superb option as it is built Teams upwards (rather than being shoehorned into Teams).
I'd like to learn about Anywhere365 from a Nasstar contact centre expert.
2 - ComputerTalk ice Contact Center
Toronto-based ComputerTalk is a specialist contact centre provider certified for Microsoft Teams. You can choose to deploy ComputerTalk ice Contact Center via cloud, on-premises, or a hybrid model where some users and technology run on a mixture of cloud and on-premises. 
Hybrid contact centre models are popular when a business is going through a digital transformation but needs a new contact centre solution and can't wait until the program completes.
Image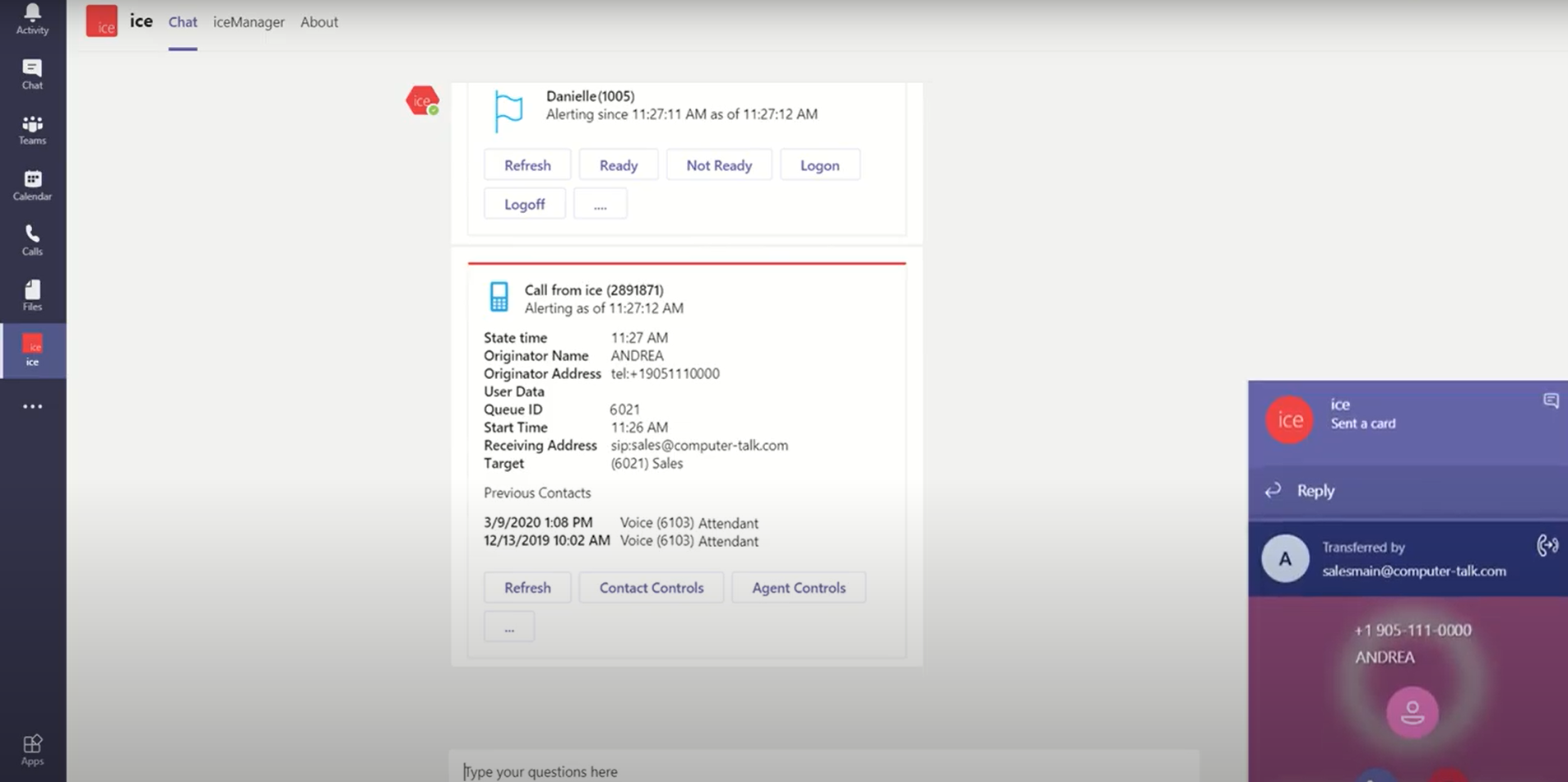 Outside of Teams, ComputerTalk also holds Microsoft accreditations for:
Gold Application Development
Gold Cloud Platform
Gold Communications
Datacenter
Gold Windows and Devices
Support from ComputerTalk is available in both English and French. But contacting the support team without an enterprise agreement is only available during the US workday.
Channels supported include:
Voice
SMS
Video
Email
Chatbots
Social media (Meta Messenger, Twitter, WhatsApp, Viber, Telegram)
Skype
ComputerTalk also lists integrations with the following:
Salesforce
Microsoft Dynamics 365
Now
Zendesk
Sugar CRM
Avaya
Microsoft 365 (including Outlook and PowerBI)
Mitel
Cisco
Suitable for: Healthcare providers needing help driving down no-shows and overbooking patients. iceAlert is an automated messaging service that sends reminders to patients so they make their appointment on time or can give enough notice to cancel or postpone. Patients can receive these messages in their native language via phone, email or SMS.
3 - Enghouse Contact Center for Microsoft Teams
Enghouse Interactive is a contact centre solution designed specifically for Microsoft Teams. In fact, Enghouse Interactive was one of the first vendors to provide a contact centre for Skype for Business with native functionality.
Image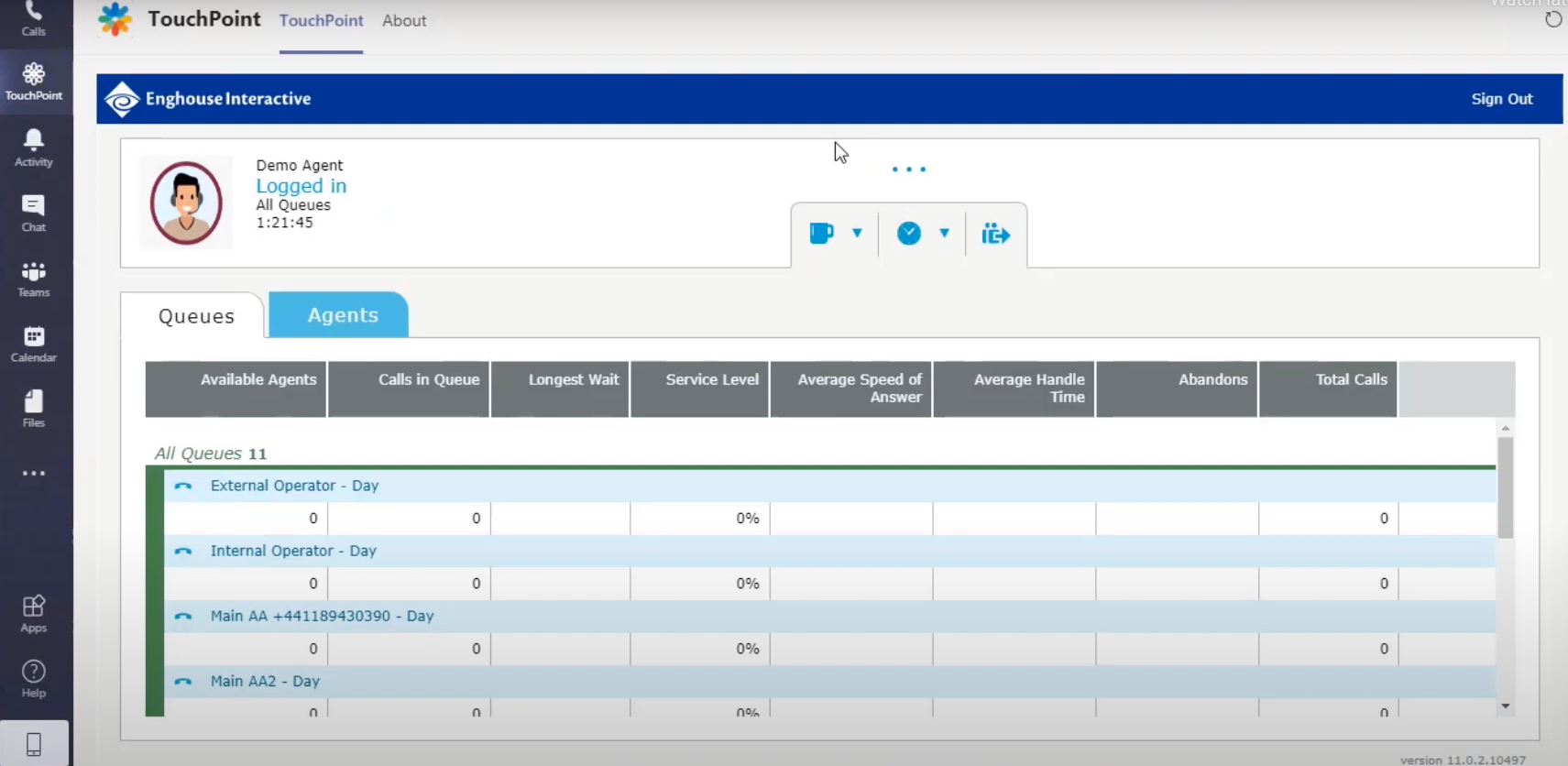 Enghouse features omnichannel support for channels like:
Voice
Email
Web chat
Social media
Video chat
Co-browse and screen share
SMS
Chatbots
You can procure separate components of the contact centre solution to meet your bespoke needs. For example, if you only need call recording and quality management, you only need to buy this module.
Standalone components include:
Enghouse Contact Center
Enghouse Attendant Console
Enghouse Call Recording and Quality Management
Enghouse Analytics
Like ComputerTalk above, Enghouse can be delivered via cloud, on-premises, or a hybrid model.
Enghouse is also available for Cisco, NEC, and Avaya telephony solutions.
Suitable for: Businesses transitioning to Microsoft Teams (from Skype for Business or otherwise). If your main requirement is to use Teams as your contact centre, Enghouse was an early adopter of Skype for Business multichannel contact centre technology and has huge experience of customer deployments.
I'd like to learn about Enghouse from a Nasstar contact centre expert.
4 - Five9 UC Integration with Microsoft Teams
Five9 is a cloud contact centre company run by former Cisco leader, Rowan Trollope. Listed as a challenger in the 2021 Gartner Magic Quadrant for Contact Centre as-a-Service (CCaaS), Five9 takes a forward-thinking approach when it comes to customer experience.
Using artificial intelligence components, a division led by former Cisco leader Jonathan Rosenberg, Five9 is often thought of as the most blue sky cloud contact centre provider. 
Five9 also has a focus on combining the Unified Comms (UC) and contact centre experience. It is its belief that the frontline agents and backroom teams should have a direct line to each other. This integration of front and back office leads to both higher employee retention and higher customer satisfaction. 
Image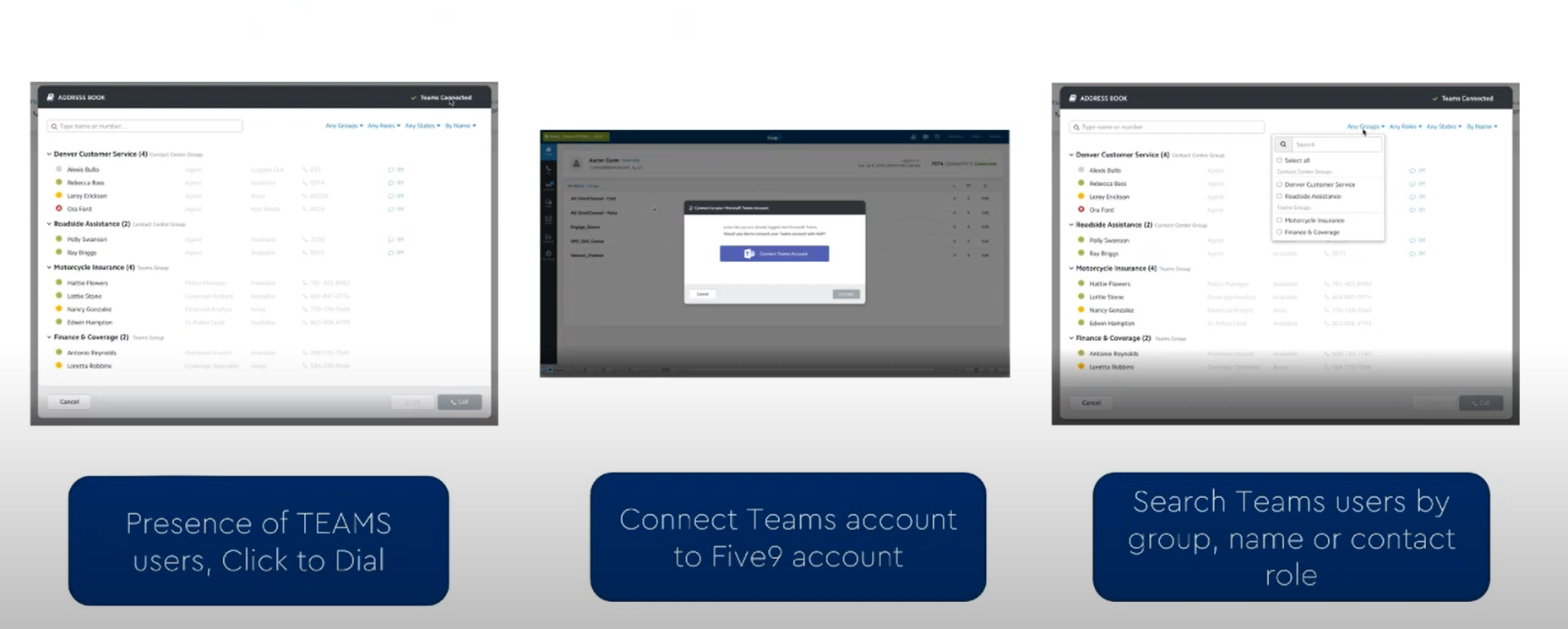 With this mantra in mind, and the accelerated growth of Microsoft Teams, the UC integration for Microsoft Teams was created.
While Five9 supports omnichannel features like email, web chat, and social media, the UC Integration for Microsoft Teams has a focus on integrating your telephony platform (Microsoft Teams) and contact centre.
Agent-expert consultation features include:
Consolidated directory
Department filters
Microsoft Teams groups import
Click-to-call from Teams
Telephony-connect features include:
Automatic main number redirects
Skills-based routing
Front and back office collaboration
On-net calling, conferencing, and transfers
Suitable for: Contact centres looking to branch into the future using artificial intelligence. If you're ready to leave transactional and mundane tasks to bots and self-service, Five9 is all-in.
5 - Genesys Cloud Integration for Microsoft Teams
Genesys is named in the 2021 Gartner Magic Quadrant for CCaaS as a leader in the space. In July 2020, Genesys expanded its market-leading contact centre solution to feature a dedicated Microsoft Teams integration.
Genesys Cloud CX™ is designed so your contact center agents can collaborate with any employee using Teams to resolve customer issues faster and deliver better service. The ideology behind Genesys Cloud CX™, like the Five9 UC integration, is that when you join up the front and back office experience, your customers are on the winning end of better customer service. 
Genesys Cloud CX™ only supports voice when integrated with Teams. You must be a master admin of both Genesys and Teams to configure the integration and you will need a SIP trunk available via direct routing.
Image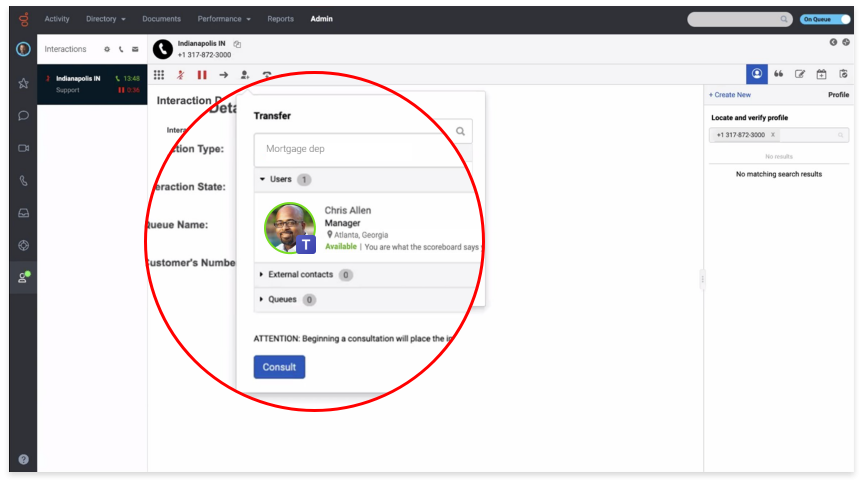 Suitable for: Contact centres who only require voice capabilities in their contact centre and have found Microsoft Teams native call centre insufficient.
6 - NICE CXone Agent for Microsoft Teams
NICE is another contact centre provider listed as a leader in the 2021 Gartner Magic Quadrant for CCaaS.
NICE provides a pre-built unified communications and contact centre integration for Microsoft Teams so your agents can link up back office to front office. NICE takes its existing CXone technology and embeds it into your Teams interface so agents can switch between standard chats, channels, tabs, and their contact centre functionality.
Like Five9 and Genesys, only voice is supported in this particular Teams contact centre integration.
Image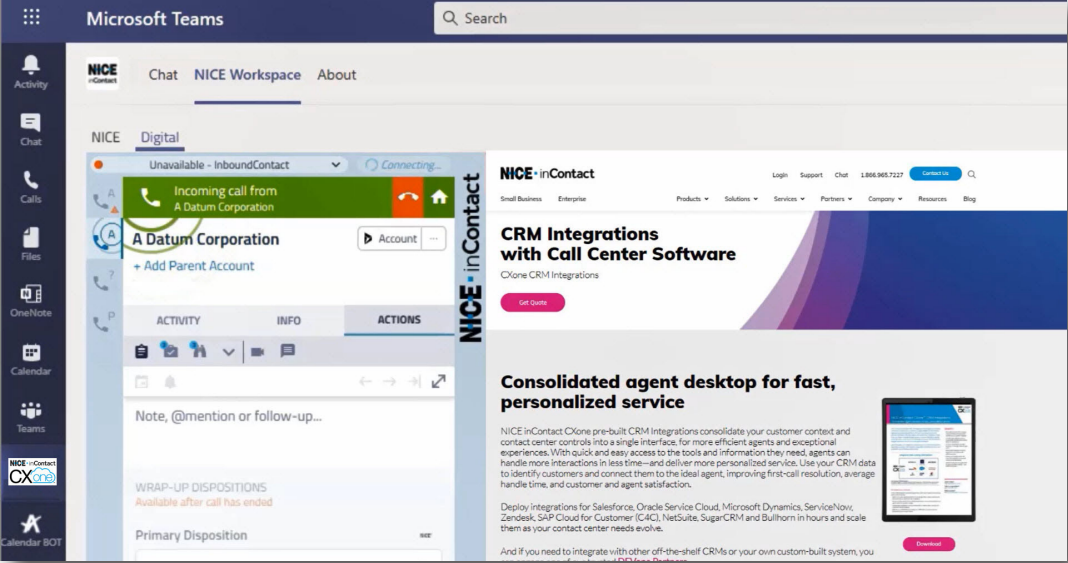 Suitable for: Existing NICE customers who are moving to Microsoft Teams for the first time. If voice is your only inbound channel, there is no need to rethink your move to Teams.
7 - storm INTEGRATE: Microsoft Teams
The storm platform is run by Content Guru. Content Guru is recognised as a challenger in the 2021 Gartner Magic Quadrant for CCaaS.
INTEGRATE focuses on similar principles as Five9, NICE, and Genesys, in that the UC and contact centre integration is key. You can use Teams as your calling platform for both inbound and outbound while the INTEGRATE contact centre module is embedded as a Teams tab.
Furthermore, the storm platform adds call and screen recording without having to switch applications. As hybrid contact centres emerge coming out of the pandemic, not having in-person access to a supervisor or coach puts supervisory aids like screen recording at the top of businesses' wishlists.
Image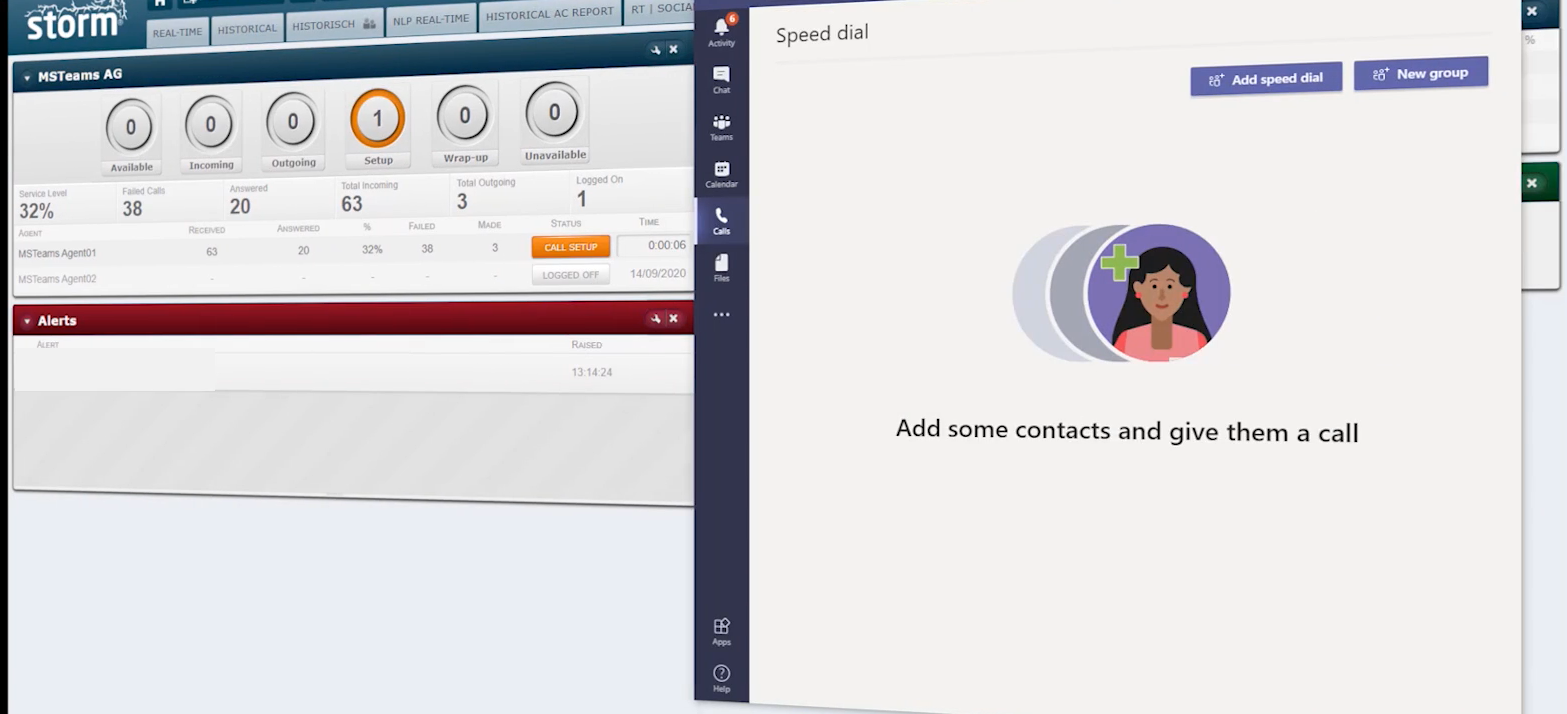 Suitable for: Businesses offering products and services that require screen sharing from client to agent. Screens can be recorded to ensure quality management after the event and continuous agent training.
8 - 8x8 Contact Center for Microsoft Teams
8x8 is another listed as a challenger in the 2021 Gartner Magic Quadrant for CCaaS. And another provider concerned with improving the back office and agent experience.
Offering voice services within the Teams display, 8x8 allows you to make, receive, queue, and report on customer calls. Historical and real-time reporting is included and 8x8 has an extensive history as providing above and beyond analytics for those seeking interaction improvements via data.
Image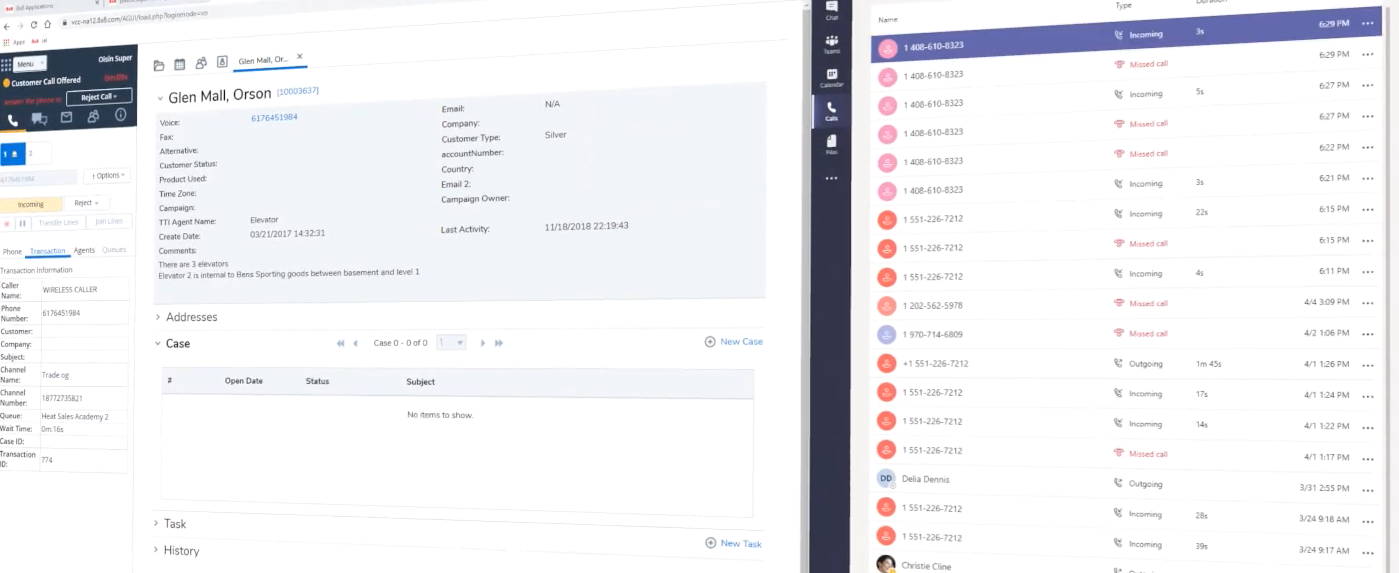 Suitable for: Existing 8x8 customers thinking about moving to Teams. Those contact centres with a voice-only inbound customer service team looking for advanced analytics.
Non-certified Microsoft Teams contact centre partners
For the sake of openness, we've also included those Microsoft Teams contact centre partners who, as of November 2021, have not yet received certification from Microsoft.
Solutions still in the certification process, as of February 2022, include:
Comptella
ContactCenter4All
Cirrus
Frontstage
Geomant
Intermedia
Landis Technologies
Luware
Mida Solutions
Novomind
Talkdesk
Tendfor
Conclusion
The CCaaS market can be a big and scary place. There are more than enough vendors to go around, which is great news if you're a provider in the contact centre market.
But, if you're shopping for a new CCaaS solution, simple is far from what your experience may be.
How can we make that experience easier?
Nasstar has decades-long experience assisting with contact centre implementations. We've seen it all.
From on-premises site moves to work-from-home-for-the-first-time-in-record-timing setups.
Book a free call with our contact centre experts, and find your next contact centre solution.