This is your (M365) Copilot speaking
Image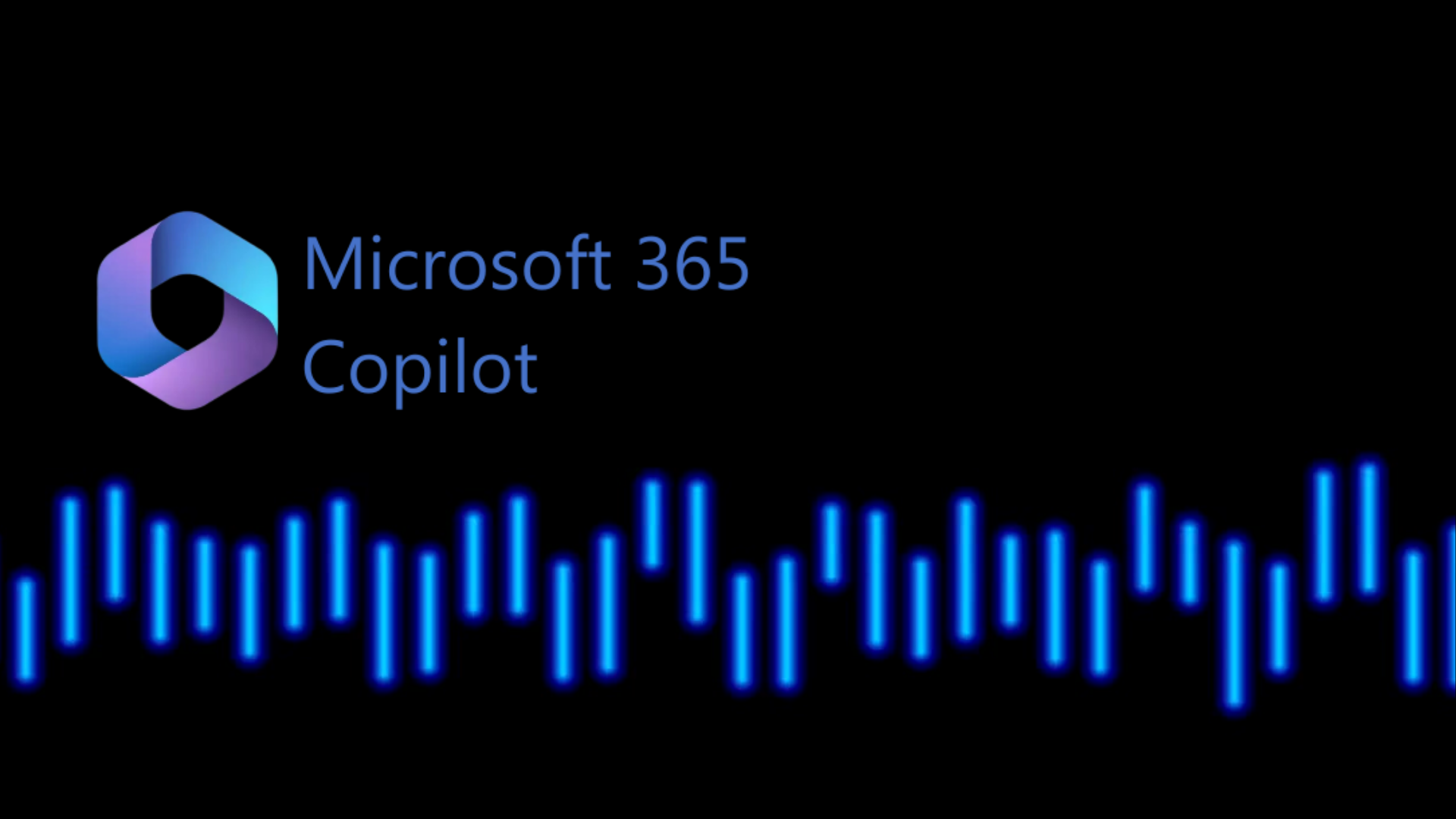 The age of AI transformation 
Since the start of the 21st century, AI and machine learning have played a role in how businesses operate. Stockbrokers harness these tools for faster and more efficient trading, pharmaceutical companies use them to discover new medicines, and Formula One teams leverage the technology for aerodynamic modelling. However, a new wave of AI development has arrived. 
Since ChatGPT's game-changing debut in November 2022, tech giants like Microsoft, Meta, Google, Amazon, and Oracle, have been competing to deliver the most impactful generative AI services possible.  
Open AI's ChatGPT and DALL-E, Google's Bard, and Microsoft's Bing chat are at the forefront of this revolution. Microsoft, however, has another ace up its sleeve; a product that could redefine its M365 productivity suite and beyond; Microsoft Copilot. 
What is Microsoft Copilot? 
Microsoft 365 Copilot is an AI-powered digital assistant that provides personalised support to users in a range of business use cases. Launching to customers on 1st November 2023, we asked Nasstar's Managing Consultants, Paul Hayward, and Microsoft Automation Platform and AI Capability Lead, Chris Burns, to explore Microsoft's approach to AI and Copilot's potential to transform the way organisations operate. 
Microsoft's AI advancements 
Microsoft is at the forefront of AI innovation, and the company has been collaborating closely with OpenAI to create a suite of new products. These advancements have found their way into Microsoft's Bing search engine, Edge browser, Windows 11, and the universally known M365 suite. 
Copilot is shaping up to be one of Microsoft's most promising AI endeavours yet. It harnesses the power of large language models (LLMs) and seamlessly integrates with Microsoft 365 applications such as Word, Excel, PowerPoint, Outlook, and Teams. 
Microsoft Copilot is designed to assist users in creating documents, summarising emails, crafting presentations, and much more.  
Paul Hayward commented, "Copilot serves as an E-bike for the mind, allowing users to achieve more with less effort. It has the potential to enhance creativity, unlock productivity, and elevate skills for users across the board." 
By operating in tandem with Microsoft 365 and offering intelligent suggestions, Copilot empowers users to innovate, ideate, and focus on what they do best. 
Microsoft 365 Copilot's key features 
As Copilot continues to evolve, some of its highlights include: 
Real-time assistance 
M365 Copilot provides contextual suggestions, helping users draft emails, create documents, and generate code. It anticipates user needs and offers relevant content, saving valuable time. 
Task automation 
Recognising patterns in a user's work, Copilot automates repetitive tasks such as scheduling meetings, organising files, and creating reports - freeing up time for more strategic activities. 
Collaboration and knowledge sharing 
Copilot facilitates collaboration by providing intelligent suggestions during meetings, brainstorming sessions, and team discussions. It helps users find relevant information and insights, enhancing teamwork. 
Personalised assistance 
Microsoft Copilot adapts to work styles and time preferences. It learns from user actions, analyses data patterns, and customises its suggestions accordingly. 
Harnessing data  
Data is a crucial asset for businesses, yet a significant portion of it remains unstructured and inaccessible. Copilot is poised to revolutionise data management by automating data input and providing suggestions for data structures. 
Benefits of Microsoft 365 Copilot 
Enhanced creativity: Copilot accelerates the transformation of ideas into tangible results, whether in documents, presentations, or other tasks.  
Greater efficiency: The product can simplify content summarisation and automate tedious, time-consuming tasks, giving developers, operations teams, and commercial teams more time for critical analysis. 
Upskilling: Copilot can even serve as a personalised tutor, providing insights, tips, and explanations tailored to your learning style and skill level. 
Better code quality: Produce reliable, high-quality code with Copilot's code suggestions. It will also help developers identify coding errors and accelerate project timelines. 
The tech behind Microsoft 365 Copilot 
The Microsoft Copilot system comprises three main elements:  
Microsoft's 365 apps - like Word, Excel, and Teams - that will be used to interact with Copilot. 
Microsoft Graph, which is a set of APIs that allow program access to files, documents, and data across the Microsoft 365 environment. 
The large language models that process user prompts. Those include ChatGPT, DALL-E, Codex, and Embeddings. 
Chris Burns comments, "Copilot acts as a layer above OpenAI and the Azure Open AI LLM engine, utilising the Microsoft Graph API to access user and tenant data. It integrates with various tools, making it a powerful addition to the Microsoft ecosystem." 
The future of Microsoft Copilot 
Microsoft Copilot's integration with Microsoft 365 and innovative features make it a powerful tool for users and developers alike. As the future of AI continues to unfold, Copilot promises to be a pivotal player in the AI transformation of the business landscape.  
Alongside Microsoft 365, there will be Copilots tailored to PowerPlatform, Microsoft's security suite, and its Windows operating system. GitHub, a Microsoft subsidiary, has also developed GitHub Copilot, providing a powerful auto-complete tool for coders.  
Microsoft originally introduced Copilot in March 2023, initially offering it to a select group of large enterprise clients. The availability then expanded to around 600 customers in June 2023. On 1st November 2023, M365 Copilot will be available to all enterprise customers. 
Once released, the challenge for many Microsoft customers will be deciding who within their organisation could benefit most from Copilot. Will it be developers, operations teams, or customer-facing commercial teams - why not all three? 
Exploring Microsoft Copilot with Nasstar 
As a premier Microsoft Partner, Nasstar is uniquely positioned to guide organisations on their Copilot journey. Our Adoption and Change Management team helps businesses integrate new technology into workflows, while our Security and Compliance experts ensure the protection of sensitive data.  
With Nasstar as your trusted advisor, you'll gain access to next generation technology and guidance on how to implement it effectively. If you'd like to deploy M365 Copilot, AzureAI, or any other Microsoft AI solution, our consultants are ready to assist you. 
Stay tuned for more insights on how to make the most of your Microsoft investment.  
Talk to a Microsoft Copilot expert today 
FAQs 
When is Microsoft Copilot available? 
Microsoft Copilot will be available to enterprise customers on 1st November 2023. 
How do I get Microsoft Copilot? 
Microsoft Copilot is accessible through Microsoft 365's E3, E5, Business Standard, and Business Premium tiers. To use Copilot, update your Microsoft apps or install the Visual Studio Code extension. For purchase options, please get in touch for more information. 
Is Microsoft Copilot free to use? 
No, Microsoft Copilot is not free. It's priced at $30 per user per month for Microsoft 365 E3, E5, Business Standard, and Business Premium customers. 
Can Microsoft Copilot be used with other IDEs? 
Yes, Microsoft Copilot works with other Integrated Development Environments (IDEs), including JetBrains IDEs like IntelliJ IDEA, Android Studio, and PyCharm. You can install the GitHub Copilot extension from the IDE's marketplace. 
What programming languages does Microsoft Copilot support? 
Microsoft Copilot supports various programming languages and frameworks, including C#, C++, Python, and more. It excels in popular languages like Python, JavaScript, TypeScript, and Go. It can also assist with domain-specific languages (DSLs) and less common languages with sufficient training data. 
Are there privacy concerns with Microsoft Copilot? 
Microsoft Copilot prioritises privacy and security. It operates within your Microsoft 365 tenant, ensuring data security and compliance with your organisation's policies. Your data is logically isolated and protected. It's built on Microsoft's trusted approach to security, privacy, identity, compliance, and responsible AI.