Microsoft Teams Management Tools To Make Your Life Easier
Image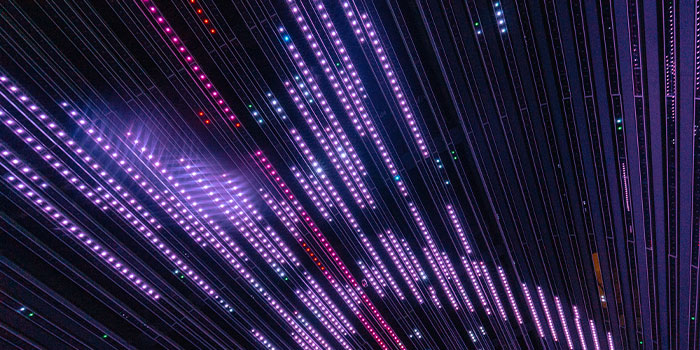 Microsoft Teams service management can be as simple or as complex as you make it. 
Or, if you've inherited Teams as a product you manage for your organisation, or had to migrate users over quickly, you might already find yourself in a complex scenario. 
But, fear not! 
In this post, we answer the most common queries pertaining to Microsoft Teams management: 
How do I manage Microsoft Teams? 
How do I get to the Microsoft Teams Administration Center? 
How do I manage teams in Microsoft Teams? 
Our recommended Microsoft Teams management tools 
 
How do I manage Microsoft Teams? 
The remit for Microsoft Teams management varies in different organisations. 
Common management scenarios for Teams include: 
Usage and adoption of Teams for all features 

Governance of team creation and lifecycle 

Editing, deleting and archiving teams, channels and users 
File management within Teams and on SharePoint 

Performance of meetings and calls 

Quality assurance during broadcasts and live events 
Managing a Teams deployment often starts in the Teams Admin Center. 
 
How do I get to the Microsoft Teams Administration Center? 
Role Based Access Control (RBAC) defines how much access, if any, you have to Teams Admin Center. Use Microsoft Teams administrator roles to manage Teams - Microsoft Teams | Microsoft Docs 
Once you have access, go to Teams Admin Center. 
Here, you can view or make changes to any existing teams and channels, as well as setting org-wide policies like defining permitted domains for external access. 
When making changes across the board, you may need to set up Microsoft Teams governance best practices before you start tinkering with user's profiles. It's common for IT teams to agree a standard set of guidelines for administration. 
Defining these guidelines is often easier using a Teams governance template. 
When you're up and running already, and your users start uploading documents during day-to-day use, it's important to understand Microsoft Teams file management options. 
Again, you can set permissions in the Teams Admin Center. 
 
How do I manage teams in Microsoft Teams? 
In Microsoft Teams, a team is defined by Microsoft as a group of people brought together for work, projects, or common interests. 
Within a team, we've got channels, people, documents, apps, and third-party integrations to manage.  
Managing teams 
Teams can be used for many purposes, but one way to think about them is either: 
Forever teams that will exist with users from departments collaborating every day  
Or 
Temporary teams that exist for a specific project, and are no longer needed once the project is over 
Day-to-day management of these teams is the same. Once a team is created, there's little to nothing required from an administration viewpoint. 
Team Owners and Users can create channels and upload and manage documents without intervention from Teams admins.  
But, when a temporary team is no longer needed, you must decide whether to keep, archive, or delete the channel and team. 
The main question here is: When you remove teams from Teams, where does the content go? 
For the everyday user, out of sight is out of my mind. 
For the Teams administrator, knowing what has happened to your archived or deleted content is crucial for Teams governance. 
When a user clicks 'delete content', it gets removed from the Teams channel and the underlying SharePoint site.  
If an owner or an admin deletes the entire team, the activity and content (files, chats, etc) are all deleted and cannot be recovered later, unless you have access to the Microsoft 365 group that's associated with the team. There is a 30-day soft delete, then it is gone forever. 
The alternative to deleting an entire team is to archive it. 
You can archive teams (and content) if it is likely you will need to use the team again or content again and don't want to move the content. 
Managing people 
When someone new joins the business, they can join any discoverable public team. 
They can also be added to any private team by that team's owner(s). 
In the case of users external to your tenant, maybe contractors or partners, you can grant permission for users of other Teams tenants to have "guest access" to teams in your Teams tenant. These come with permission restrictions as standard. You can adjust some of these settings in the Teams Admin Center. 
To gauge whether people are participating in channels, Teams shows basic channel and teams analytics in the Analytics tab. 
Image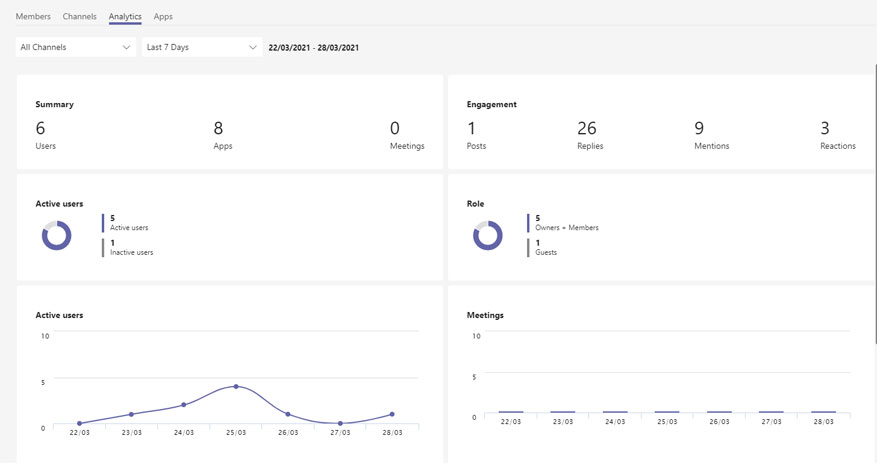 You can filter by channel and change the date range to last 7, 30, or 90 days. 
For more detailed analytics on usage and performance, you can use Teamwork Analytics to get actionable insights to drive organisation-wide adoption, and identify areas and teams that could benefit by using more chat messages, calls, or meeting features. 
If someone leaves your business, there's a decision to be made around what happens to their content.  
When you remove a user from a team or delete a user completely, the content they produced i.e., files saved to Teams, and therefore SharePoint, will remain in the channel and SharePoint site. 
If the content belongs to the business and may be used by other team members, you'll want to keep that content in a public channel where it's accessible. 
If the content is unlikely to be needed by other team members, you could archive it. Remember, archiving doesn't delete the content, but does remove it from your Teams front-end. 
The final option is to delete the content along with the user's Teams profile. It is common practice to do this after an agreed period when the files have been archived. 
Documents 
File management in Teams sounds more complicated than it is. 
With a files tab in Teams, SharePoint sites, and OneDrive cloud storage, it's easy to get overloaded with information (literally and metaphorically).  
When you create a new file (Word, PowerPoint, Excel, etc) directly from Teams, it is actually being saved in the team's SharePoint site.  
If you use the Teams desktop, OneDrive syncs the files between your desktop and the SharePoint site. When users choose to edit documents offline, they will be automatically synced when you are online. 
Image

If you're getting stuck managing files in Teams, read our post on Microsoft Teams file management. 
Apps 
In channels, users can add other Microsoft apps to make working on different programs easy to manage without switching from one window to another. 
Your accounts team might want to stay in Teams for all its day-to-day activities. And it can do that by using Excel within the Teams desktop client. 
Or, your HR team might use Forms for information capture when conducting employee feedback. Again, Forms can be launched within the Teams desktop client. 
Management of these apps is straightforward, as your internal users likely have access to these apps through your Microsoft 365 licensing. 
Third-party integrations 
You can also add apps from outside the Microsoft world if your teams use other apps in their day-to-day activities. 
Adding a new app via the "Add a tab" menu is simple enough for end users. 
Image

Management of these third-party integrations can be tricky, as different users and teams will need access to different apps. 
For example, your marketing team might use Freehand for creating mock-ups of landing pages. But, your sales team may use Webex for video calls with suppliers who don't want to switch to Teams every time they need to meet. 
Granting permissions is easy enough. But, when you're in a large organisation with lots of different teams demanding new integrations and changes to these on a regular basis, it's hard to manage without access to a Microsoft Teams management tool. 
Our recommended Microsoft Teams management tools 
Teams has some great analytics and dashboard features to give you a high-level overview of everyday usage in Teams, and the wider Microsoft 365 suite. 
For deeper insights and the actions you can take to drive further adoption, you will likely benefit from a third-party tool. Access to not only a holistic view of your Teams usage and performance but also suggested actions and automated prompts, makes management of Teams simple and less time-consuming. 
Nasstar has developed its own Microsoft Teams management tool, Teamwork Analytics. 
Whether you're at the beginning of your Microsoft Teams journey or acquiring a new company and onboarding thousands of new users, Teamwork Analytics enables you to speed up adoption and provides entire lifecycle management. 
Using Power BI, your team creation, governance processes, and reporting are all taken care of – and all in one place.  
When you install Teamwork Analytics, you standardise Teams compliance, governance, and security.  
Remove last-minute release management changes, reacting to file management fires, and constant requests for external access by simply installing the Teamwork Analytics app. 
Access reports to see who is using Teams and how they are using it.  From a local level to complete international coverage, you ensure your environment is optimised, compliant, and secure. 
With Teamwork Analytics, you get a detailed view of your Teams estate. Focusing on the critical elements of adoption, governance and performance, Azure Automation enables direct-to-user notifications to drive further adoption and optimise your environment. 
Identifying areas for improvement, end users receive notifications to take action on governance breaches, adoption misfires, and call quality issues. 
Microsoft Teams automation 
Azure Automation tackles threats and opportunities before they happen, across your Teams environment. 
This ensures you maintain compliance standards and improve call and meeting performance. 
Create your own automation rules or choose out-of-the-box user notifications via email or Teams private message.  
Automations can be created from any of the Teamwork Analytics data sets.  
You determine the scenario, the message, and the recipient to ensure the tone and content are exactly what you want to deliver.  
Power BI reports 
Harnessing data from Microsoft Graph APIs, Teamwork Analytics delivers the full picture of your Microsoft Teams estate: 
Health 

Licence provision vs active usage 

Compliance threats 

Security risks 

Progress against adoption goals  
Call and meeting quality performance metrics 
Our Power BI report data includes actual and average, static and trending behaviours, traffic light guidance, and granular drill-down to user level. This gives you the flexibility to roll up for organisation-wide insights or focus on a specific activity, department, or custom attribute.  
Image

Building Teamwork Analytics into your operational processes ensures you stay ahead of GDPR and ISO requirements by continually enforcing governance and driving a positive user experience.  
Teamwork Analytics is available for secure deployment on your Azure tenant giving you complete control and ownership of all data or as Software as a Service, run by Modality on Microsoft Azure. 
Sign up for your 30-day free trial of Teamwork Analytics here.