How to Measure Microsoft Teams Productivity
Image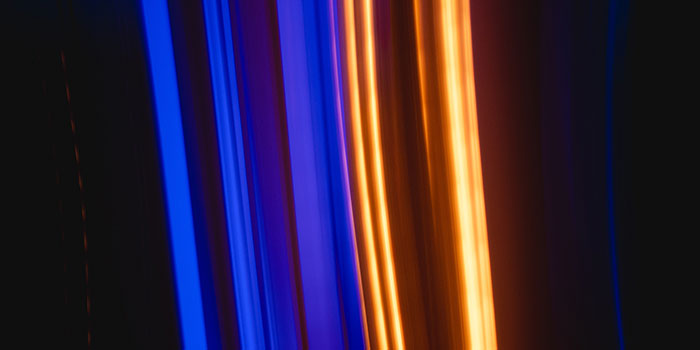 Whether your teams are working from home for the first time or you're a mature Microsoft house, measuring Microsoft Teams productivity has been tricky since inception.
With more intangible benefits associated with collaboration apps. 
In this post, we introduce three options that enable you to measure Microsoft Teams productivity:
Does Microsoft Teams monitor productivity?
Microsoft Teams (and other Microsoft tools) have a few options for monitoring productivity.
In November 2020, Microsoft launched Microsoft Productivity Score.
This tool has been introduced on the back of so many organisations moving to a work from home model without ideal preparation time.
Using some of the data captured and manipulated in the Workplace Analytics tool, Productivity Score provides high-level insights into app usage, Microsoft 365 adoption, and team productivity.
Workplace Analytics already existed and has been in use by large organisations since inception.
Widely viewed as a more granular analytics package with a larger number of reports, Workplace Analytics monitors productivity and all data exchanged throughout a Microsoft deployment.
Let's break down what the two are, how they differ and introduce an alternative.
1 – Microsoft Productivity Score
This section is about Microsoft Productivity Score. To skip to Workplace Analytics, click here.
WHAT IS MICROSOFT PRODUCTIVITY SCORE?
Microsoft Productivity Score does exactly what it says on the tin.
By assessing usage across Microsoft programs, Productivity Score gives you a score to suggest how productive your teams are working.
The score aims to provide three things:
Metrics: to gauge how far you are along your Microsoft digital transformation journey
Insights: to confirm what the data means and how you can interpret it
Recommend actions: to use this data and information to help you use Microsoft products more effectively
Image

HOW IS MICROSOFT PRODUCTIVITY SCORE CALCULATED?
Microsoft outlines eight categories where it measures productivity. Each of these gets assigned a maximum of 100 points:
Communication 
Meetings
Content collaboration 
Teamwork
Mobility 
Endpoint analytics 
Network connectivity
Microsoft 365 Apps Health 
Each category gets scored out of 100, and Microsoft provides both a 28-day and 180-day view for you to monitor and analyse.
WHICH PRODUCTS ARE INCLUDED IN MICROSOFT PRODUCTIVITY SCORE?
As of March 2021, Microsoft includes the following programs in Productivity Score:
Exchange
SharePoint
OneDrive
Teams
Word
Excel
PowerPoint
OneNote
Outlook
Yammer
Skype
It is expected that the recently announced Microsoft Viva will be added to this list shortly.
Microsoft has not revealed any plans to extend Productivity Score into third-party apps or Microsoft Teams integrations. 
WHO CAN ACCESS PRODUCTIVITY SCORE?
You must hold one of the following Microsoft admin roles to view Productivity Score:
•    Global admin
•    Exchange admins
•    SharePoint admin
•    Skype for Business admin
•    Teams admin
•    Global reader
•    Reports Reader
•    Usage Summary Reports reader
To opt your business into Microsoft Productivity Score, you must be a global admin.
HOW MUCH DOES MICROSOFT PRODUCTIVITY SCORE COST?
Microsoft Productivity Score is free for any business with a paid Microsoft 365 license.
Microsoft Productivity Score reviews
The immediate sentiment was mixed. Upon announcement, journalists and users took to social media to express their concern over privacy.
India Times ran a headline "Microsoft's 'Productivity Score' Blamed As The Ultimate Office Surveillance Tool" after an Austrian digital ethics activist accused Microsoft of enabling "workplace surveillance."
The Guardian also reported that Microsoft had been criticised as "enabling workplace surveillance" as the tool "allows managers to track employee activity."
Microsoft soon released an updated announcement explaining that Productivity Score would not be tracking employee activity but measuring productivity based on time spent in apps. There is no on-screen tracking and it does not need access to your webcam.
TechTarget now suggests "Microsoft makes Productivity Score useful to tech buyers." 
ZDNet also agrees that "monitoring a worker's productivity at a time when many people are working from home."
Microsoft encourages users to leave feedback by emailing prodscorefeedback@microsoft.com
HOW DO I TURN OFF MICROSOFT PRODUCTIVITY SCORE?
If your business has opted into Productivity Score but wishes to opt-out, you need to be a global admin to turn this setting off.
In the Teams Admin Center, go to Settings > Org Settings
Choose Services
Choose Reports
Select Display anonymous identifiers for user, group, and site names in Productivity Score and Usage Reports.
Don't forget to save your changes
Microsoft 365 will still gather data about app usage, as reported by Tony Redmond, Principal at Redmond Associates. 
But he adds that "Microsoft decided to remove the user-level data from Productivity Score and rejig text to make the intent and purpose of the feature clearer."
2 - Workplace Analytics
This section is about Workplace Analytics. To skip to Teamwork Analytics, the Nasstar alternative,  click here.
HOW IS WORKPLACE ANALYTICS DIFFERENT FROM MICROSOFT PRODUCTIVITY SCORE?
Workplace Analytics is a data-driven solution that provides aggregated and deidentified insights into how people spend their workday and how they interact with one another.
It is aimed at three key areas, providing the following insights: 
Organisational agility – insights into time-consuming processes and ways of streamlining.
Employee wellbeing – insights into departments at risk of burnout, helping ensure a healthy work-life balance
Manager effectiveness – insights into how managers interact with their employees highlighting coaching opportunities                                   
Workplace Analytics is able to provide these insights by processing the data collected in Microsoft Graph.
It differs from Microsoft Productivity Score as these insights are aimed at managers and executives to provide a holistic, data-driven view of how their organisation operates, allowing them to drive new incentives while monitoring their success throughout.
Workplace Analytics is often paired with its sister product MyAnalytics. 
This is aimed at the individual users and provides each individual with their own insights into how they work. 
MyAnalytics also provides the organisation leaders with the ability to assign plans aimed at improving focus time and protecting after-hours time.
Image

WHICH PRODUCTS ARE INCLUDED IN WORKPLACE ANALYTICS?
Workplace Analytics provides analytics for the following Microsoft 365 tools:
Microsoft Teams chats
Microsoft Teams calls
Scheduled Microsoft Outlook meetings
Microsoft Outlook emails
Microsoft has also announced its latest tool, Microsoft Viva will include Microsoft Viva Insights.
Image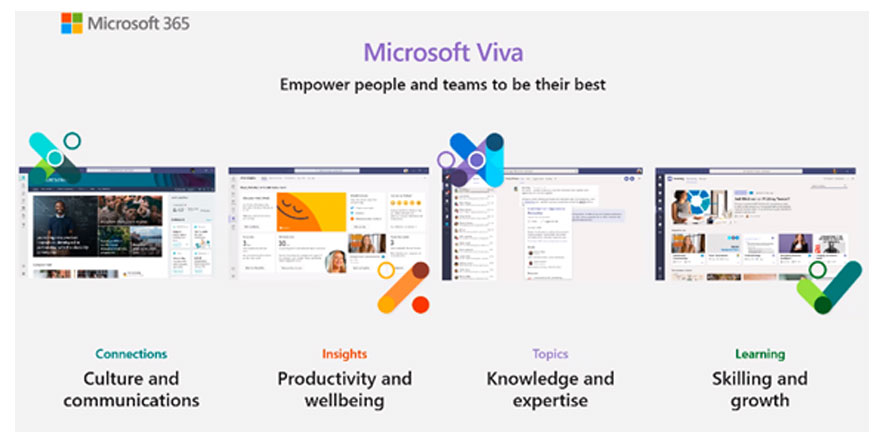 Microsoft Viva is an employee experience platform, launching mid-2021, which will initially consist of four modules and will be accessed through Microsoft Teams.
The modules are:
Connections – curated, company-branded experience that brings together relevant news, conversations, and other resources.
Insights – currently known as Workplace Analytics Data-driven, privacy-protected insights and recommendations to improve productivity and wellbeing.
Topics – applies AI to empower people with knowledge and expertise by organising existing resources into coherent topics presented within the Teams app.
Learning – a central hub for learning in Microsoft Teams where people can discover, share, assign, and learn from content libraries across their organization.
HOW MUCH DOES MICROSOFT WORKPLACE ANALYTICS COST?
Plans for Workplace Analytics start at $2 per seat/per month for Microsoft 365 Enterprise E5 subscriptions and $6 per seat/per month for all other subscription services.
Other pre-requisites for Workplace Analytics include:
Only available through an Enterprise Agreement
Only available as an add on to Enterprise Plans (E1/E3/E5), not included in the plans themselves
Tenant must have Exchange Online
Microsoft Workplace Analytics does not have a free version and does not offer a free trial.
Microsoft Workplace Analytics licensing
Workplace Analytics is available as group-based licensing.
With group-based licensing, the system requires that both the prerequisite and add-in service plans be enabled for the group, so that any new users who are added to the group can get a valid service plan assignment.
Microsoft outlines that this service plan can only be assigned to a user or group when one of the following prerequisites is also assigned:
Exchange Online (Plan 1) (Id: EXCHANGE_S_STANDARD)
Exchange Online (Plan 2) (Id: EXCHANGE_S_ENTERPRISE)
Microsoft Workplace Analytics review
Microsoft highlights the following companies already using Workplace Analytics:
Lumen
Hershey's
Unilever
Vodafone
AB InBev
Johnson & Johnson
Finastra
National Australia Bank
JBS
LITE-ON
Panasonic
Prudential
Image

A review on Capterra by "Engoudou edzimbi B." - a freelance marketer, highlights pros and cons of Workplace Analytics.
Pros: You can easily keep track of it by using the data and analyzing work time. Tracking is essential because if there is a problem, that's where we see it. The security and confidentiality of the data is effective and preserved by Microsoft 365.
Cons: The only drawback I find in this application is the exorbitant time it takes to install and start Microsoft Workplace Analytics. Other than that, I don't have any complaints about the application.
3 - Teamwork Analytics by Nasstar
If you're looking for a more comprehensive solution for Microsoft Teams, look no further than Teamwork Analytics.
Teamwork Analytics provides Microsoft Teams lifecycle management for your business and your peace of mind.
Whether you're at the beginning of your Microsoft Teams journey or acquiring a new company and onboarding thousands of new users, Teamwork Analytics enables you to speed up adoption and provides entire lifecycle management.
With Teamwork Analytics, you can access both historical and real-time reports to see who is using Teams and how they are using it.
You get a detailed view of your Teams estate, focusing on the critical elements of adoption, governance, and performance.
WHICH PRODUCTS ARE INCLUDED IN TEAMWORK ANALYTICS?
Teamwork Analytics primarily supports Microsoft Teams. You can also opt-in to add-ons for SharePoint, OneDrive, Exchange, and Yammer.
Building Teamwork Analytics automation and reporting into your operational processes ensures you drive a positive user experience, and enforce governance to stay ahead of compliance requirements such as GDPR and ISO.
Teamwork Analytics automation provides a self-managed solution for Microsoft Teams, increasing the value and security of your investment without you having to lift a finger.
Usage
Governance
Performance

Actionable insights to drive organisation-wide adoption
Drive usage of chat messages, Teams messages, calls and meetings

Ensure Teams governance, security and control
Demonstrate compliance and adherence to policy

Packet loss, jitter, network performance
Report on end user call and meeting quality and reliability 
Teamwork Analytics add-ons
Teamwork Analytics includes add-ons for specific use cases. These can all be combined with your Teamwork Analytics deployment.
Teamwork Analytics Collaboration Intelligence Service
Expert review and recommendations for improved governance, adoption and performance.
Teamwork Analytics Advanced Security Reporting
Power BI reports on Microsoft 365 group lifecycle, external file sharing and Guest activity including tenant logins and file access.
Microsoft 365 Usage Reporting
User activity, license activation, usage reporting across SharePoint, OneDrive, Exchange, Yammer
CreateTeam
Microsoft Teams app to allow granular control of team creation, with user-level security and templates.
Microsoft Teams PSTN Billing
Itemised call plans, usage and charges for accurate billing for calling plans, Microsoft PSTN Conferencing and Communications Credits.
Teamwork Analytics review
Development Bank of Wales (DBW) had deployed Skype for Business Online to their users, but the ICT team had seen poor user uptake of the technology. 
With Skype for Business retiring, they needed to move their users to Microsoft Teams, but with a different approach this time; one that would encourage users to embrace the new tool and collaborate effectively. 
Their mandate for using best-in-class suppliers led them to Modality via G-Cloud. The project's user adoption approach needed to drive real habit change across the business, as well as give a clear indication of the technology's ROI.
Following deployment of Teamwork Analytics with CreateTeam, DBW can demonstrate the ROI of their Microsoft Teams investment through the usage reporting module of Teamwork Analytics. 
"We wanted to make sure that we were driving Teams user adoption through the business, and with Teamwork Analytics we can measure exactly that."
Rob Hill | ICT Cloud Manager at Development Bank of Wales
In just three months, DBW saw an increase in internal chat messaging from 5,000 to 15,000, plus a 15% increase in meetings usage month-on-month, demonstrating that DBW users are effectively adopting the technology throughout the business.
Read the full case study here.
You can get a free 30-day trial of Teamwork Analytics. This can be either via SaaS deployment or deployed on your Azure tenant.