How to Make the Most of Your Virtual Meeting Rooms
Image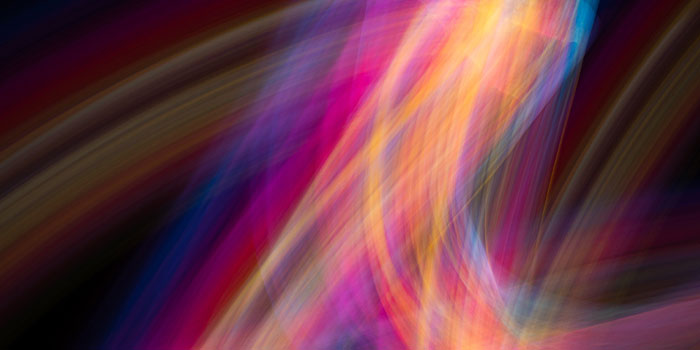 The Virtual meeting rooms have fast become the most important tool in our IT stacks. In fact, Microsoft says 2.7 billion meeting minutes happen per day on its virtual meeting services.
Add in the virtual meetings that happen on video conferencing platforms like Cisco Webex and Zoom and that's an incredible amount of time spent in virtual meetings.
Speaking of Webex, Zoom, and the vast array of other meeting platforms available, how many others are in use in your business?
You might count Microsoft Teams and Webex as you rolled them out yourself. But, you'll likely have instances of Zoom, Lifesize, or BlueJeans. And that's just a start.
As web conferencing services are in higher demand than ever before, many large brands like Google and startups like Touchbase have appeared in businesses large and small.
Innovative cloud meeting startups:
@airmeet_com@around_hq@GitDuckHQ@GoHeadroom@hopinofficial@IcebreakerVideo @loom@macro_HQ@mmhmmapp@prezi@rallydotvideo@remotionco@rumevideo@RunTheWorld365@ShindigEvents@SpatialChatTeam
@TeoohEvents @trydaily@unscreencom@whereby pic.twitter.com/1Xa3vXIIlX

— Alaa Saayed (@alaasaayed) October 14, 2020
With all these video conferencing services comes a wealth of virtual meeting rooms to choose from. 
Will all your teams agree on a single platform to use?
No, we didn't think so either. 
In this post, we detail the best practices for rolling out and using virtual meeting rooms. We then dig into how you can connect the platforms you use to ensure a simple and consistent experience in physical meeting rooms and while working remotely.
Before we get into the super-detailed stuff, let's recap to make sure we're already using virtual meetings as best we can.
How do you set up a virtual meeting?
How do I connect to virtual meeting rooms?
Connecting to a virtual meeting room differs from platform to platform. But, you already know this as you've had to coach your users through connecting to platforms nearing double figures.
It's a little…repetitive, isn't it?
You could put together a catch-all guide but you know the slight differences in UI will catch some people out. 
Feel free to copy and paste the instructions for connecting to the most popular virtual meeting rooms:
How to join a Microsoft Teams meeting
From your calendar app, like Outlook or Windows Mail, you can open your meeting invite and click Join Microsoft Teams meeting.
Your organisation may have customised the join link to look like the one below. We've changed the text to say "Click here to join the Modality Systems meeting using Microsoft Teams."
Image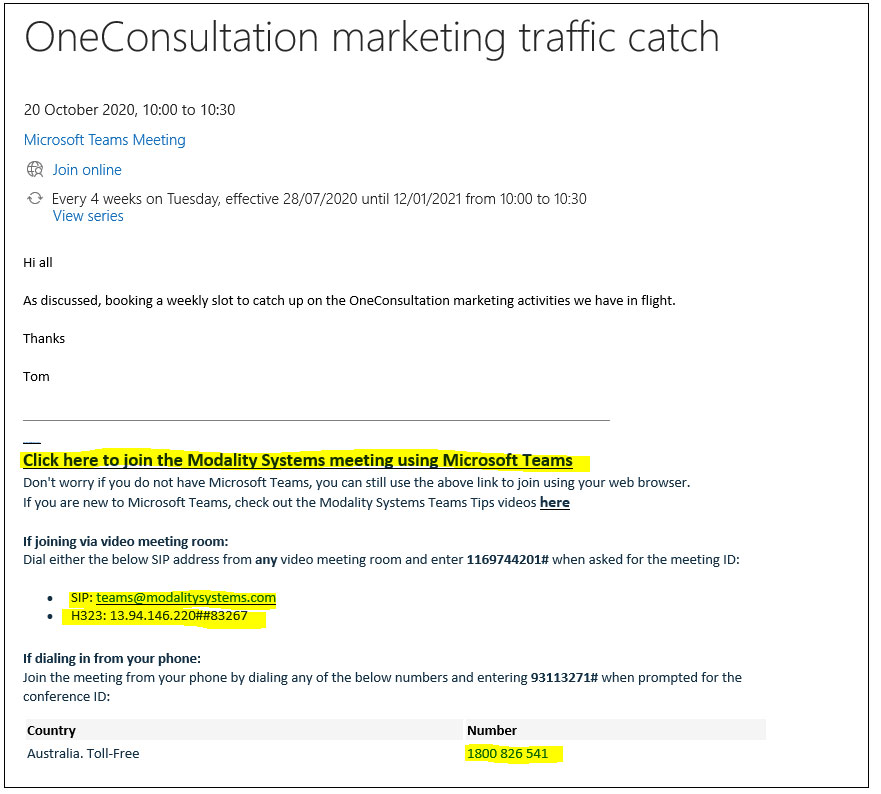 When you click this link, whatever the text says, you get redirected to this screen:
Image

Choose to either Continue on this browser or, if you have the Teams app installed, click Open your Teams app.
Note: Browser join only works for Edge and Google Chrome. If you're using Firefox, Safari, or Internet Explorer, you need to download the Teams app.
Your meeting will then open in either your browser or Teams app.
You also have the open to join by dialling into the meeting from a phone or a video meeting room. A phone number and SIP address are provided for these options.
If you are already in Teams, you don't need to navigate to your calendar app.
Instead, click on the Calendar tab on the left-hand panel of your Teams app. Here, you get presented with any meetings you have scheduled.
Image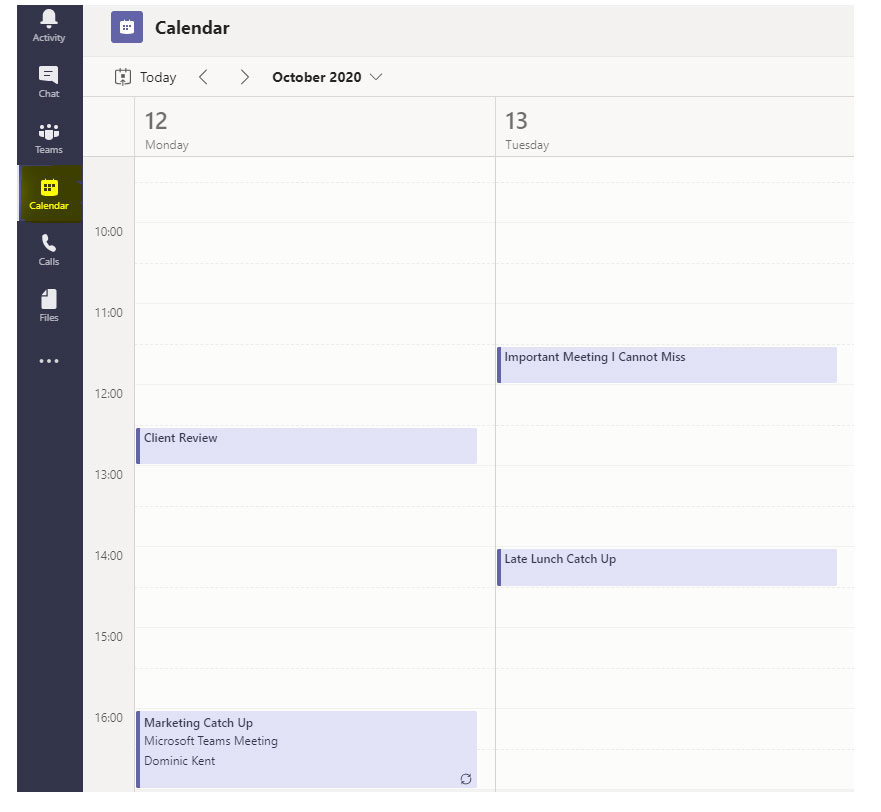 From this view, click the meeting you need to join and choose Join Meeting.
Image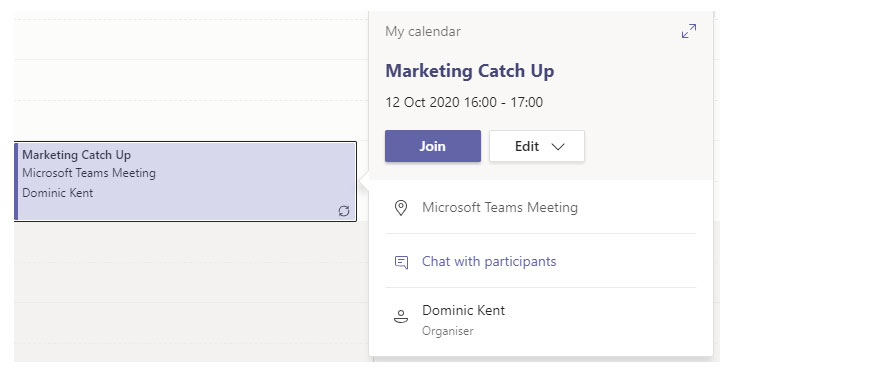 You may be asked to wait in a lobby until the host joins the meeting. Once admitted, start your meeting.
How to join a Zoom meeting
From your calendar, like Google Calendar, navigate to your meeting invite and click the meeting. 
You will see the option to join the Zoom meeting using a web link or by calling your local number. 
Image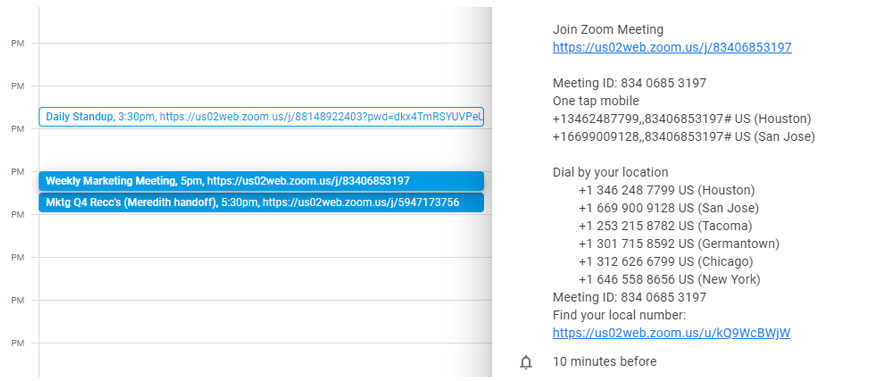 For an audio-only meeting using a phone, dial the number.
For video meetings with screen sharing and other video conferencing features, click the link. 
You will be asked whether to open or cancel. Click Open Zoom Meetings.
If you don't have Zoom installed already, it will automatically start installing on your machine.
In some cases, you will have to wait for the meeting host to join the meeting for it to start.
Once admitted, you can start your meeting in Zoom.
If you already have Zoom open, like if you're using Zoom Chat or Zoom Phone, you don't need to flick over to your calendar app.
Instead, click the Meetings icon in the top bar to display all your scheduled Zoom meetings.
Image

From here, click Start on your chosen meeting and wait for other meeting participants to join.
How to join a Webex meeting
From your calendar app, navigate to the meeting you need to join and open it.
Image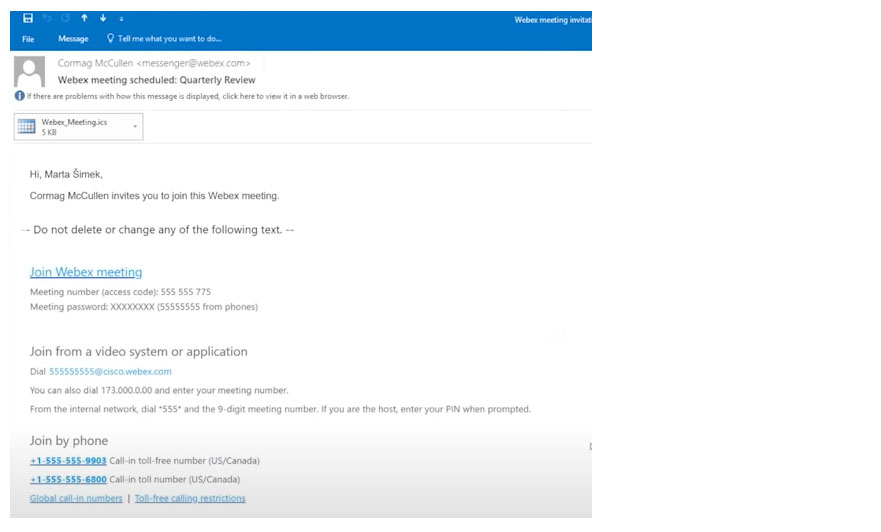 From here, click Join Webex meeting and your meeting will begin.
You also have the option to dial in using a phone or joining from a video system or application using a SIP address.
You can also join a Webex meeting direct from the Webex Meetings app.
From here, your upcoming meetings will be displayed in your app. If you're not signed in to your calendar, you'll need to sign in first so the Webex Meetings app is linked.
If you're not signed in, your app will look like this:
Image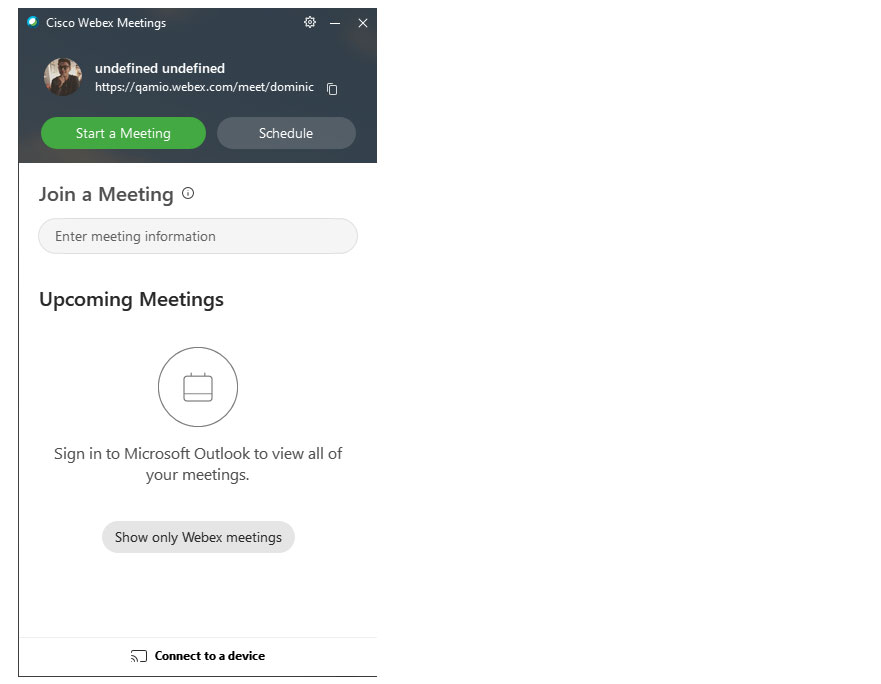 Once signed in, click the meeting you wish to join and wait for other meeting participants to join.
How do you set up a virtual meeting?
There are two main ways to set up a virtual meeting. These vary dependent on the video conferencing app you use but the principles are the same.
For this example, we'll use Microsoft Teams.
Open your virtual meeting application i.e. Microsoft Teams or Skype for Business.
Navigate to "Meet" in the top right-hand corner.

Image

Choose either Meet now or Schedule a meeting depending on when you want the meeting to start. (Meet now starts an immediate meeting whereas Schedule a meeting opens your calendar view to set up a new meeting for another time).

Add a title, the start time, required attendees, and any notes you may need for the meeting then click Send in the top right-hand corner.

Image
At the time of your meeting, you will get a notification to say your virtual meeting is about to begin.
The second method is to integrate your video conferencing app with your calendar. Again, for this example, we'll use Microsoft Teams.
To use this option, Microsoft Teams (or any video conferencing app) must be integrated with your email client.
Teams users no longer need to set up the integration. Microsoft now says "the Teams Meeting add-in is automatically installed for users who have Microsoft Teams and either Office 2013, Office 2016, or Office 2019 installed on their Windows PC. Users will see the Teams Meeting add-in on the Outlook Calendar ribbon."
For Mac users, Microsoft provides this guidance:
"The Teams Meeting button in Outlook for Mac will appear in the Outlook for Mac ribbon if Outlook is running production build 16.24.414.0 and later and is activated with a Microsoft 365 or Office 365 client subscription."
Once the integration is enabled, setting up a virtual meeting from your calendar or email app is simple.
Open your email app i.e. Microsoft Outlook
Click New Teams Meeting

Image
At this point, your usual meeting invite will populate with the addition of a Microsoft Teams meeting link.
Add your meeting recipients, timings, and an agenda as usual then click Send.
You can replicate this process with most virtual meeting platforms. Some may need some back-end work to configure the integration.
What is the best way to have a virtual meeting?
The answer to this question will differ from business to business and from person to person.
The real question we need to address here is How do I cater to everyone's preferred method of virtual meeting?
Here are a few things you shouldn't have to worry about:
Preference of video conferencing system (Microsoft Teams, Webex, Zoom, etc)
Are your users in the office, at home, or on the road?
Are your meetings likely to have a mix of remote attendees and in-person attendees?
How do you judge which meetings need both remote and face-to-face attendees?
What happens when one user wants to join using Teams and another using Zoom?
Arguably, the best way (for you, at least) to have a virtual meeting is for you to roll out a single video conferencing solution.
But, we bet you've tried that and various shadow IT apps and devices get added anyway. 
Best practice to please all users and teams, using various meeting room solutions in the office and different web conferencing apps at home, is to make it as simple for users to join and simple for you to manage.
It seems a tall order but OneMeeting helps just that.
OneMeeting integrates video conferencing systems like Lifesize, Zoom, and Cisco, to work as part of your Microsoft Teams environment. Here, your users get a single consistent user experience when joining any video meeting – regardless of the platform.
For example, if they are invited to a meeting in BlueJeans from a video conferencing room, they forward that meeting invite to the specific room and OneMeeting adds a one-touch join URL.
It's at this point where OneMeeting bridges the call together.
Rather than managing several video conferencing platforms, you get to manage one core solution, and users can choose from their preferred app.
With OneMeeting, you enable a one-touch join meeting experience regardless of the meeting platform. 
Support multi-tenant deployments without extra Azure resources
Support Poly and Cisco endpoints side by side across multiple customer tenants
Create dial out aliases for any service using custom meeting processing rules (Teams, Skype, Zoom, Webex, Google Meet, etc)
Book a demo of OneMeeting here.
How do I add a meeting room in Microsoft teams?
We know that meetings have shifted from in-person to remote. We also expect in-person meetings to return to a form of hybrid model where half your meeting participants are in the office and half attend via a virtual meeting.
So, adding a meeting room to your virtual meeting is important to ensure everybody can attend your meeting.
Remember the old days where people at home weren't let into the meeting because they weren't able to ask to be let in? Or they were the forgotten voice at the end of a conference phone?
If you don't add a simple way to add a meeting room to a Teams meeting, the reverse could happen. Imagine all your remote attendees meeting productively and in-office attendees waiting around the conference room for a meeting to begin.
To enable your users to add a meeting room to their Teams meetings, you must first create a distribution group in Microsoft 365.
Once created, users can choose from any rooms you have added to your distribution group. All they need to do is add them in the Location field of their Microsoft Teams meeting invite.
 
Image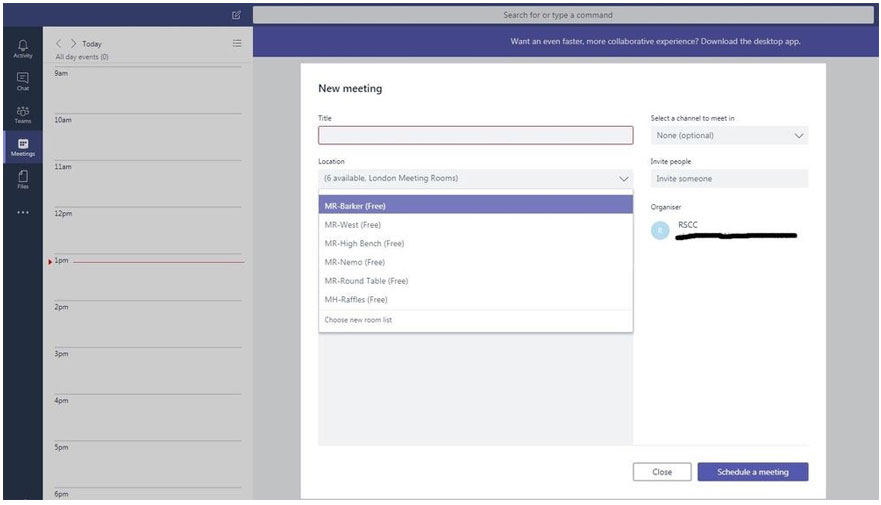 What equipment is needed for a virtual meeting?
There are two types of virtual meeting to think about when shopping for equipment:
Virtual meetings with remote attendees only
Virtual meetings with remote attendees and in-person attendees
Equipment for virtual meetings only
Some home users are already set up for virtual meetings. It's not uncommon to use nothing more than a laptop or mobile to join a virtual meeting.
If you want to go a step further, or need to because of background noise or blurry cameras, try this equipment out for size:
WEBCAM
Assuming your home workers are using laptops, they will have a built-in webcam. If the laptop is high-spec, the laptop camera may be HD. In most cases, you might want to consider supplying home workers with USB webcams to make sure their video display is as good as it can be.
One affordable option is the Logitech C920 at around £50.
Image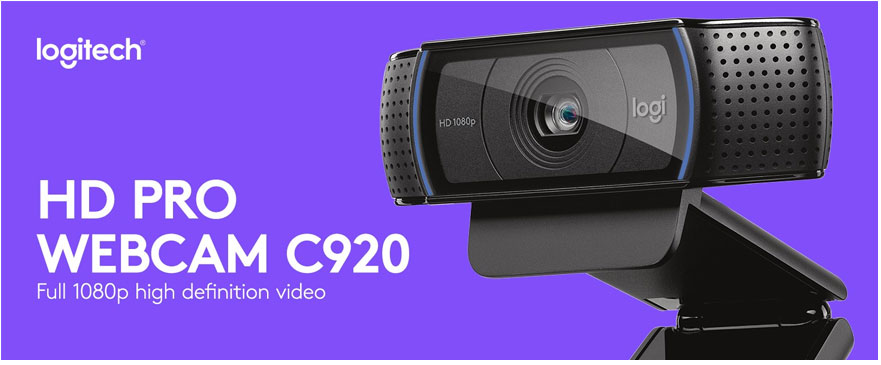 HEADSETS
A wide variety of USB and Bluetooth headsets are available for virtual meetings. When home working setups are prone to background noise, opt for a headset like the Plantronics 8200.
Image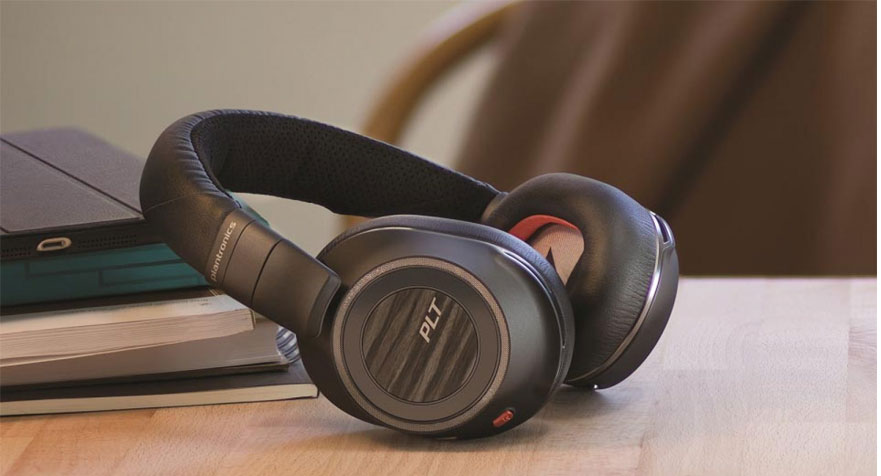 MICROPHONES AND SPEAKERS
The Logitech C920 includes a microphone that is suitable for use in quiet home working environments. In most cases, this is enough when used in parallel with a laptop's speakers.
An alternative for users wanting even better microphone and speaker quality is a portable USB conference phone like the Jabra Speak 410.
Image

Equipment for virtual meetings with in-person attendees
When people need to join virtual meetings from their office, it's important to kit out your physical meeting room to be inclusive for remote attendees as well as in-person meeting participants.
In-room equipment differs from home setups as there is more real estate to cover, different lighting conditions, and the potential for more background noise. 
If you're setting up a meeting room for the first time, it's best to capture bespoke needs from each team that's going to use the meeting room. 
For larger meeting rooms, different teams will have needs for whiteboards, screen sharing, or one-to-one video calls. Capturing requirements upfront will save you remedial work at a later date.
For small meeting rooms with few people at any one time, consider creating a huddle room. You can skip to the section on huddle rooms here. (Or scroll back up when you've finished reading).
When capturing requirements for any size of meeting room, factor in the following:
What's the main purpose of the meeting room?
How many people will use the meeting room at any one time?
Which type of conference phone do you need?
Do you need extra microphones or speakers?
Will the meeting room be used to connect to remote attendees?
Which platforms will your remote attendees be using?
Do you have a method of connecting your in-room system to their virtual meeting room?
What is the best platform for virtual meetings?
Personal preference plays a huge part in deciding the best platform for virtual meetings.
According to stats published by leading video conferencing providers, the current rankings are:
Microsoft Teams (2.7 billion meeting minutes happen per day)
Cisco Webex (25 billion meeting minutes in April 2020)
Been quite a year for @zoom_us pic.twitter.com/3G40iP7DgX

— David Maldow (@LetsDoVideo) October 14, 2020
There's also a host of virtual meeting apps like Lifesize, Google Meet, and BlueJeans that cover more bespoke use cases. For example, users of G Suite will enjoy the integrations with Google Meet more so than long-term users of Microsoft 365 apps.
While it's hard to answer what is the best platform for virtual meetings, the Microsoft Teams stats are compelling. If you're a Microsoft 365 user for apps like SharePoint, Word, Power BI etc, Teams is more than appealing.
If you've already chosen – or had to choose – Microsoft Teams as your virtual meeting platform when all your teams started to work remotely, you may have a unique situation where your office and your remote workers have become disconnected.
Connecting your virtual meeting rooms to the office
Picture the scene:
You've rolled out virtual meeting rooms to your users so they could all work from home during the pandemic.
You already hadvideo conferencing equipment installed in your meeting rooms and boardrooms.
Because you needed the quickest solution to enable your teams to work from home, your virtual meeting rooms and existing video conferencing system in your office aren't the same.
People are starting to use the office again but your two video conferencing platforms don't work with each other.
If your scenario is something like this, you're not alone.
Sandwiched between the millions of Microsoft Teams users are millions of users with other video conferencing services.
In your company, this could be hundreds or thousands. Even if it's a handful, it's an issue you shouldn't have to deal with.
And with OneMeeting, you don't need to.
OneMeeting uses Pexip's video interoperability service to connect your legacy kit in the office with Microsoft Teams at home.
By connecting your video platforms together, you create one-click to join functionality for your meeting participants.
Pexip apps and APIs creates a bridge between any SIP or H323 video conferencing system and the Microsoft cloud.
Image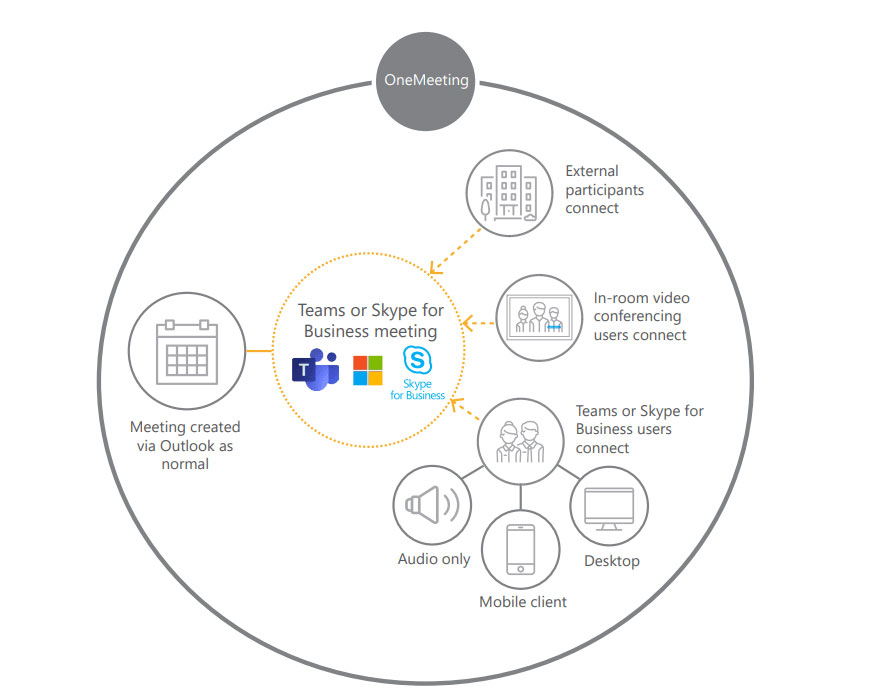 Taking Pexip apps one step further, OneMeeting is unique in that it takes the Microsoft Teams Cloud Video Interop (CVI) and makes your experience Microsoft Teams first.
In addition, you benefit from OneMeeting providing:
A vendor-agnostic approach
Full customisation of the native Microsoft Teams meeting invitation
Full customisation and branding of the OneMeeting service from your video conferencing rooms
Reporting via PowerBI
This means your users get a consistent experience regardless of the meeting room they join from. Less switching between meeting apps means happier users, less administration, and a slicker experience.
OneMeeting enables users to share and collaborate from any in-room video conferencing system, as well as from their desktop or smartphone.
Once installed, you remove the scheduling conflicts, awkward user experiences, and integration issues.
How does OneMeeting work?
OneMeeting is a hosted video interop platform that creates a bridge between any SIP or H323 video conferencing system and the Microsoft Cloud.
This makes it easier for your customers and partners to work with you in a dedicated Microsoft environment.
Providing one-click to join functionality, it enables your users to focus on their meetings and not on how to join them.
With OneMeeting, your meetings benefit from:
The Microsoft Teams meetings as the first choice
Lights up Azure and is a Certified Video Interop solution using Pexip
WebRTC (Skype)
Drives meeting through the Microsoft MCU (Bridge)
Customised branded experience
Works with all video conferencing solutions
Available across the globe ensuring all offices and employees are included
Hands off; one-time install that "just works"
A simplified and consistent user experience
Book a demo of OneMeeting here.
Huddle rooms
Outside of your standard meeting rooms and virtual meeting rooms, you may have (or need) huddle rooms.
This section runs through what huddle rooms are and how to connect them to the rest of your business – regardless of the existing video conferencing tools you use.
What is a huddle meeting?
A huddle meeting is a small meeting often held in a small meeting room in an office or shared working space.
Named huddle after the environment and activity, huddle meetings usually involve a small number of in-person meeting participants with the option for remote users to join via virtual meeting rooms.
Office huddle rooms
As huddle meetings became popular before the pandemic and will continue to be preferred to larger meetings, office huddle rooms are in higher demand than ever.
An office huddle room includes:
Conference phone for audio connection to remote attendees
Screen, monitor, or television display to join video attendees to the meeting room
Screen sharing or content sharing device to broadcast content from the meeting room to remote attendees

Huddle rooms vs conference rooms
A huddle room is often smaller than a traditional conference room.
Your typical conference room includes a large table in the middle of the room with various conferencing phones, microphones, and a large display for video attendees to broadcast onto.
In a huddle room, due to the smaller room size, expect less furniture and more focus on collaboration. 
Huddle rooms are designed to be a productive environment where a small group of people collaborates in real-time and work gets done.
Video conferencing capabilities almost always exist in huddle rooms. When users who work remotely don't need to be in the office all day – but need to collaborate with small groups – connecting the huddle room to the outside world is crucial.
Huddle room technology
Specific huddle room technology exists to facilitate meetings with fewer participants.
While the back-end technology is like standard conferencing technology, output and scale is designed for best performance in smaller settings.
If your huddle room technology is different from your home users, or the rest of your meeting rooms, you will need a method of integrating your video systems.
Huddle room solutions
Many vendors provide specific huddle room solutions. Poly and Cisco have been leading the video conferencing market for many years and both supply a vast array of solutions tailored to huddle room size.
Cisco's successful Room Kit series has been extended to include the Cisco Room Kit Mini – created for a huddle room.
This package includes:
The Cisco Webex Room Kit Mini: a soundbar-type speaker with a built-in wide-angle camera.
A Cisco Webex Board 55: an all-in-one digital whiteboard with wireless sharing and video meeting capabilities.
The Cisco Webex Share: share an app or your whole screen on an HD display without dongles or wires.
Image

Poly, the output of the Polycom and Plantronics merger, has options from its RealPresence solution as well as more portable options like the Calisto 7200 USB wireless speakerphone.
For audio-only meetings, or for attaching to your video device, this portable device is ideal for moving between small meeting rooms and can even be taken home for use with your laptop.
Lifesize custom-made its "Lifesize Dash" for huddle room use. You control the screen, cameras, and content sharing from a wireless tablet. The dash-style camera is compact yet provides extended audio and wide-angle camera options.
Image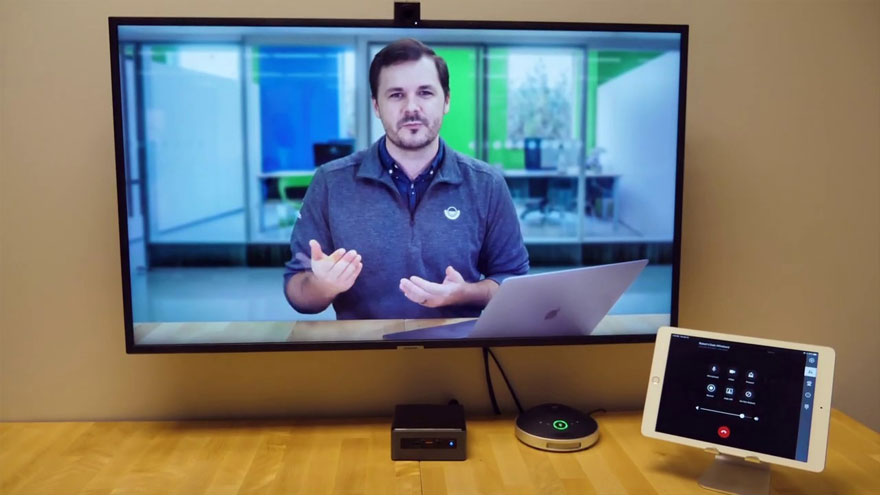 Outside of traditional video conferencing equipment, like cameras and microphones, consider if you need whiteboards, digital signage, or even an interactive flipboard.
The more productive you make your huddle room, the more productive your meetings will be. But, be wary that you have limited space.
This is where connecting your huddle room to your virtual meetings is most important.
Connecting your huddle rooms to your virtual meetings
Whether you created huddle rooms before the pandemic, or are designing them to ensure in-person meetings still take place without a crowded environment, it remains likely that someone will need to attend remotely.
Rather than the old-style – and unproductive – method of "dialling in" to a conference phone in the middle of a table, you can connect your virtual meeting rooms to your real meeting rooms.
Linking office kit, or even entire rooms, to your Microsoft Teams meetings at home is crucial for social distancing measures, productivity in meetings, and inclusivity of remote attendees.
OneMeeting uses Pexip's video interoperability service to connect your huddle room with Microsoft Teams at home.
This means all users – in your huddle rooms and at home – can join the same meeting from any meeting platform. For example, your Microsoft Teams users at home can connect to your huddle room that is kitted out with your Cisco Webex Room Kit.
You can leverage your existing in-room equipment while providing a seamless experience for users in and out of the office.
Are you ready to leave behind disparate systems and unnecessary admin?