Microsoft Teams File Management: Getting It Right
Image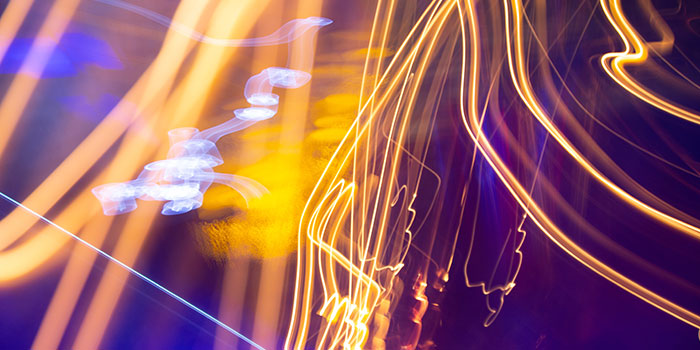 Microsoft Teams file management is integral to the smooth running of collaboration in your business.
While it sounds simple, there are some nuances to file management in Microsoft Teams that you must prepare for in advance – and communicate to your team so everybody is on the same page.
Recognising the wide scope of users in any business, the importance of answering all teams' queries and capturing all their needs is second to none.
Often, we get consumed in thinking the technology is the most important part of a Microsoft Teams rollout.
In reality, it's how we use the technology. And how the wider audience uses it too.
In this post, we answer the following questions relating to Microsoft Teams file management:
Is Microsoft Teams a document management system?
How do I manage files in Microsoft Teams?
Where are Microsoft Teams files stored?
Microsoft Teams document management best practices
Is Microsoft Teams a document management system?
Microsoft Teams is not a standalone document management system. But, that's not to say you can't manage your documents in Teams.
Teams is built on the backbone of SharePoint.
Let's introduce SharePoint so you're up to speed.
Is SharePoint a document management system?
SharePoint is widely considered the most used document management system and is readily accessible to Microsoft 365 subscribers.
Within SharePoint, you can save, share, and manage documentation from a friendly user interface.
You can access SharePoint through any device and from any location that has internet access.
When you set up a Microsoft Teams team a SharePoint site is automatically created as the storage for that team.
When you store a file in Teams, you are really storing it in SharePoint.
The "files" tab in each channel is a view through to the SharePoint site. Each channel has its own folder structure.
Image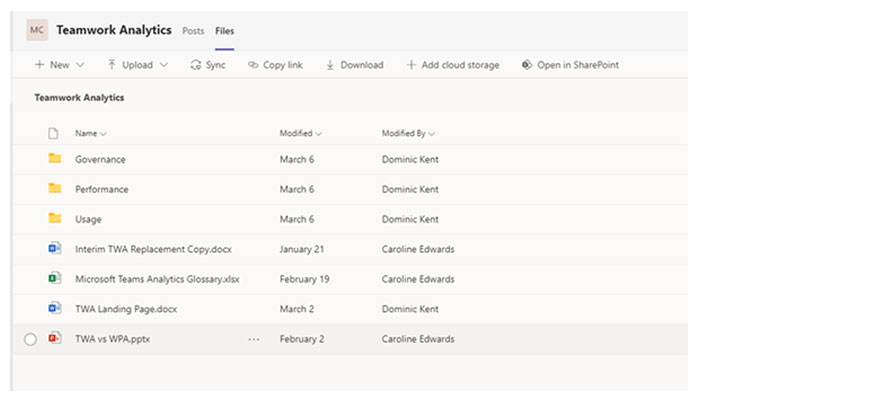 In the screenshot above, you can see you have several options on the top row. These all pertain to file management within Microsoft Teams. 
New: Creates a new document or folder using Word, PowerPoint, Excel etc and saves it into this team (and the corresponding SharePoint site). 
Upload: Saves an existing document to this team (and the corresponding SharePoint site). 

Sync: Can be automatic and pulls every document saved on the corresponding SharePoint site through to the Teams desktop client client and will be visible within File Explorer. 

Copy link: Allows you to select and share the file outside of the file screen (to users who have relevant permission). 

Download: Lets you save a local copy of the document. Ideal if you will be working offline and can upload your new version after. 

Add cloud storage: Adds a cloud storage provider to add a folder to this channel. Choose from SharePoint, Dropbox, Box, Egnyte, ShareFile, and Google Drive. 
Open in SharePoint: Opens the file hierarchy you are currently viewing in Teams as a SharePoint site. 
Is OneDrive a document management system? 
For Teams "private chat", it's slightly different.  
When you share a file in private chat it is being shared from "OneDrive for Business", which is also actually backed by SharePoint. 
But it's a personal per user space rather than a dedicated SharePoint site. 
Regular users of Microsoft apps may also be familiar with OneDrive.  
You may have even used OneDrive in your personal life if you were a user of hotmail or live email services that have evolved into personal document management and collaboration platforms.  
There is a consumer version – OneDrive - and a business version, backed by SharePoint - OneDrive for Business. 
At the most basic level, OneDrive is an online folder system for file storage. Standalone, it doesn't offer the collaboration experience or dashboard view that SharePoint provides. 
Image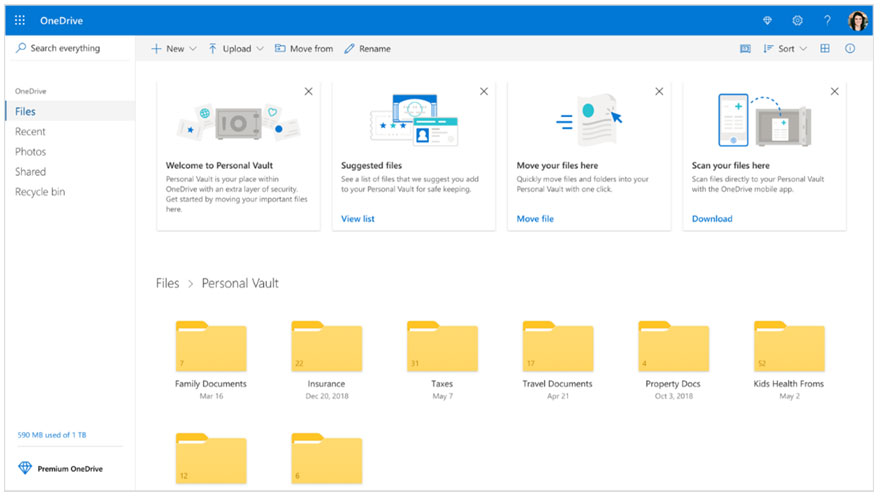 Pre-collaboration technology, OneDrive was used as a file storage system.
You can share files at the click of a button and users love the version control.
Granular controls for admins are available, but you don't get as much flexibility as SharePoint.
Microsoft suggests the following file management best practices on a per user basis:
Image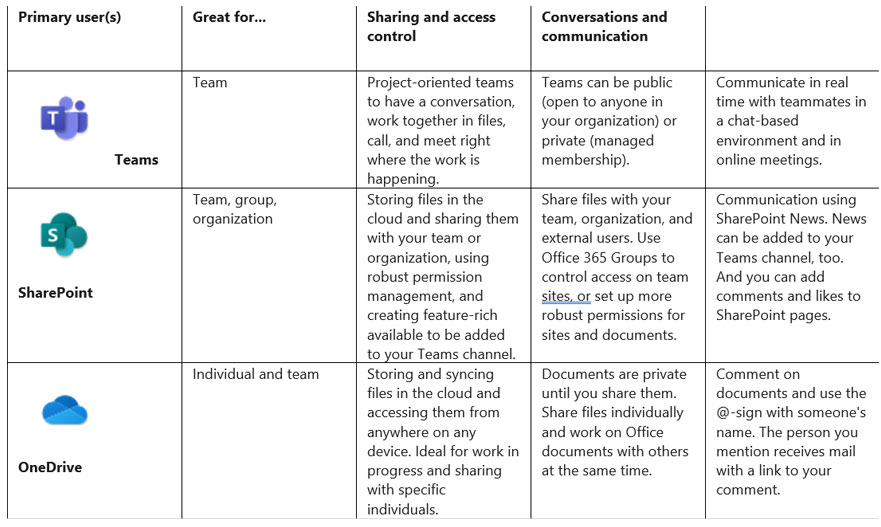 How do I manage files in Microsoft Teams?
You can manage files directly from the Microsoft Teams file tab or the underlying SharePoint site.
When creating a new team, a SharePoint Online team site is created with a single document library. When a new channel is created within the team, a corresponding folder is created within the document library for the channel files.
Each time you make a change to the file in Teams, it is reflected on the SharePoint site. You are editing the same single file that is in that SharePoint site.
How do you link a file in Microsoft Teams?
Members of each team can access all the files in that team.
If you want to share one particular file, click on the file and share it using a Shared link. Some administrators may disable sharing files outside of the members of the team.
In this case, it's better to copy the file and share it with OneDrive for Business (if that is allowed as part of your governance policy).
Microsoft suggests the following reasons for some users not being able to share files in Teams.
"If you don't have SharePoint Online enabled in your tenant, Teams users can't always share files in teams. Users in private chat can't share files because OneDrive for Business is required for that functionality."    
To send someone a link to the file you're working on in Teams, follow these steps:
Navigate to the files tab in the team your file is saved in

Image
Select the file you wish to link by checking the box to the land of the file name then click Copy Link in the top menu bar. A link will appear. Hit Copy and your link is ready on your clipboard to paste wherever you need it.

Image
You can't create a link for several files at the same time. But you can select all the documents in your team and either Download, Move, or Copy them.
Image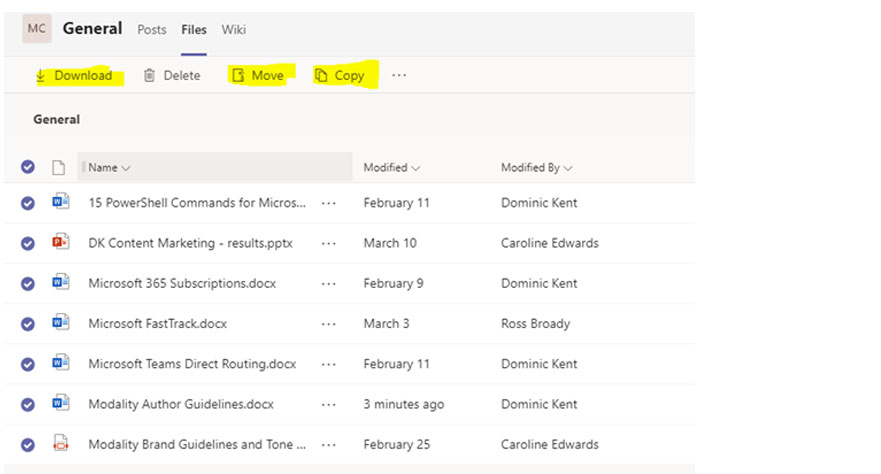 By copying links, you enable Microsoft Teams document collaboration outside of your team. Sharing a link with someone you need input from is often easier than describing where the file is stored if you have lots of teams and channels.
How do I create a link to a folder?
If you have a folder with several files in, you can copy the link for the folder and share this.
Image

The recipient of the link will be able to open the folder and choose a file to work on.
Microsoft Teams file storage limit
The Microsoft Teams file storage limit differs based on your Microsoft 365 license.
As of March 2021, Microsoft outlines its file storage limits as the following:
Image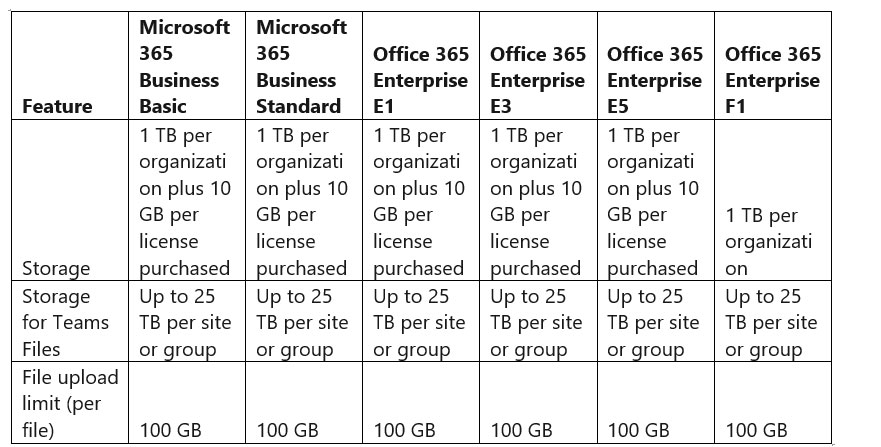 If you need more file storage, you can purchase this via your admin centre.
Once logged in, go to:
Billing
Purchase Services
Add-ons
Office 365 Extra File Storage
Select the extra storage you need and proceed to checkout and pay.
Where are Microsoft Teams files stored?
Microsoft Teams stores file in the corresponding SharePoint site.
The SharePoint site will be geographically located in the same location as your tenant, or in a specific location if you are using multi-geo-enabled tenancy.
Microsoft Teams document management best practices
So, we know how to manage files in Microsoft Teams as a user. We can upload, delete, and copy as we wish.
But what if you're the Teams or SharePoint admin tasked with keeping everything ticking?
Here are five Microsoft Teams document management best practices from real-world IT admins who've been using Teams for some time now.
Eden Minucci, Legal Industry Consultant at Clear Guidance Partners, outlines three key steps when managing documents in Microsoft Teams:
Manage your team and channel membership to include only those within your organization that you want to have access to documents.
If you choose to share documents outside of your team or channel, store those documents in folders with names that make it obvious that the content is shared like "Shared Project ABC Files" or anything that deters members from storing internal documents in an externally shared folder.
Utilise the SharePoint security features when sharing folders and files outside of your organization. Set access expiration dates, limit the ability of recipients to edit and forward content, and share files with specific people, when appropriate. 
Timothy Robinson, CEO of InVPN, says it sounds simple but to place files where they belong.
"When you upload a file in a Teams conversation, you don't get to pick the folder it goes into; it's automatically placed in the root."
"You can transfer the file later if you hold it on the same SharePoint site, and the links in the posts will not be broken."
"Even so, it's good practice to immediately upload the document to the appropriate folder and then share a link to the file."
"You can connect a link to a file by clicking the attachment icon and selecting the link, or you can paste the link in by pressing the shortcut key CTRL + K on your keyboard."
"You can't always be sure where a document belongs. This is an excellent subject to explore with your team."
What do we do with all of our documents?
Who do we share them with?
Do our records have a logical structure?
"Before going all-in with Teams and SharePoint for your documents, I always suggest doing an information & document architecture workshop."
5) Eric McGee, Senior Network Engineer at TRGDatacenters, says syncing your favourite or most important documents to file explorer is one of the most time-saving things you can do when it comes to Microsoft Teams file management.
"Even though having access to your files from anywhere via Teams is extremely convenient, sometimes having access to your favourite document folders in File Explorer can be highly beneficial."
To do this, right-click and select 'Always keep on this computer' if you want to be able to access documents even if you don't have an internet connection.
Eric adds to also make sure that if you don't want certain files on your computer, not to delete them.
"You will delete them for everyone if you do! Simply choose "Free up space" and the documents will no longer be synchronized to your hard drive, but they will still be available in the cloud."
Once you've put these Microsoft Teams file management suggestions into practice, make sure everything you're doing falls within your governance guidelines.
Suggested Reading: 8 Microsoft Teams Governance Best Practices