Microsoft Teams Contact Centre: What Are My Options?
Image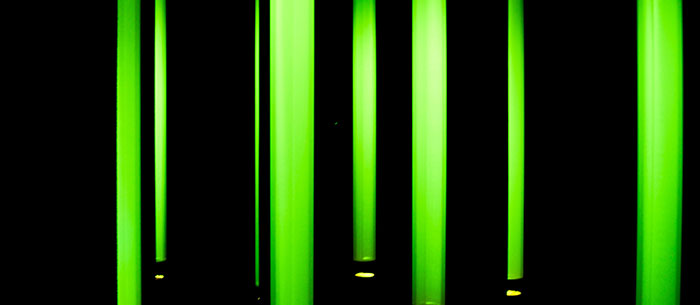 At Microsoft Ignite in November 2021, Microsoft announced their own contact centre, Dynamics 365 Customer Service, which will now have a "voice channel" feature for inbound PSTN calls. While it is not a Microsoft Teams contact centre, as it does not live in Teams, it is built on the Teams platform. It adds another dimension to the Microsoft UC&C portfolio giving a Microsoft option for what was previously always third-party partners.
In this post, we'll introduce you to the following:
Microsoft Teams native call centre functionality
Dynamics 365 Customer Service
Microsoft Teams certified contact centre partners
Non-certified contact centre partners for Microsoft Teams
Does Microsoft Teams have contact centre?
Within Microsoft Teams, there is no true native contact centre functionality. Teams does offer call centre type features like call queuing, auto attendants, and shared voicemail, but has limited reporting and no advanced features like skills-based routing.
If your needs are simple, enabling the call queue and auto attendant features within Teams is a great option.
When configuring queues and auto attendants, users need at least one Microsoft service number, direct routing number, or hybrid number per resource account that you want to be dialable. 
Agents who receive calls must be enterprise voice-enabled and be in TeamsOnly mode. For businesses moving from Skype for Business, this is a major consideration.
Outside of the call experience, some native reporting is available via a Power BI dashboard. Here you can monitor call quality, agent performance, and queue metrics.
The benefits of using Microsoft Teams own call centre functionality are clear:
There's no need for additional vendors
The cost is low as most components already exist within your Microsoft 365 plan
Native UI so no further training needed
You can scale up and down as needed
What you don't get are some typical features associated with standalone call centre technologies. There's a lack of advanced analytics, no skills-based routing, and it's not PCI compliant. 
And if you're looking for a genuine contact centre, many components are missing. That's why Microsoft has unveiled its new multichannel contact centre offering—Dynamics 365 Customer Service.
What is Microsoft's contact centre?
Microsoft's contact centre offering is called Dynamics 365 Customer Service.
The new digital contact centre solution from Microsoft says it "brings together traditional contact centre, unified communications, and customer service capabilities into a single, integrated software as a service (SaaS) solution."
With Dynamics 365 Customer Service, you get access to:
Cross-channel customer support
Data and analytics to improve agent and customer experiences
Productivity tools that help everyone stay focused on your customer needs.
Accessed from a web browser, you can create power agents and virtual surveys. Regular agents can access their dashboard to view open cases to work on when not fielding customer queries.
Image

Within the same browser, agents can view omnichannel conversations. These are customer conversations that have crossed different channels. 
For example, a customer may have started a query using web chat then email to follow up. All case information is held in the same place to provide agents with the entire interaction history.
Microsoft contact centre is "powered by" Microsoft Dynamics 365 Customer Service and Teams.
Image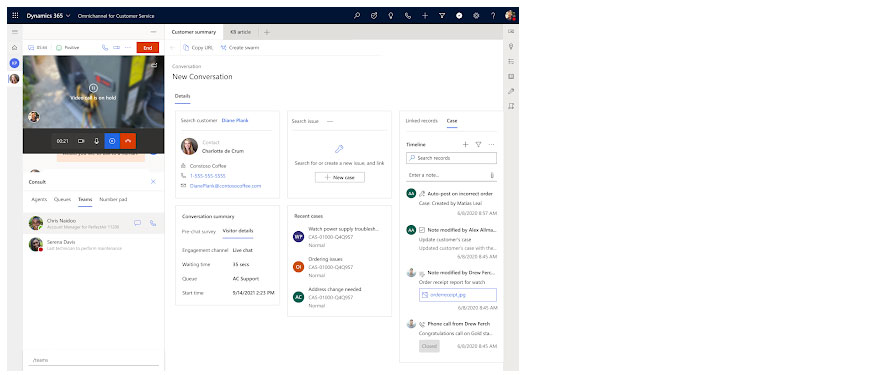 As of November 2021, there is no video channel supported. This is on the roadmap.
While Microsoft now has its own contact centre solution, it remains committed to the Microsoft Teams contact centre certified program and allowing other contact center vendors to integrate into Microsoft Dynamics. There are a number of partners who have completed specific contact centre certifications to integrate with Microsoft Teams.
Microsoft Teams contact centre partners
In this section, we introduce all the Microsoft Teams contact centre partners we can find.
We've split them into:
Microsoft Teams certified contact centre partners
Non-certified Microsoft Teams contact centre partners
Microsoft Teams contact centre certified partners
As of November 2021, the list of contact centre partners certified for Microsoft Teams includes:
Anywhere365 Direct Routing Contact Center for Microsoft Teams (available via Modality)
ComputerTalk ice Contact Center
Enghouse Contact Center for Microsoft Teams (available via Modality)
Five9 UC Integration with Microsoft Teams
Genesys Cloud Integration for Microsoft Teams
NICE CXone Agent for Microsoft Teams
storm INTEGRATE: Microsoft Teams
8x8 Contact Center for Microsoft Teams
1 - ANYWHERE365 DIRECT ROUTING CONTACT CENTER FOR MICROSOFT TEAMS
Anywhere365 is a cloud contact centre platform designed specifically for Microsoft Teams. Its omnichannel capabilities mean you can service customers across voice, web chat, chat bots, email, SMS, social media, and even WhatsApp.
What's more, you can do this all without leaving Teams. Though if you do leave Teams to access other apps, many integrations are supported:
Salesforce
SAP
ServiceNow
Microsoft Dynamics 365
Bullhorn
When configuring call queues and dialogue flows, the drag and drop editor means you don't need any coding experience and you don't need to be a Teams administrator.
Image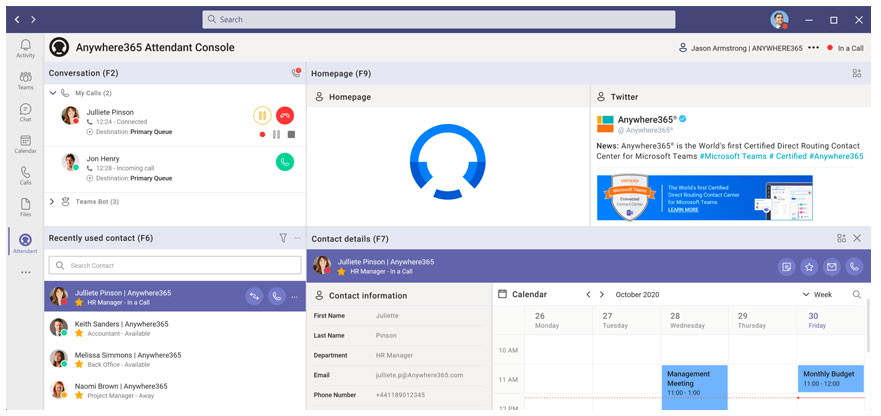 Suitable for: Call centres currently using Skype for Business or Microsoft Teams who need to upgrade from standard call queuing functionality. For those embedded deep in Teams but need to serve customers on other contact channels, Anywhere365 is a superb option as it is built Teams upwards (rather than being shoehorned into Teams).
I'd like to learn about Anywhere365 from a Nasstar contact centre expert.
2 - COMPUTERTALK ICE CONTACT CENTER
Toronto-based ComputerTalk is a specialist contact centre provider certified for Microsoft Teams. You can choose to deploy ComputerTalk ice Contact Center via cloud, on-premises, or a hybrid model where some users and technology run on a mixture of cloud and on-premises. 
Hybrid contact centre models are popular when a business is going through a digital transformation but needs a new contact centre solution and can't wait until the program completes.
Outside of Teams, ComputerTalk also holds Microsoft accreditations for:
Gold Application Development
Gold Cloud Platform
Gold Communications
Datacenter
Gold Windows and Devices
Support from ComputerTalk is available in both English and French. But contacting the support team without an enterprise agreement is only available during the US workday.
Channels supported include:
Voice
SMS
Video
Email
Chatbots
Social media (Meta Messenger, Twitter, WhatsApp, Viber, Telegram)
Skype
ComputerTalk also lists integrations with the following:
Salesforce
Microsoft Dynamics 365
Now
Zendesk
Sugar CRM
Avaya
Microsoft 365 (including Outlook and PowerBI)
Mitel
Cisco
Image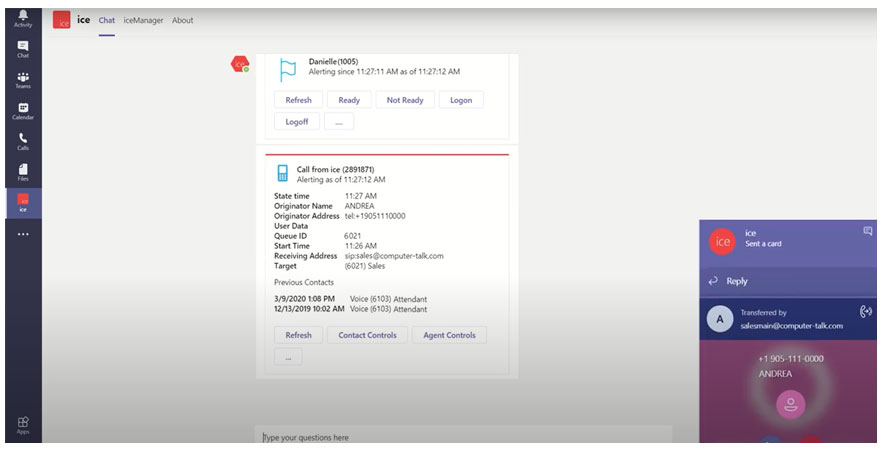 Suitable for: Healthcare providers needing help driving down no-shows and overbooking patients. iceAlert is an automated messaging service that sends reminders to patients so they make their appointment on time or can give enough notice to cancel or postpone. Patients can receive these messages in their native language via phone, email or SMS.
3 - ENGHOUSE CONTACT CENTER FOR MICROSOFT TEAMS
Enghouse Interactive is a contact centre solution designed specifically for Microsoft Teams. In fact, Enghouse Interactive was one of the first vendors to provide a contact centre for Skype for Business with native functionality.
Enghouse features omnichannel support for channels like:
Voice
Email
Web chat
Social media
Video chat
Co-browse and screen share
SMS
Chatbots
You can procure separate components of the contact centre solution to meet your bespoke needs. For example, if you only need call recording and quality management, you only need to buy this module.
Standalone components include:
Enghouse Contact Center
Enghouse Attendant Console
Enghouse Call Recording and Quality Management
Enghouse Analytics
Like ComputerTalk above, Enghouse can be delivered  via cloud, on-premises, or a hybrid model.
Image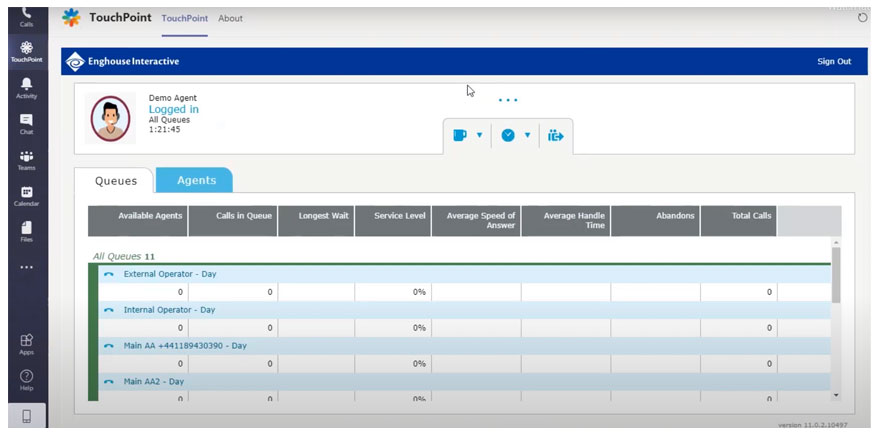 Enghouse is also available for Cisco, NEC, and Avaya telephony solutions.
Suitable for: Businesses transitioning to Microsoft Teams (from Skype for Business or otherwise). If your main requirement is to use Teams as your contact centre, Enghouse was an early adopter of Skype for Business multichannel contact centre technology and has huge experience of customer deployments.
I'd like to learn about Enghouse from a Nasstar contact centre expert.
4 - FIVE9 UC INTEGRATION WITH MICROSOFT TEAMS
Five9 is a cloud contact centre company run by former Cisco leader, Rowan Trollope. Listed as a challenger in the 2021 Gartner Magic Quadrant for Contact Centre as-a-Service (CCaaS), Five9 takes a forward-thinking approach when it comes to customer experience.
Using artificial intelligence components, a division led by former Cisco leader Jonathan Rosenberg, Five9 is often thought of as the most blue sky cloud contact centre provider. 
Five9 also has a focus on combining the Unified Comms (UC) and contact centre experience. It is its belief that the frontline agents and backroom teams should have a direct line to each other. This integration of front and back office leads to both higher employee retention and higher customer satisfaction. 
With this mantra in mind, and the accelerated growth of Microsoft Teams, the UC integration for Microsoft Teams was created.
Image

While Five9 supports omnichannel features like email, web chat, and social media, the UC Integration for Microsoft Teams has a focus on integrating your telephony platform (Microsoft Teams) and contact centre.
Agent-expert consultation features include:
Consolidated directory
Department filters
Microsoft Teams groups import
Click-to-call from Teams
Telephony-connect features include:
Automatic main number redirects
Skills-based routing
Front and back office collaboration
On-net calling, conferencing, and transfers
Suitable for: Contact centres looking to branch into the future using artificial intelligence. If you're ready to leave transactional and mundane tasks to bots and self-service, Five9 is all-in.
5 - GENESYS CLOUD INTEGRATION FOR MICROSOFT TEAMS
Genesys is named in the 2021 Gartner Magic Quadrant for CCaaS as a leader in the space. In July 2020, Genesys expanded its market-leading contact centre solution to feature a dedicated Microsoft Teams integration.
Genesys Cloud CX™ is designed so your contact center agents can collaborate with any employee using Teams to resolve customer issues faster and deliver better service. The ideology behind Genesys Cloud CX™, like the Five9 UC integration, is that when you join up the front and back office experience, your customers are on the winning end of better customer service. 
Image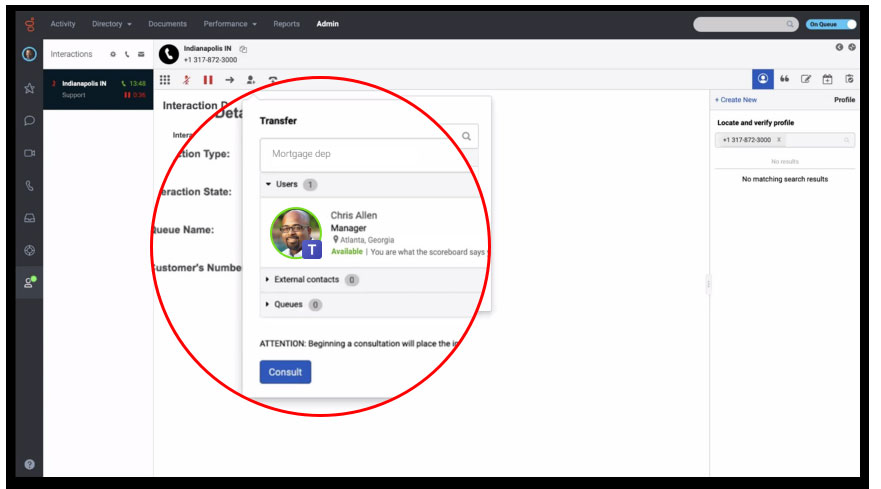 Genesys Cloud CX™ only supports voice when integrated with Teams. You must be a master admin of both Genesys and Teams to configure the integration and you will need a SIP trunk available via direct routing.
Suitable for: Contact centres who only require voice capabilities in their contact centre and have found Microsoft Teams native call centre insufficient.
6 - NICE CXONE AGENT FOR MICROSOFT TEAMS
NICE is another contact centre provider listed as a leader in the 2021 Gartner Magic Quadrant for CCaaS.
NICE provides a pre-built unified communications and contact centre integration for Microsoft Teams so your agents can link up back office to front office. NICE takes its existing CXone technology and embeds it into your Teams interface so agents can switch between standard chats, channels, tabs, and their contact centre functionality.
Like Five9 and Genesys, only voice is supported in this particular Teams contact centre integration.
Image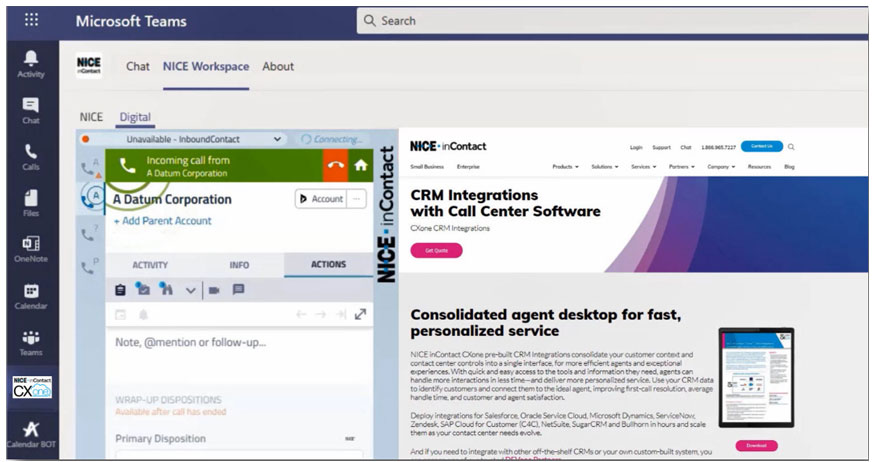 Suitable for: Existing NICE customers who are moving to Microsoft Teams for the first time. If voice is your only inbound channel, there is no need to rethink your move to Teams.
7 - STORM INTEGRATE: MICROSOFT TEAMS
The storm platform is run by Content Guru. Content Guru is recognised as a challenger in the 2021 Gartner Magic Quadrant for CCaaS.
INTEGRATE focuses on similar principles as Five9, NICE, and Genesys, in that the UC and contact centre integration is key. You can use Teams as your calling platform for both inbound and outbound while the INTEGRATE contact centre module is embedded as a Teams tab.
Image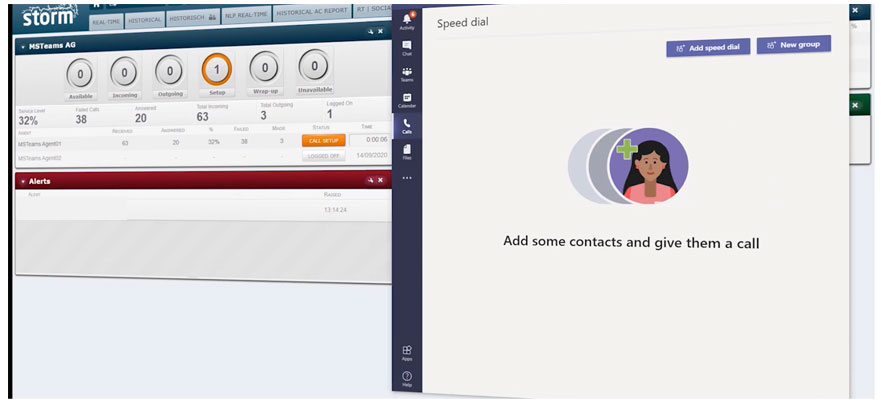 Furthermore, the storm platform adds call and screen recording without having to switch applications. As hybrid contact centres emerge coming out of the pandemic, not having in-person access to a supervisor or coach puts supervisory aids like screen recording at the top of businesses' wishlists.
Suitable for: Businesses offering products and services that require screen sharing from client to agent. Screens can be recorded to ensure quality management after the event and continuous agent training.
8 - 8X8 CONTACT CENTER FOR MICROSOFT TEAMS
8x8 is another listed as a challenger in the 2021 Gartner Magic Quadrant for CCaaS. And another provider concerned with improving the back office and agent experience.
Offering voice services within the Teams display, 8x8 allows you to make, receive, queue, and report on customer calls. Historical and real-time reporting is included and 8x8 has an extensive history as providing above and beyond analytics for those seeking interaction improvements via data.
Suitable for: Existing 8x8 customers thinking about moving to Teams. Those contact centres with a voice-only inbound customer service team looking for advanced analytics.
Non-certified Microsoft Teams contact centre partners
For the sake of openness, we've also included those Microsoft Teams contact centre partners who, as of November 2021, have not yet received certification from Microsoft.
Solutions still in the certification process, as of November 2021, include:
Comptella
ContactCenter4All
Cirrus
Frontstage
Geomant
Intermedia
Landis Technologies
Luware
Mida Solutions
Novomind
Talkdesk
Tendfor
Conclusion
Where there was once no options for Microsoft Teams contact centres, there are now eight certified options, two native options, and a handful of non-certified options.
Both the Teams-native options are fit for purpose if you are the target use case. But Microsoft recognises the speciality of contact centre providers is doing the more complex things like omnichannel and advanced analytics.
As with all business technology purchases, the question isn't "Which is the best Microsoft Teams contact centre?", it's "Which is the best Microsoft Teams contact centre for my business?"
The 10+ options included here are a longlist for you to work your way through. If you need omnichannel or multichannel then the list is immediately reduced.
But, rather than assess each vendor individually (which takes a lot of time and effort), why not speak to a Modality contact centre specialist who can take your requirements and do the hard work for you?