10 Microsoft Teams Certified Devices and What Happens When Users Go Rogue
Image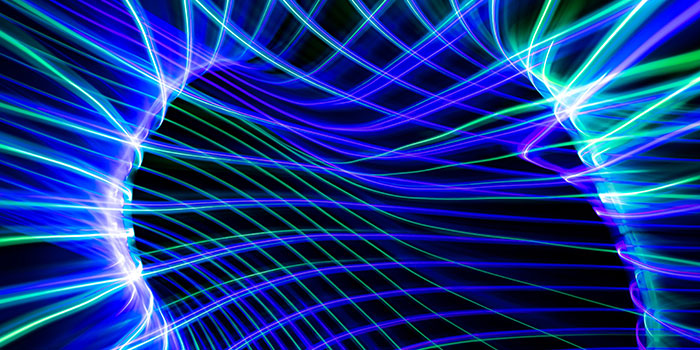 You've probably heard about Microsoft Teams certified devices. But do you know exactly what one is? 
What's the benefit of using a certified Teams device over an ordinary headset or phone you already have? And how can you find out if a vendor or device is Microsoft certified, anyway?
These are all common questions that our customers ask us every week. So, in this post, we'll cover the following areas to bring you up to speed:
What are Teams certified devices?
What are some benefits of using a Microsoft certified device?
What is the best device to use for Microsoft Teams?
Best wireless headset for Microsoft Teams
Best wired headset for Microsoft Teams
Best office phones for Microsoft Teams
Best durable phones for Microsoft Teams
Microsoft Teams conference room equipment
Which webcams are compatible with Microsoft teams?
What happens when I use a non-Microsoft Teams certified device?

 
What are Teams certified devices?
Microsoft Teams certified devices are devices like headsets, webcams, and speakers that have achieved a Microsoft certification. This certification ensures devices have hit a quality and performance bar and can work with no extra configuration and are plug-and-play.
To get certified for Microsoft Teams, device providers must test and submit their device to the Microsoft Teams certification program.
Previous Skype for Business certified devices carry their own type of certification for Teams (Skype for Business certified with Teams upgrade). This means two things:
Users don't need to replace devices when upgrading from Skype to Teams
Vendors don't need to undertake extra certification
Only once a product passes the certification tests outlined in the Microsoft Teams certification program can you label a device as Teams certified.
Microsoft keeps the full list of Teams certified devices updated here. This is a great list to cross reference if your device is Teams certified. But, if you're buying new devices, there's a whole host of things to consider.
Let's start with the benefits of using a Microsoft certified device. After all, you need to know why you're ruling out other devices.
What are some benefits of using a Microsoft certified device?
Microsoft highlights the benefits of using a Microsoft certified device (Teams or otherwise) in three areas:
Administrator experience: no provisioning required and all devices support firmware updates.
Core certification benefits: auto-selection of default audio when joining a Teams meeting, basic call control access, no echo, distortion, or glitches, and a minimum threshold for video calls.
New Teams certification benefits: dedicated LED light, alert notifications, and click-to-join meetings.
All in all, a much more enjoyable experience for everyone. No more connecting and reconnecting devices when you start a meeting. No minutes lost while users faff around trying to get kit to work.
Outside of Microsoft's own scope, there are several advantages highlighted by Microsoft MVPs and admins.
Adam Jacobs, Principal Microsoft Architect at Poly, points out for key benefits of Microsoft certified devices:
1. A high bar in audio/video requirements. Some notable asks include the ability to have low latency, handle echo cancellation, and ensure duplex audio is achieved when several people are speaking at one time. 
2. Support for Microsoft's telemetry. A custom set of UVC (USB video class) messages that send health and other real-time metrics into Teams.
3. Support for Teams Admin Center management (for some devices types).
4. Visibility within the Teams device marketplace. This includes Microsoft giving example scenarios whereby the devices should be deployed (based upon Microsoft's testing).
While there are few use cases where Teams will be used for music, podcast producers and video content creators have been waiting for an improvement in Teams audio. Now, they can stay in their favourite platform and use the vast array of features Teams has compared to typical podcast platforms.
The combination of Music Mode and certified Teams audio devices ensures both recording and output are optimal as possible.
But the real question you want answering is...
What is the best device to use for Microsoft Teams?
This is the million dollar question for both businesses and individuals. Everyone wants the best audio and video quality and nobody wants to be the person responsible for a poor Teams meeting.
The answer, however, is not as straightforward as it may seem.
Depending on your use case, different devices excel in different environments.
For example, a typical home worker using a spare room or home office has different requirements to a manual worker using Teams in a warehouse.
The home worker wants to be seen and heard as they would in a meeting room. This means noise cancellation so builders outside aren't overheard when you're talking. This means your camera adjusts to your lighting as the sun sets later in the day.
The manual worker in a warehouse, however, primarily needs to be heard over much louder noises and constant machinery. They may not need to join video calls as often. But when they do, it may be in low bandwidth areas using mobile data instead of WiFi.
In the next few sections, we run through the three of the best Microsoft Teams certified devices per category. But do make sure you consider your niche use cases before you shop.
Best wireless headset for Microsoft Teams
1 - Microsoft Modern Wireless Headset
Microsoft has developed its own wireless headset which is naturally certified for Teams.
Image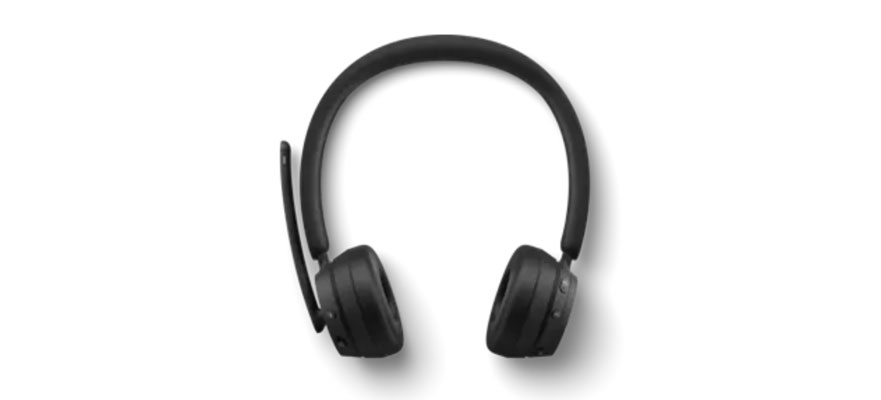 This wireless headset stays synced with Surface devices, Windows OS, and Teams. It's lightweight with padded earcups rather than buds.
It includes a built-in background noise-reducing microphone and high-quality stereo speakers optimized for voice
On-ear controls include mute, volume, and the Microsoft Teams button. Battery life is listed as up to 50 hours.
Sign up to know when Microsoft releases its Modern Wireless range near you.
2 - LOGITECH ZONE WIRELESS
The Zone Wireless is a Bluetooth headset that can connect up to six Logitech Unifying™ wireless peripherals through a single receiver.
Image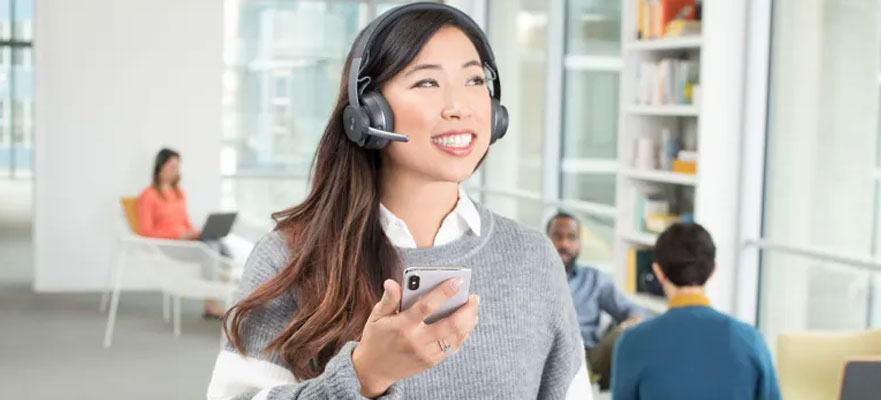 It's a winner of the reddot Design Award 2020, and combines Logitech's consumer audio specialty with modern business requirements. You can switch from high-definition music to high-quality audio and video calls as and when you need to.
It comes with a noise-cancelling mic as standard. You can even modulate the volume of your voice to the most appropriate level.
You can order Zone Wireless headsets on Amazon or through an approved reseller.
3 - YEALINK DECT HEADSETS
For environments where Bluetooth or wireless isn't suited, Yealink provides specialist DECT headsets certified for Teams.
Image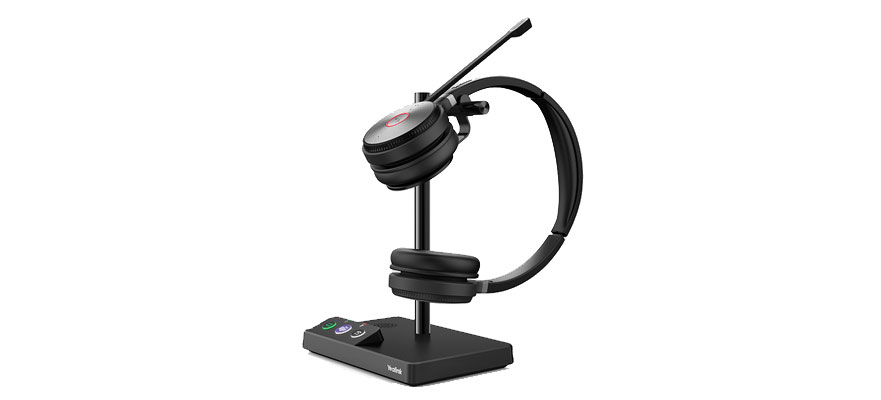 The WH62 includes a range of 160 metres. So, maneuvering your way through long warehouses no longer means putting a customer on hold or losing signal halfway.
Yealink comes with the benefit of a single device management portal for all its devices. You can register, update, and troubleshoot from a single portal.
More features get added as you move up through the WH62, WH63, WH66, or WH67 devices. These are all certified for Teams as of July 2021.
You can buy any of the Yealink series direct via its website.
Best wired headset for Microsoft Teams
4 - MICROSOFT MODERN USB HEADSET
For staff who need to be at their desk, there's no need to spend extra on wireless headsets. The Modern USB Headset comes with high-quality audio and voice, a noise-reducing microphone, and intuitive call controls as standard.
Image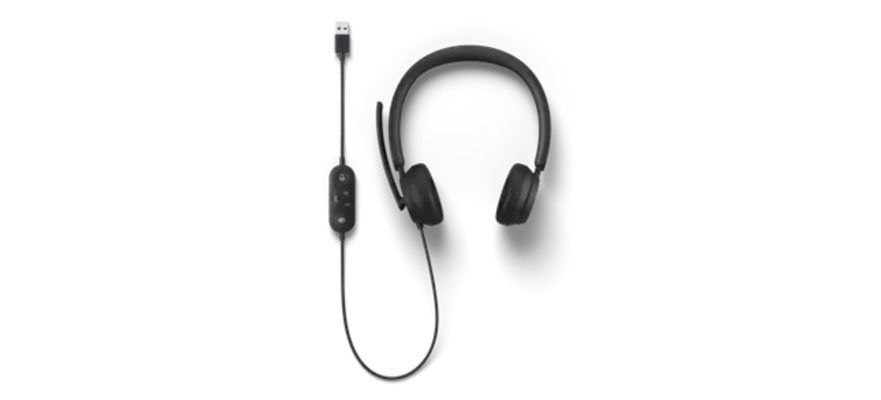 You also get a mute control light indicator and a one year warranty.
Special pricing may be available for eligible students, parents, teachers, members of the Armed Forces, and NHS staff.
Sign up to know when Microsoft releases its Modern USB headset near you.
5 - LOGITECH ZONE WIRED
The Zone Wired is much like the Wireless mentioned above - but wired! As an inexpensive alternative, you might think there's a compromise on quality too. But, that's not the case with Logitech.
Image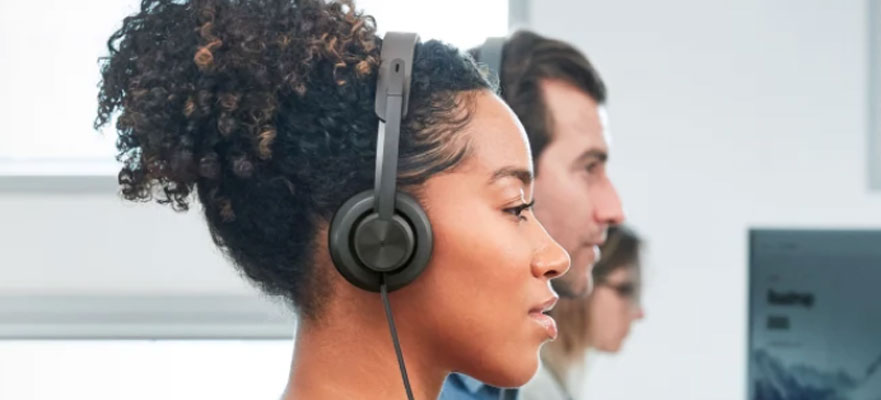 You still get premium audio and call clarity with noise-canceling mic technology. And you still benefit from the audio/call quality crossover. So, there's no need to buy separate headsets for listening to music and fielding calls at your desk.
You can buy the Zone Wired on Amazon or through an approved reseller.
6 - POLY VOYAGER FOCUS 2 HEADSET
The Voyager Focus 2 is a Bluetooth headset that boasts 19 hours of talk time before needing to be charged. It even won Best Of Show AV Technology at ISE 2021.
Image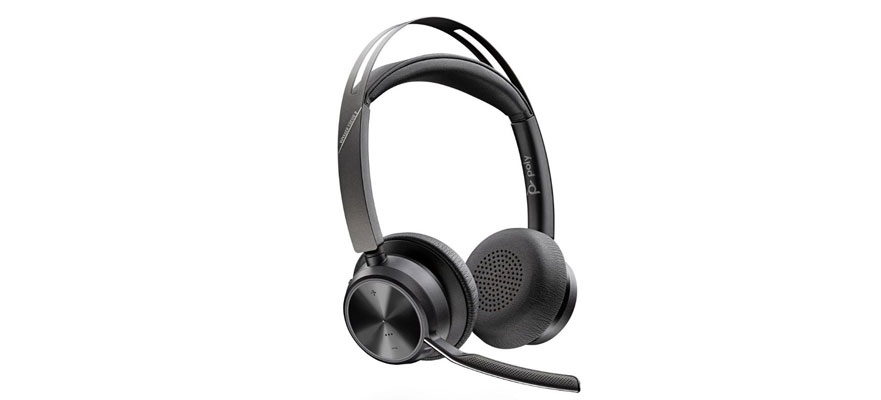 The headband style ensures comfort for as long as you need it, and Poly says this headset features its best noise reduction technology (active noise cancellation) yet. Thanks to Poly Acoustic Fence technology, the only thing your colleagues and customers will hear is you.
You can buy the Voyager Focus 2 Headset on Amazon or through an approved reseller.
Best Microsoft Teams USB phones
7 - YEALINK MP50 USB PHONE
Yealink has been producing Skype for Business desk phones for years, and now offers a device specifically certified for Teams.
Image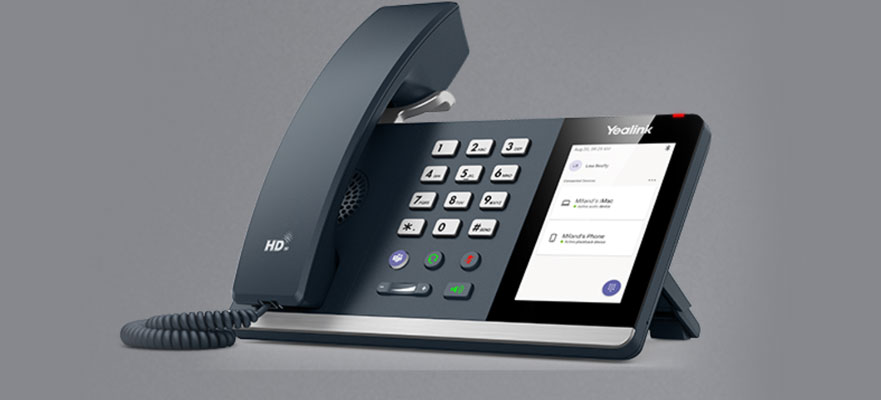 The MP50 features a 4-inch touch screen, HD audio, Bluetooth, a busy light, and a USB hub. 
As well as the touch screen, you get the traditional dialpad. So, there's no change of routine for regular desk phone users who want to adopt Teams for day-to-day calls.
You can deploy the MP50 on a user-by-user basis or in a hot-desking environment. Even in the busiest environments, Yealink Noise Proof Technology keeps external noise to a minimum.
To make a purchase, you can contact Yealink here.
8 - MICROSOFT TEAMS SPEAKERPHONES
Modern USB-C Speaker
The Modern USB-C Speaker is another from Microsoft's dedicated range for Teams, Surfaces, and Windows machines.
Image
This particular device is ideal for small conference rooms or home workers who prefer a speaker to a headset.
You can join Teams calls with quick-access controls, benefit from the built-in noise reduction technology, and pack up this portable device when you need to move to another meeting room.
Getting set up is simple thanks to its USB plug-and-play nature.
Sign up to know when Microsoft releases its Modern USB-C speaker near you.
9 - POLY SYNC 40 SPEAKERPHONE
The Sync 40 speakerphone turns any small space into a conference room.
While the Poly RealPresence series is associated with Skype for Business, the Sync 40 speakerphone is the first speakerphone Poly has certified for Microsoft Teams.
Image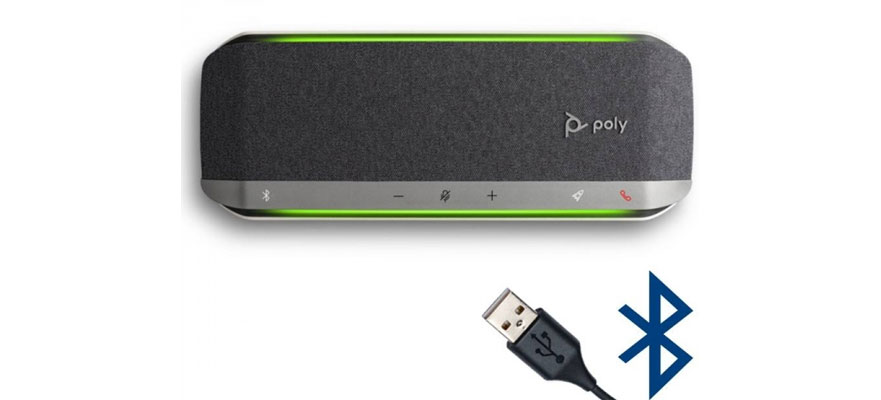 Another reddot 2021 winner, the Sync 40 is both certified for Teams and approved for Zoom. So, users of both platforms will benefit from this device.
As well as the obvious portability benefits, the Sync 40 means you're never without echo cancellation or premium sound for your calls.
You can also add a Poly BT600 USB Dongle to add headset functionality when needed.
You can buy a Poly Sync 40 speakerphone through any approved reseller.
10 - JABRA SPEAK 750 SPEAKERPHONE
Suitable for both HD music and personal music, the Speak 750 is another device certified for many Unified Comms platforms. Users with access to other platforms should consider this device thanks to its plug-and-play nature across whatever you're using.
Image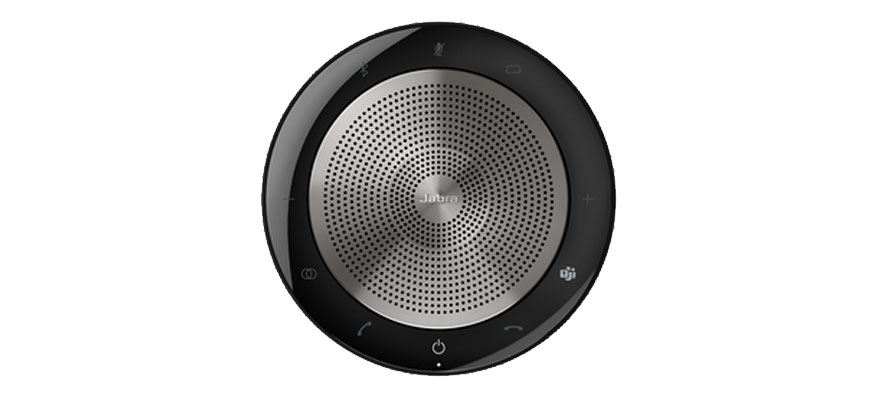 Specifically for Teams, the LED light indicates a Teams notification. This is programmed in line with your own Teams notification settings so there's no risk of notification overload.
The speakerphone also comes with a Jabra Link 370 USB Dongle as standard. This allows you to pair a Jabra headset if needed. But with full duplex audio and acoustic echo cancellation, it'd need to be a loud environment to warrant switching. 
You can buy the Jabra Speak 750 on Amazon or direct from Jabra.
Which webcams are compatible with Microsoft Teams?
Outside of the conference room, it's as equally as important your remote workers have the best video experience possible.
The following are Microsoft Teams certified webcams as of July 2021:
Dell Ultrasharp Webcam WB7022
Yealink UVC20 Webcam
Microsoft UVC20 Webcam

 
What happens when I use a non-Microsoft Teams certified device?
If your office will be making more video calls than before, you need to ensure your network and bandwidth capacity scales. When troubleshooting, you need access to some key tools designed for Teams. 
Before you roll out any of these certified devices, you should conduct a Microsoft Teams network assessment.
Once your network is sorted, and you've selected your Teams certified devices, you're good to go.
But what happens when a user chooses their own non-Teams certified device?
For starters, your Microsoft Teams governance plan goes out the window. You may not have planned to support devices outside of Microsoft's certification. These headsets or speakers may be completely unsupported by your business—so you need to outsource to an external party.
This has both cost and risk implications that you haven't factored into your budget or strategy.
There's also the experience element to consider. If one person is using a device not certified or even suitable for Teams, it may impact the meeting for everyone.
To ensure you're always in the know, turn on the Teams Calls and Meetings module of Teamwork Analytics. Here, you get performance stats and automation to help identify and remedy quality issues as they occur.
 
Image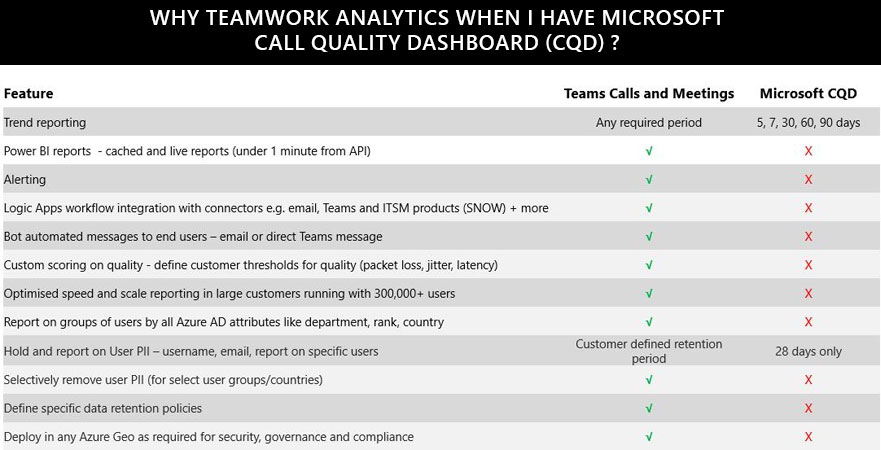 Start your 30-day free trial now.