Microsoft Teams Call Centre: Features and Functionality
Image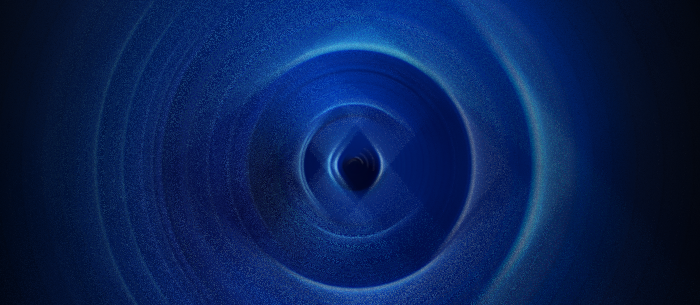 Since the introduction of Microsoft Teams as an internal communication tool and as a PBX, questions have been asked as to whether we'll be able to use Microsoft Teams as a call centre.
Over the last few years, Microsoft has committed to the Microsoft Teams contact centre certified program. This led industry commentators and customers to the conclusion that Microsoft did not intend to roll out its own call centre functionality - a similar scenario to PBX vendors some time ago before we saw the introduction of direct routing and Microsoft Teams Phone. 
Cloud PBX vendors like BroadSoft (acquired by Cisco) developed integrations that allowed for external PSTN connectivity so you could make and receive calls using the Skype for Business and then the Teams interface. 
Then Microsoft developed native PBX functionality to make that experience even better - and allow IT teams to keep everything Microsoft. The same is now true for call centre.
Can Microsoft Teams work as a call centre?
Yes. You can now use Microsoft Teams as a call centre.
Within Microsoft Teams, there is no true native contact centre functionality but Teams does offer call centre type features like call queuing, auto attendants, and shared voicemail. However, it has limited reporting and no advanced features like skills-based routing.
Microsoft Teams call centre functionality
If your needs are simple, enabling the call queue and auto attendant features within Teams is a great option.
When configuring queues and auto attendants, users need at least one Microsoft service number, direct routing number, or hybrid number per resource account that you want to be dialable. 
The full list of call centre features in the Teams license includes:
Auto attendants: callers get a digit or voice menu that routes to the right person to assist them with your query.
Call queues: callers are held until a relevant agent is available to field their query; music or messages can be played.
Native call reporting: include auto attendant analysis, queue performance, and agent timelines.
Agents who receive calls must be enterprise voice-enabled and be in TeamsOnly mode. For businesses moving from Skype for Business, this is a major consideration.
Outside of the call experience, some native reporting is available via a Power BI dashboard. Here you can monitor call quality, agent performance, and queue metrics.
The benefits of using Microsoft Teams own call centre functionality are clear:
There's no need for additional vendors
The cost is low as most components already exist within your Microsoft 365 plan
Native UI so no further training needed
You can scale up and down as needed
What you don't get are some typical features associated with standalone call centre technologies. There's a lack of advanced analytics, no skills-based routing, and it's not PCI compliant.
And if you're looking for a genuine contact centre, many components are missing. That's why Microsoft has unveiled its new multichannel contact centre offering
Microsoft Teams as a contact centre
At Microsoft Ignite in November 2021, Microsoft announced their own contact centre, Dynamics 365 Customer Service, which will now have a "voice channel" feature for inbound PSTN calls. 
While it is not a Microsoft Teams contact centre, as it does not live in Teams, it is built on the Teams platform.
Microsoft's contact centre offering is called Dynamics 365 Customer Service.
Image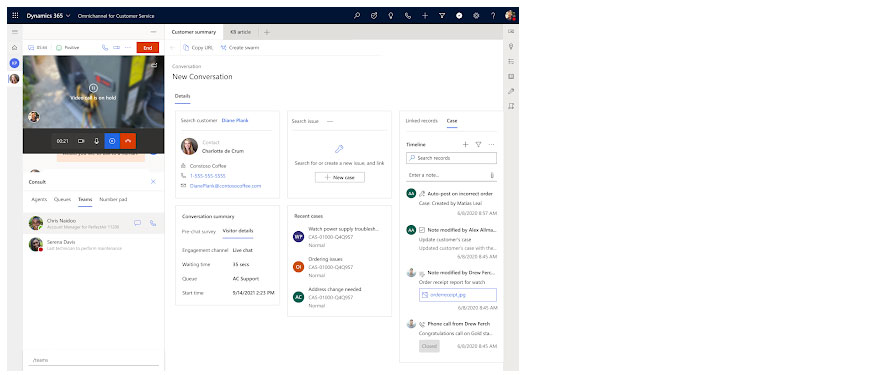 The new digital contact centre solution from Microsoft says it "brings together traditional contact centre, unified communications, and customer service capabilities into a single, integrated software as a service (SaaS) solution."
With Dynamics 365 Customer Service, you get access to:
Cross-channel customer support
Data and analytics to improve agent and customer experiences
Productivity tools that help everyone stay focused on your customer needs.
Accessed from a web browser, you can create power agents and virtual surveys. Regular agents can access their dashboard to view open cases to work on when not fielding customer queries.
Within the same browser, agents can view omnichannel conversations. These are customer conversations that have crossed different channels. 
For example, a customer may have started a query using web chat then email to follow up. All case information is held in the same place to provide agents with the entire interaction history.
Microsoft contact centre is "powered by" Microsoft Dynamics 365 Customer Service and Teams.
As of November 2021, there is no video channel supported. This is on the roadmap.
Which Microsoft Teams option is right?
Every business (and every call centre) is different. So there isn't going to be a right answer to "Which Teams call centre options is the best"?
Our strongest suggestion is to tailor the available solutions to your bespoke needs.
Outside of the native Teams call and contact centre options are certified contact centre partners. 
Among, these we highlight the following solutions as best in class
ANYWHERE365 DIRECT ROUTING CONTACT CENTER FOR MICROSOFT TEAMS
Image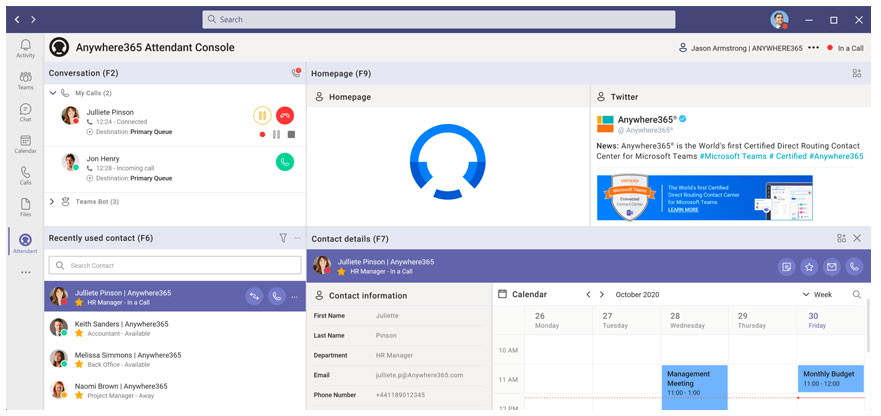 Anywhere365 is a cloud contact centre platform designed specifically for Microsoft Teams. Its omnichannel capabilities mean you can service customers across voice, web chat, chat bots, email, SMS, social media, and even WhatsApp.
What's more, you can do this all without leaving Teams. Though if you do leave Teams to access other apps, many integrations are supported:
Salesforce
SAP
ServiceNow
Microsoft Dynamics 365
Bullhorn
When configuring call queues and dialogue flows, the drag and drop editor means you don't need any coding experience and you don't need to be a Teams administrator.
Suitable for: Call centres currently using Skype for Business or Microsoft Teams who need to upgrade from standard call queuing functionality. For those embedded deep in Teams but need to serve customers on other contact channels, Anywhere365 is a superb option as it is built Teams upwards (rather than being shoehorned into Teams).
I'd like to learn about Anywhere365 from a Nasstar contact centre expert.
ENGHOUSE CONTACT CENTER FOR MICROSOFT TEAMS
Image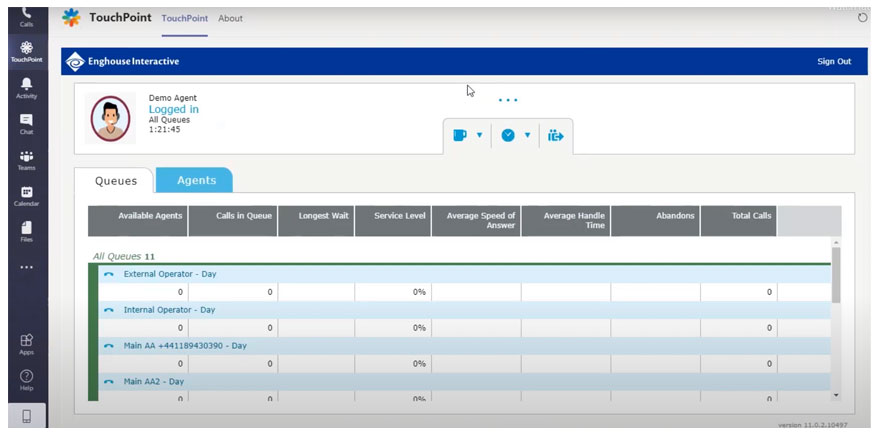 Enghouse Interactive is a contact centre solution designed specifically for Microsoft Teams. In fact, Enghouse Interactive was one of the first vendors to provide a contact centre for Skype for Business with native functionality.
Enghouse features omnichannel support for channels like:
Voice
Email
Web chat
Social media
Video chat
Co-browse and screen share
SMS
Chatbots
You can procure separate components of the contact centre solution to meet your bespoke needs. For example, if you only need call recording and quality management, you only need to buy this module.
Standalone components include:
Enghouse Contact Center
Enghouse Attendant Console
Enghouse Call Recording and Quality Management
Enghouse Analytics
Enghouse can be delivered  via cloud, on-premises, or a hybrid model.
Enghouse is also available for Cisco, NEC, and Avaya telephony solutions.
Suitable for: Businesses transitioning to Microsoft Teams (from Skype for Business or otherwise). If your main requirement is to use Teams as your contact centre, Enghouse was an early adopter of Skype for Business multichannel contact centre technology and has huge experience of customer deployments.
I'd like to learn about Enghouse from a Nasstar contact centre expert.
Conclusion
The Microsoft Teams call centre functionality is enough for certain businesses. Microsoft has identified a set of features that you can add to Phone licenses at no extra charge and provides tremendous value.
For businesses that need additional features or other contact channels, both Anywhere 365 and Enghouse provide superb upgrade options.