10 Best Microsoft Teams Automations to Increase Efficiency
Image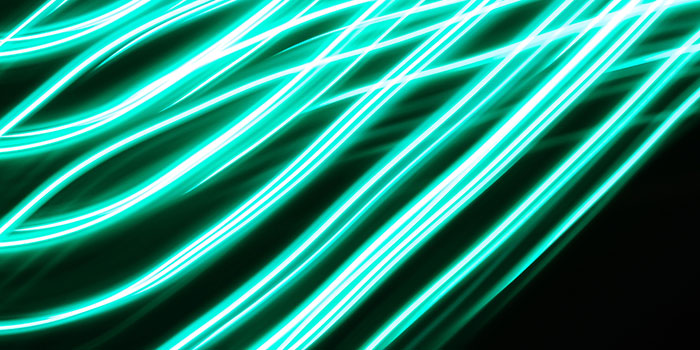 Automations in Microsoft Teams help you move from repeating mundane tasks to efficient and repeatable automated processes that need a one-time setup. 
In this post, we introduce the best automations you can use in Microsoft Teams today. 
Examples of Microsoft Teams automations included in this post: 
Approvals 
Flow Bot 
Zapier 
Slack  
Webex 
Teamwork Analytics 
Automate.io 
AVA 
Whobot 
Connectors 
 
How do you automate tasks in a team? 
The best way to automate everyday tasks in Microsoft Teams (in both channels and chats) is to add the apps you use most to Teams. 
The Teams app store has over 600 known integrations with external apps as well as native integrations with other Microsoft 365 apps like Word, PowerPoint, Forms, etc.  
You can also create custom automations to trigger actions based on certain behaviours. Platforms like Zapier help make this simple to administer. 
We have rounded up the best Microsoft Teams automations so you can find the best Microsoft Teams automation for you. 
Microsoft Teams automation #1 – Approvals 
Rather than waiting for team members to get back to the office or check the status of work pending, you can use the Approvals workflow from within Microsoft Teams. 
Approvals became generally available in January 2021 and are accessible via both channels and chats. 
You can create, approve, or reject a request all without switching to another app. 
Built on the Power Platform, Approvals includes the intelligence to automatically route your approval through to other apps like ServiceNow and Azure DevOps. 
Regular approvers can add the Approvals app as a tab to their Teams menu so it's always pinned on the left-hand side.
Regular approvers can add the Approvals app as a tab to their Teams menu so it's always pinned on the left-hand side.
Image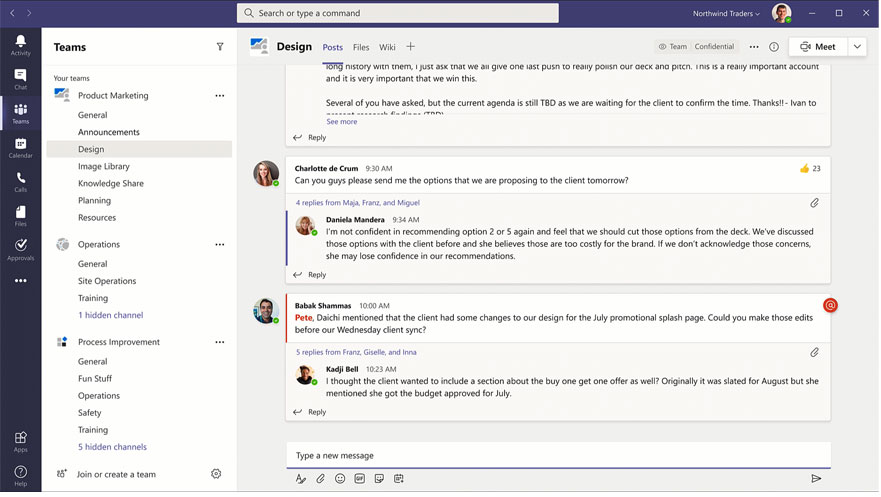 The Approvals app is also available standalone. 
Microsoft Teams automation #2 – Flow bot 
When you add Microsoft Flow to any channel in Teams, you get access to the Flow bot. 
Flow bot allows you to create a literal flow of information when something happens in Teams. 
For example, you can get an email every time someone mentions you in a specific channel. 
The trigger is the @ mention in a specific and the action is the email. 
This is an ideal alternative to getting all @ mention notifications by default. 
You can custom create as many flows as you want. They can be simple like this example or as complex as you need them to be. 
How to install Flow bot in Microsoft Teams 
To add Flow, go to Add a tab, then type Flow in the search box. 
If your team members are already using Flow, it may appear in the top row as suggested tabs. 
Image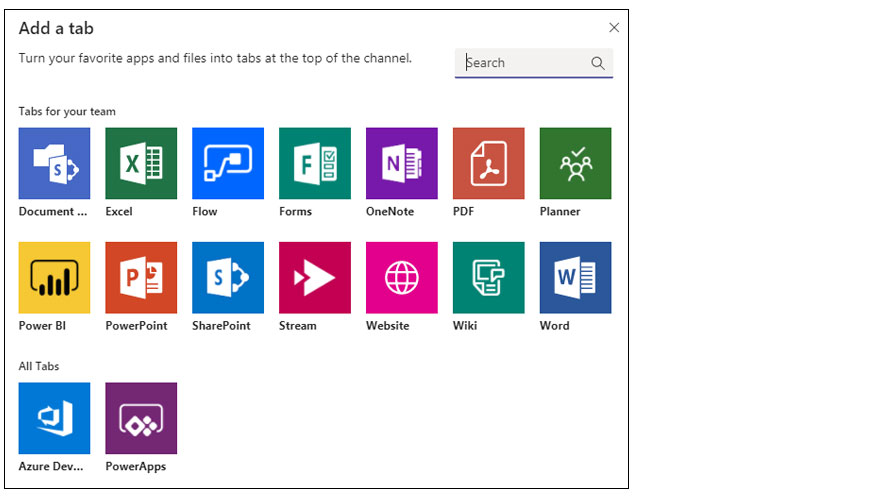 Choose Flow then Save and Flow will be embedded as a tab in Teams. 
Microsoft Teams automation #3 – Zapier 
Zapier is an integration platform with over 3,000 "Zaps" created for Microsoft Teams. 
Like Flow bot, Zapier works on a trigger and action basis. For example, when an attendee signs up to your event on Eventbrite, you can receive a message in a specific Teams channel. 
The sign up in Eventbrite is the trigger and the channel message in Teams is the action. 
Image

Some of the apps you can connect Teams to using Zapier include: 
Miro 

Spotify 

HubSpot 

Typeform 

Amazon Alexa 
Discord 

Salesforce 

Pipedrive 

Many, many more 
 
Microsoft Teams automation #4 – Slack 
Recognising your business uses collaboration apps other than Microsoft Teams is one thing. Doing something to maximise efficiency is another. 
If you have a pocket of users who prefer Slack in your organisation, it might be tempting to try and migrate them all over to Teams. 
But what happens when they have a Teams account but still use Slack? That's called shadow IT. 
Rather than upsetting your Slack users, forcing them to learn a new messaging app, and likely ending up with ungoverned apps, you can use the Mio app to automate messages between Teams and Slack. 
When someone sends a message from Teams to a Slack user, Mio translates the message cross-platform and everyone keeps chatting as if they were using the same app. 
You can send messages in both channels and chats. All messaging features like emojis, reactions, GIFs, edits, and deletions are supported too. 
Microsoft Teams automation #5 – Webex 
If your business has Webex users alongside your Teams users, you can automate cross-platform messages like the Slack example above with the Mio app too. 
Each time you need to message a user who prefers Webex – and likely doesn't check Teams on a regular basis – you can send a message in Teams and they will receive it in Webex. 
Again, any messages that get edited or deleted will be reflected on both platforms. Message threads, GIF, and emojis are all supported too. 
And if you have users of both Webex and Slack alongside your Teams users, you can create channels or chats with all three platforms included too. 
Microsoft Teams automation #6 – Teamwork Analytics 
Nasstar created Teamwork Analytics to proactively tackle threats and identify opportunities across your Teams environment. 
From call quality issues to adoption misfires, Teamwork Analytics provides automated actionable insights to drive organisation-wide adoption while ensuring Teams governance, security, and control. 
When you sign up to Teamwork Analytics, you get access to usage, performance, and governance statistics on the back end. But you also get automated notifications to prompt encouragement of the use of collaboration, video, or personal activity reports. 
Using Power BI reports, Teamwork Analytics identifies trends based on number of users, guest access, etc, and informs whether you're in compliance with your rules and performance expectations. 
For example, you don't want someone using their PC mic and speakers when they could be using a Teams-certified headset. In this example, when poor call quality is detected, automations can be sent via email or via direct messages in Teams. 
Sign up for a free 30-day trial of Teamwork Analytics here. 
Microsoft Teams automation #7 – automate.io 
automate.io is a Zapier alternative that connects Teams with over 200 different apps listed in its library. 
Some apps like Wrike and FreshBooks are listed as "coming soon" but automate.io already integrates with apps like: 
Trello 

PayPal 

Xero 

Asana 

HubSpot CRM 
Salesforce 

Todoist 

Stripe  

Google Tasks 
Jira and Microsoft Teams integration ? Get notified on Microsoft Teams on new issues in Jira 
Popular automations on automate.io include getting Teams notifications when a new issue is entered into Jira and creating new Trello cards from messages in specific Teams channels. 
By using these automations, you remove the need to switch between applications when you're busy working. 
Microsoft Teams automation #8 – AVA 
If there was ever something that needed automating in Teams, it's retrieving files that are lost or deleted. 
AVA (AvePoint Virtual Assistant) was launched in 2018 to restore any deleted files within the Microsoft 365 realm. 
AvePoint says the virtual assistant will "automatically perform a search based on the user's permissions in Exchange, Outlook, and OneDrive's recycle bin to restore the requested item." 
All you need to do is download AVA from the Teams app store and start chatting with the virtual assistant. 
Image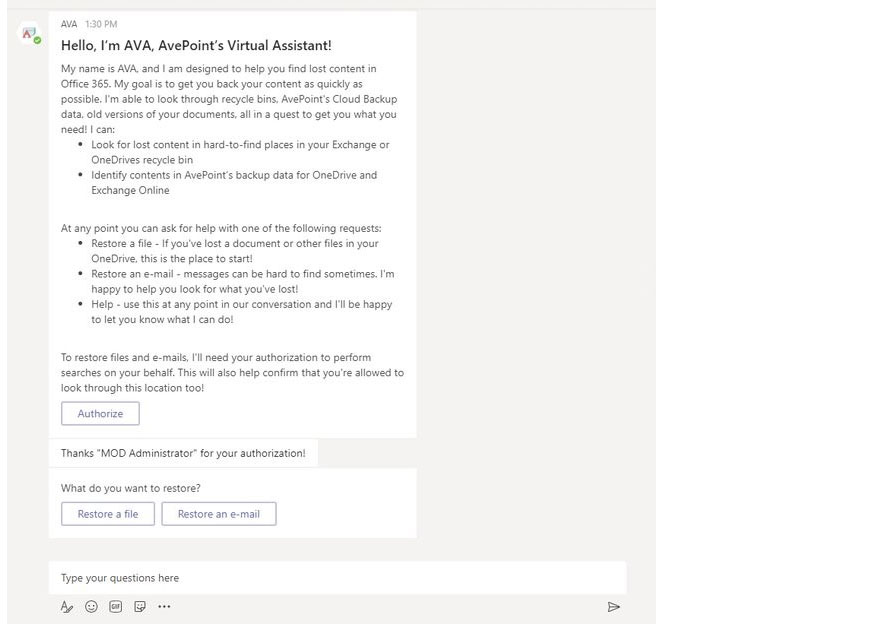 AvePoint notes you can use AVA to help find: 
Filenames that can't be found 

Recently modified documents 

Broken URLs to documents and files 

Lost emails that can't be searched in Microsoft Exchange/Outlook 

Existing files in mailboxes and OneDrive 
 
Microsoft Teams automation #9 – WhoBot 
Once you've automated finding deleted files, it's time to simplify finding people in Teams. 
When you install WhoBot from the Teams App Store, you can start asking questions like "Who knows about the latest HR policy?" 
WhoBot scans public files to find out the relevant people who have worked on the HR policy last and recommends you connect with them. 
Image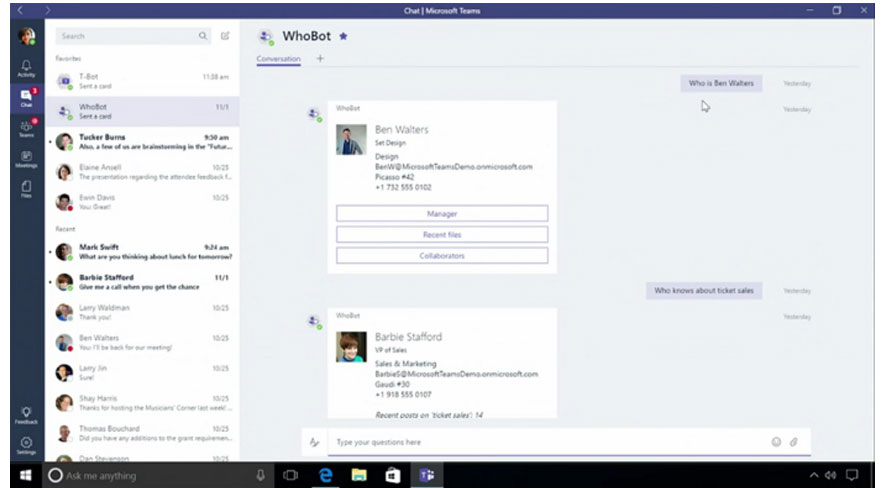 To install Whobot, click on More Apps in the list that appears when you hit the three dots to the left-hand side of your Teams menu. 
Image


Microsoft Teams automation #10 - Connectors 
Built into Microsoft Teams are connectors that can be used to deliver bulletin-style updates to specific channels. 
What's the difference between a connector and posting a regular message to everyone in a channel?  
Good question. 
With connectors, you can automate pulling of status updates from apps outside the Microsoft world. 
For example, when a Trello card gets updated, you can get an update in Teams. 
Or if you want your latest GitHub updates without leaving Teams and hunting for them, they can automatically appear in your chosen channel. 
Image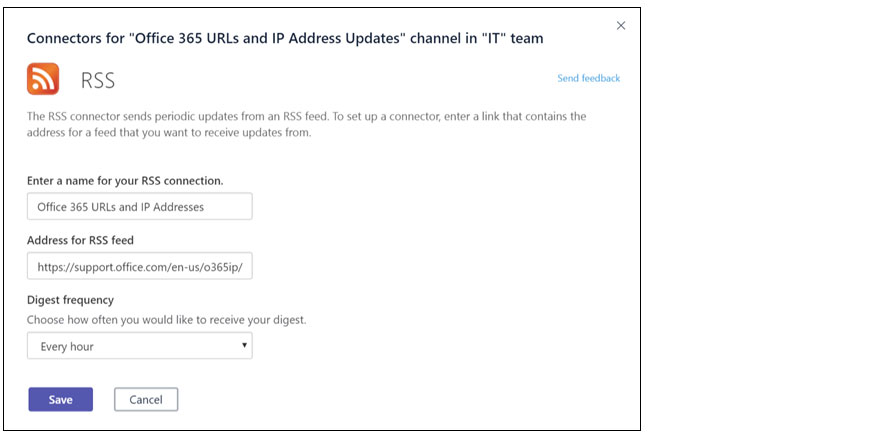 Adding a connector to a channel is simple: 
Click the … icon on the channel you wish to connect an external app to 

Choose Connectors from the drop-down list 

Select the connectors you wish from the pre-populated list of approved apps 

Add a name for your connector 
The address your connector must pull from (like twitter.com/Nasstar) 

Choose how often you'd like to receive updates 

Click Save 
When using connectors, you can connect to apps like Twitter, Bing News, Yammer, RSS, Jira, and plenty more. These are all examples of apps that post "updates".  
When connected to Teams, you automate your news and status updates straight into Teams. 
Don't forget you can get a free 30-day free trial of Teamwork Analytics. If you're not quite ready, visit the Teamwork Analytics page to learn more.